What is Email Testing?
Email testing is a process used by communications and marketing professionals to test their emails and newsletters for typos, formatting issues, inbox placement, layout errors, design flaws and more. This is usually completed before the email or newsletter is later published and sent to the contact list.
If you only pick up one good habit in 2023, let it be email testing.
Testing your email is the number one way to prevent mistakes, spot typos, correct layout issues and check on whether your email is going to hit the inbox.
How Do You Test An Email?
There are several tools and techniques you should be using in your email software with your testing, including testing to different email clients and across different devices.
In this blog, we go through the 5 best ways to test your email and look at some of the best email testing software on the market today.
Email Newsletter Best Practices Guide
Plan and design the best newsletters

Use fonts and colours that complement each other

Write content that your readers want to read

20 content ideas!
Download Guide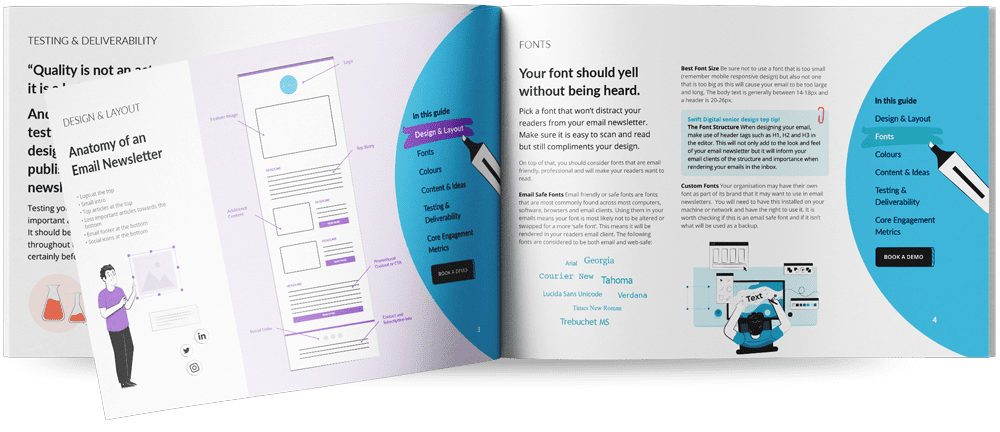 5 Ways To Test Your Emails and Newsletters
1. Send To An Outlook Email Client
This is particularly important if you use Outlook and know that a large percentage of your audience does also. Outlook is one of the trickier email clients to work with and it has a number of formatting quirks.
Nearly all of the email clients will display your HTML slightly differently, this is because each email client has been coded in its own bespoke and unique way, which means they also interpret HTML in different ways.
This interpretation can cause some of your emails to look a little skew whiff in various email clients and perfect in others. For example, you may acquire some unwanted white space in Outlook but in Gmail is looking pixel perfect.
Swift Digital templates are designed and tested to compensate for these quirks, but it's always a good idea to check that your content looks neat and tidy in Outlook, too.
2. Test Using a Different Email Client
Emails look different across different email clients. What might look ok in Yahoo may not look right when received in Outlook. We recommend testing to a couple of different email clients to check your email is looking the same across the board. Check for broken links – Test by clicking them all, do they take you to the correct destination?
If you use Outlook as your work email which is often the case for corporate organisations, then send a test to your personal yahoo or gmail account.
3. Cross Device Testing (Desktop and Mobile)
 This is an important one. The number of people opening email on a mobile device has now overtaken emails being opened on desktop so it is fundamental that you test your email design and layout on different mobile devices including tablets.
Take a sneak peek by sending a test email to your phone or tablet to make sure everything looks good on the smaller screen. Can you read all of the text? Are the buttons big enough? Does the format stay in place? How is the cumulative layout?
4. Test To a Colleague
Email testing doesn't have to be a solo job. Two heads are better than one as they say and a fresh set of eyes might pick up any elusive typos which you have missed or might highlight some formatting issues when they receive it in their inbox.
If you are working solo, then use a spelling and grammar tool like Grammarly to help you proofread your content. Check punctuation, grammar and spelling – try reading your content in reverse!
There are also powerful email testing software's on the market which can help you identify issues, cross-device check and also run multiple tests and highlight issues across the various email clients.
5. Use Email Testing Tools/Software
Your email marketing provider will have testing tools for you to use but if you want to test your emails at a more granular level then there are a range of email testing tools out on the market that can cross-check your emails against all email clients and recent versions as well as check across popular mobile devices, tablets and desktops.
They can also cross-browser check which means they can check your emails against different browsers such as Chrome, Forefix and Safari.
What are the Best Tools For Email Testing?
Quick Tips For Testing Emails
When it comes to the best email marketing software in Australia, your business needs to weigh up your needs and balance them against your country's data security laws.
It's one thing to commit to a piece of software that has all the functionality and features you desire, but it's another thing completely to find software that stores your data legally and securely.
The Preferred Email, Events and SMS Automation Software For All Australian Government Departments
Swift Digital's templates help you effortlessly create stunning emails and events communications using our drag-and-drop email and event builder.
You can raise engagement with embedded images, videos, polls, article feedback, and emojis and schedule messages to send at the right time.
Government departments' unique marketing requirements are covered with Swift Digital, and full compliance with all anti-spam and privacy laws is guaranteed. Swift Digital is also ISO 27001 certified.
Swift Digital is Australia's leader in marketing automation software and event management working with organisations like the NSW Government, ATO, and companies like Westpac Bank and Qantas.
Find out why we're the Australian government department's number one choice for their professional communications and events.
To find out how your business can get the best out of Swift Digital's platform, contact our team today.
Don't forget to share this post!