6 | Minute Read (Free Report)
Report Updated 25th February 2021
Swift Digital today released updated primary research into the Australia Events market, its reaction to COVID-19 and when organisations expect to restart in-person events.
When asked on 15 February 2021, most, indeed over 40%, surveyed Australian Event Managers expected to return to face to face events within weeks. 
This is up dramatically from just 15% expecting to return in the same period when asked on 7 December 2020.
"The imminent rollout of COVID-19 vaccines combined with the very low case numbers in Australia appear to have dramatically raised Event Manager confidence in the last 60 days." says Poochee Yuen, CEO of Swift Digital. "In December 2020 most Event Managers were not expecting a return until Q1 2022. Now, most expect a return in just weeks."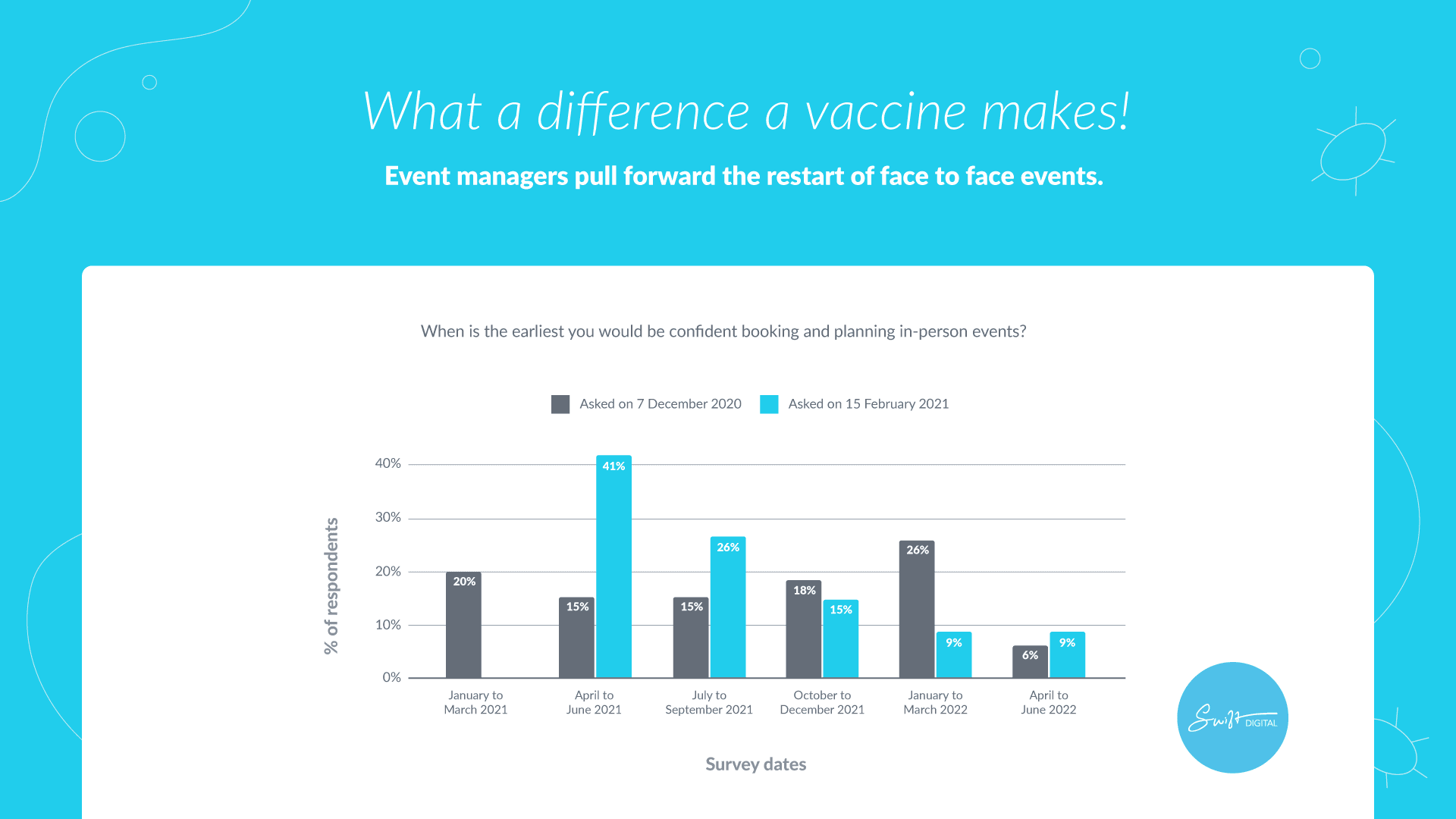 As part of our updated research back in December 2020, we asked Event Managers again, "When is the earliest you would be confident booking and planning in-person events?"
Event Manager confidence in a return to face to face events has collapsed further in just the last 30 days.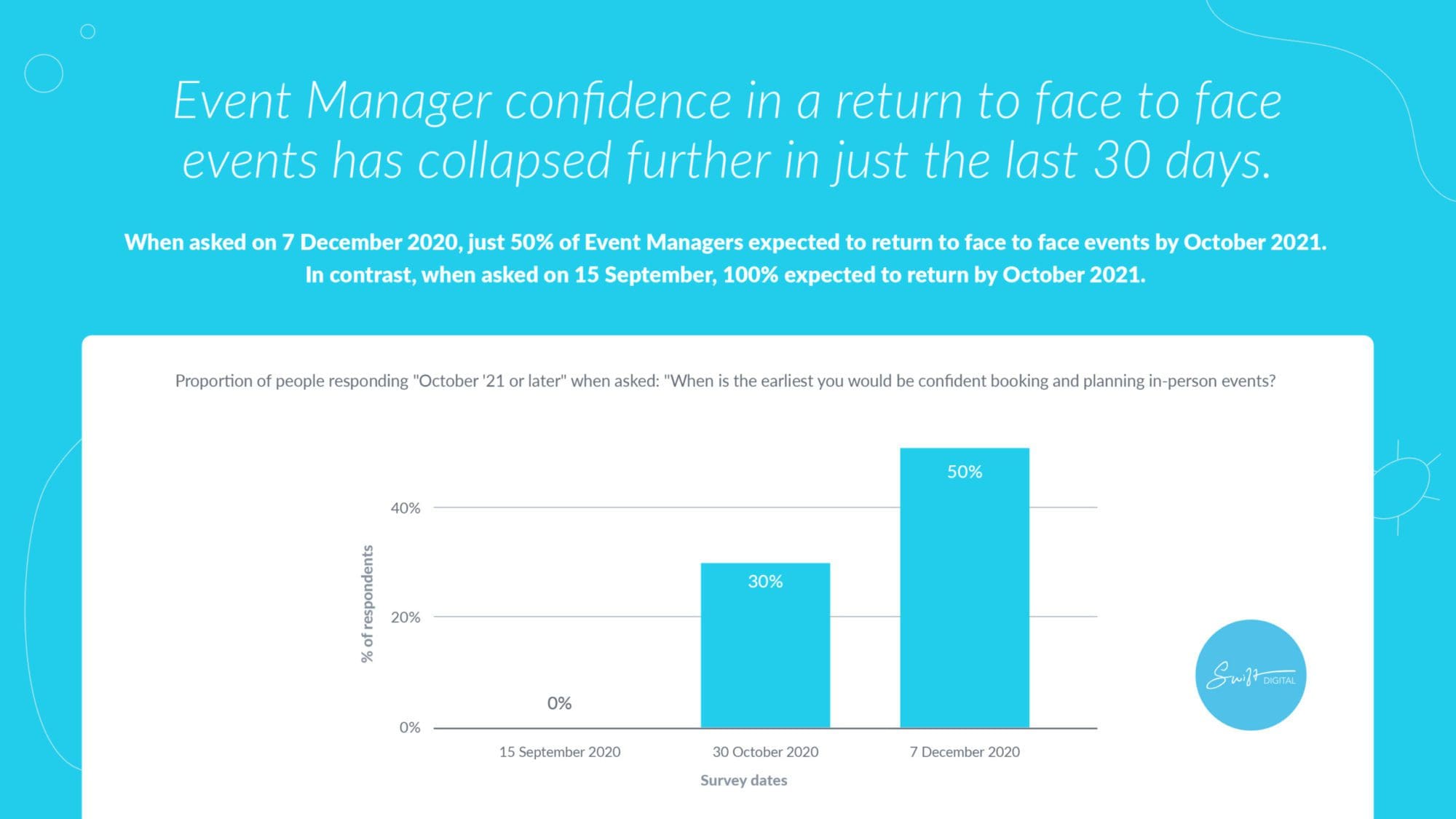 Research from our first survey back in September that Event Managers aren't confident that they will be running face to face events in the near future.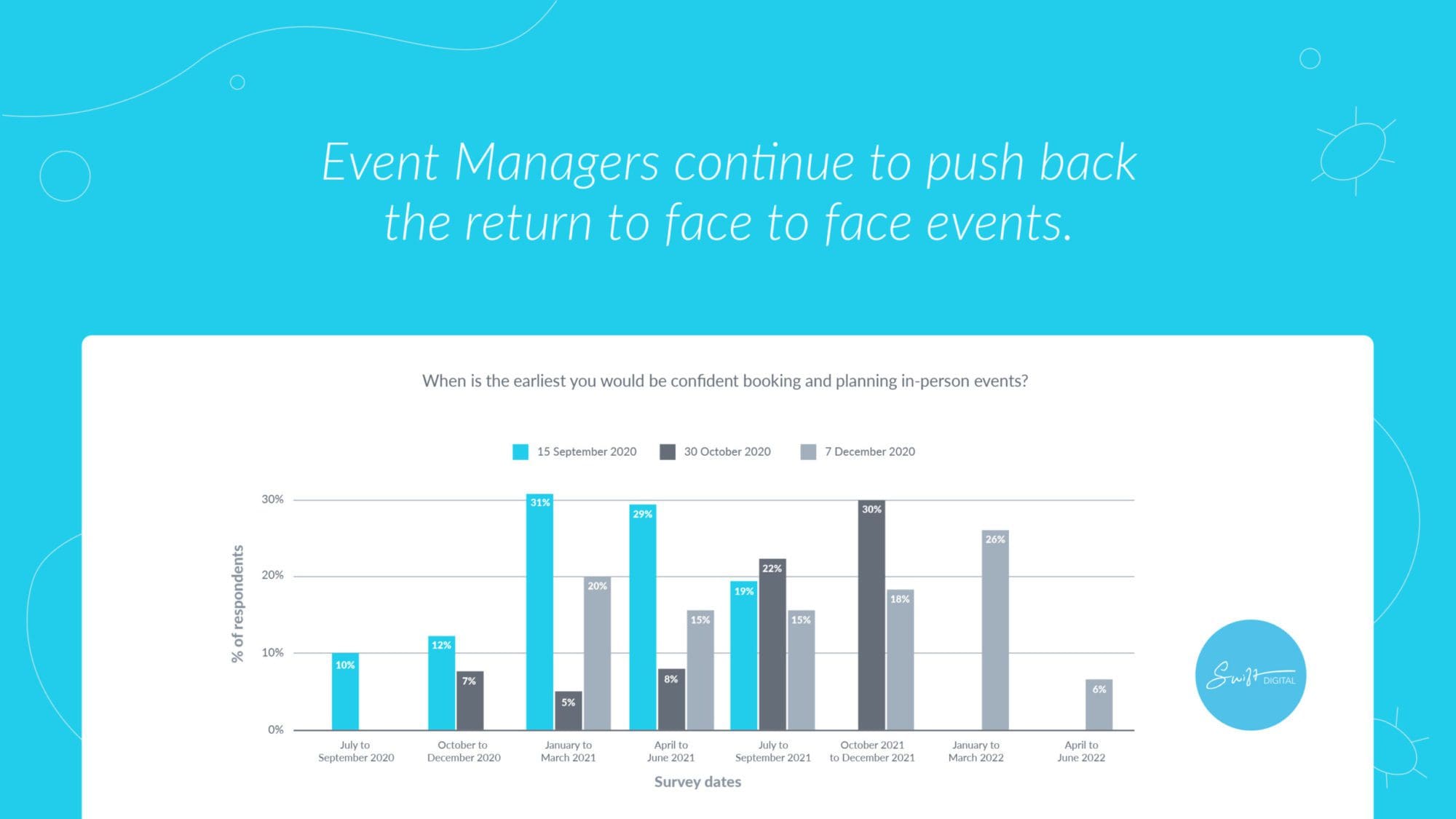 New research providing benchmarks, statistics and best practices applicable to all Australian Businesses
When in-person events became near impossible how did organisations react, what worked and how should event organisers plan for the return to normal? To answer these important questions, Swift Digital conducted a survey looking into the status and future of the Australian events industry.
The results from the survey are now in.
Download Free Report
Benchmark your approach with your peers
Identify and use best practices
Compare your return to in-person event time horizon with your peers
Download Report Here
Stand out key findings
When Covid-19 shut down in-person events, many organisations 47% shifted a portion to virtual but 18% completely stopped all events
Download this free report and you'll discover:
The reaction of Australians to the forced shut down of in-person events

The roadmap of when organisations plan to start running in-person events again.

Top 5 virtual event skills needed to run a successful online event.

Who is running virtual events and how they are running them.
Download Report Here
Swift Digital's Commitment
Swift Digital is committed to ensuring that the organisation remains Australian owned and operated and to ensure we provide a service that continues to support local, regional and national Australian businesses and organisations. Together, we can help rebuild the Australian economy!