What is an Australian Government Email?
An Australian Government email is a form of digital communication that the Government use to stay in touch with its citizens and stakeholders. The Australian Government email can take different forms, usually formal and informative. Australian government emails are an essential part of the overall running of the country, states and people.
Most Common Government Emails
In Australia, Government email can be transactional and non-transactional depending on the department or organisation. Some of the most common Government emails are;
Alerts

Newsletters (Internal and external)

Promotional

Reminder emails

CEO emails

Insider emails

Broadcast emails

Announcements

Invitations

Update emails

Media releases

Business bulletins
Stakeholder Comms Plan Template
Improve communication on projects

Reduce resources

Make decision-making easier!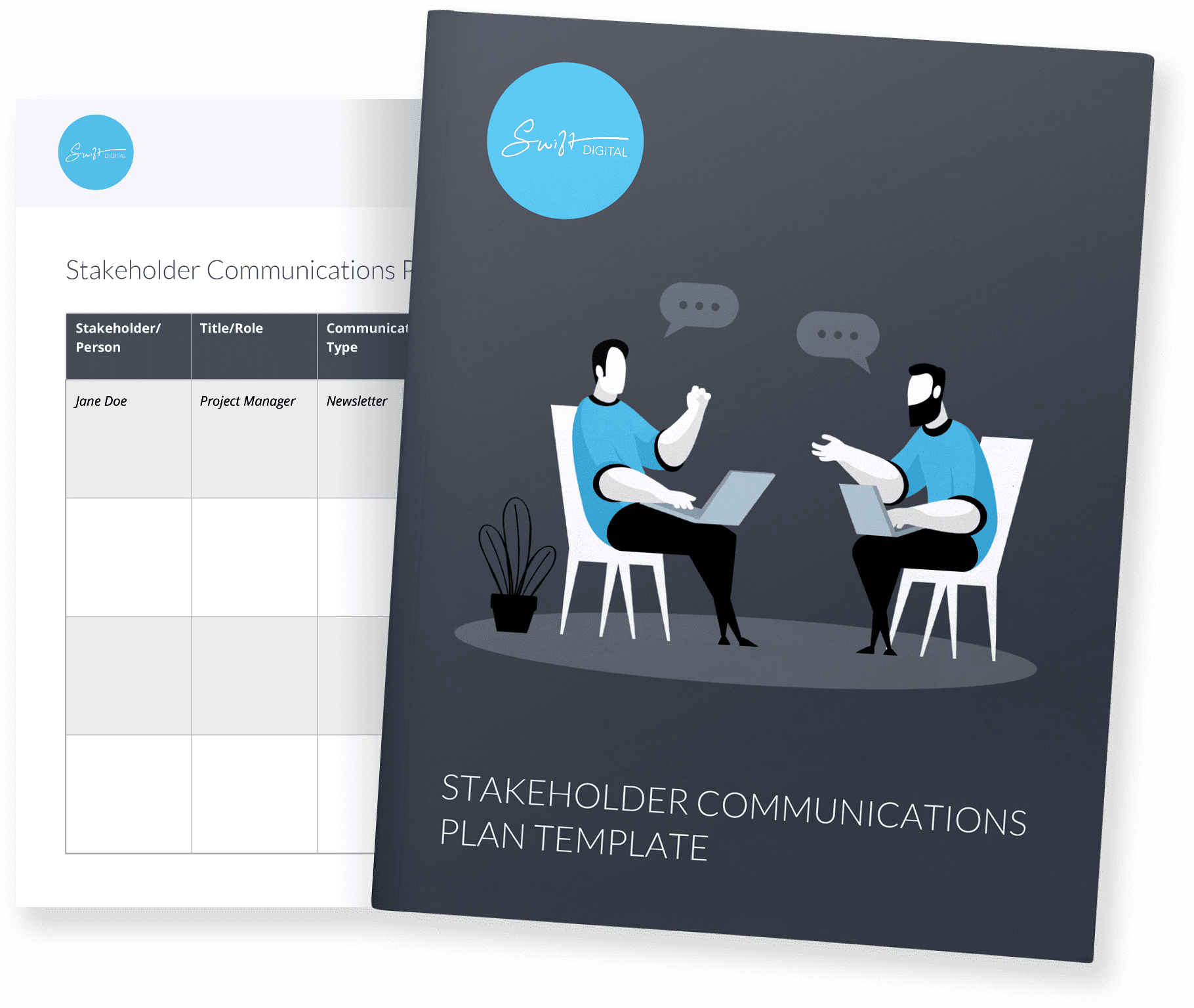 Download Template
Australian Government Email Deliverability Challenges
The Australian Government email strategy, like the private sector, has its email deliverability challenges such as inbox placement, hitting spam traps and landing in the dreaded junk folder.
So, how do government overcome these email deliverability issues?
Like the private sector, the Government aren't immune to email deliverability issues. To maximise inbox placement and to ensure Government emails land in the inbox of their citizens and stakeholders, the Australian Government work alongside ESPs like Swift Digital to ensure they have key email deliverability components in place. Key email deliverability components include;
Subdomain
Sending Domain
DKIM
SPF
DMARC
SSL
Having these key deliverability components in place not only improves placement and helps you to avoid spam traps and junk folders but also improves the security of your platform and the emails you send.
Government Email Addresses
Government email addresses in Australia usually follow the format of .gov.au. This is what most gov departments use and it's the domain that Government departments work with ESPs to set up the DKIM, SPF and DMARC on.
Government Email Outlook
The Australian Government's chosen email client is most commonly Outlook. This is usually down to legacy and it continues to be Microsoft Outlooks due to change implementation sometimes being a long process within Government IT teams.
Government email Outlook is also the chosen email client due to the integration with other Microsoft products and sometimes for security purposes.
Microsoft Outlook doesn't come without its issues when it comes to email marketing and design. If you are reading from an Australian Government department you are probably thinking 'Yes, my email does always look different in Outlook than how I built it!'
You are not alone. Our article why does my article always look different in Outlook will shed some light on this and help you understand why Australian Government email (and private sector email!) does look different in Outlook.
10 Email Design & Deliverability Tips For Public Sector
1. Design & Layout
Your email or newsletter objective can be different for the Australian public sector compared to the private sector, which in turn can mean that the design and layout will take a different approach for an Australian Government email. However, there are some key fundamentals that your email should include
Always use a Header –

Newsletters are electronic newspapers and need a header. It is best to feature your logo in your header so the user knows exactly who their newsletter/email is from.

Use Imagery and Graphics –

Use good quality images and graphics in your newsletter and emails to break up the text and make it more digestible.

Mobile Responsive Design

– Create your design with mobile in mind. Simplify the layout, make sure your buttons are large enough to be clicked, and optimise images so they can be downloaded

Padding and Spacing – Be mindful of padding and spacing in your newsletters to break up text and emphasise sections and headings.
2. Fonts
Pick a font that won't distract your readers from your email or newsletter. Most Government departments usually have approved fonts in the brand guidelines.
These have been carefully selected to suit the Australian Government email. Sometimes gov departments across the board can have the same font for consistency and branding which is fine, just make sure you adhere to the font rules.
We've got a couple of tips when it comes to fonts below:
Email Safe Fonts – Email-friendly or safe fonts are fonts that are most commonly found across most computers, software, browsers and email clients.
Best Font Size – The body text is generally between 14-18px and a header is 20-26px
3. Colours
Colours can portray meaning, emotion, attitudes, stance, and associations and should be considered carefully when designing your Australian Government emails and newsletters.
Text Colours –

Usually, the body text of a newsletter is off-black or a dark colour.

CTAs and Buttons –

Calls to action should stand out against your text and background

Link Colours –

These should also be eye-catching, especially if you want your reader to click on them

Backgrounds – Backgrounds in your newsletter should usually remain light, white is the best for readability and screen readers
4. Content and Ideas
Content is not storytelling, it is telling your story well.
Content builds relationships, relationships build trust, and trust drives revenue and connection. Storytelling is an important part of Government emails and public sector communication and building trust is at the forefront of any Government communication.
Email and newsletters are the way that the Australian Government choose to inform their stakeholders about what is happening, how they are engaging and building relationships with the community, and how their money is being spent amongst other things.
The Government chose to use stakeholder communication platforms like Swift Digital to communicate with their audiences.
5 Tips For Writing Government Newsletter Content
• Create scan-friendly text
• Keep important information at the top
• Be clear and succinct
• Write for your audience
• Use links and CTA's
5. Email Testing and Deliverability
We touched on this above under the header Australian Government Email Deliverability Challengers but it can't be stressed enough how important this is as part of the wider Australian Government email strategy.
Testing your email newsletters is as important as producing the content. It should be something you factor in throughout the build process and most certainly before publishing.
6. Core Engagement Metrics
Just like the public sector, the private sector wants to be able to measure the success of its emails and newsletters.
We've cherry-picked the 10 most important email and newsletter metrics you should be monitoring:
Open Rate
Click-Through Rate (CTR)
Click Through to Open Rate (CTOR)
Unsubscribe Rate
No. of Bounced
Successful Forwards
Poll Results
Email Deliverability
Engagement Score
Activity by Module
7. Email Accessibility For Australian Government Email
When it comes to the Australian Government and state governments there is a standard for email accessibility. Most Government departments and organisations require their emails, newsletters and web content to comply with the Disability Discrimination Act and WCAG 2.0 Level AA.
Email newsletters usually must include a link to view an HTML version in a web browser when it comes to Australian Government email marketing.
8. Email Server Reputation
Email software is becoming more advanced at filtering out spam emails.
However, without a strong focus on deliverability best practices including setting up a subdomain and implementing DKIM, SPF and DMARC on your sending domain, your emails may continue to land in spam folders.
9. Branded Theme and Styles
It's super important in Australian departments and organisations to ensure that their brand guidelines are strictly adhered to and upheld, in some cases, they are more stringent than the private sector.
One way to ensure that you and your team are all singing from the same hymn sheet is to have a theme and a selection of styles set up within your email marketing platform that is based on your department's brand guidelines.
Having a theme and styles to choose from will ensure that the brand colours, fonts and styles are all locked in and used in the correct way when sending out your emails and communications, this leaves little room for brand mishaps when sending out your emails. Your boss will be very grateful!
10. Australian Government Email Privacy and Security
Australian Government have their own set of rules and regulations when it comes to the security and privacy of emails, newsletters and communications using an email marketing platform. Some of the most common ones are:
With Australian Government email, email newsletters must also comply with the

Spam Act 2003 (Cth)

You must get a person's permission before adding them to your subscriber database

Users must opt-in to receive your newsletter and agree to your collection notice

Using approved suppliers like NSW ICT Services Registered Supplier List and Victorian Government Services Register App

Australian hosted data

Regular penetration testing

Enterprise data centre security
The Preferred Email, Events and SMS automation Software For All Government Departments
Whether you are sending broadcast emails, business bulletins, preparing corporate invitations or sending critical public messages, Swift Digital has you covered.
Swift Digital works with over 300 public and private sector companies – including Government Agencies, Local governments, Universities, Healthcare and the Financial sector– to improve their communications and stakeholder management.
Find out why we're the Australian government department's number one choice for their professional communications and events, contact our team.
Australian Government Email FAQ
Is .gov.au an Australian government email?
Yes, .gov.au is what most gov departments use and it's the domain that Government departments work with ESPs like Swift Digital to set up the DKIM, SPF and DMARC on.

What emails do the Australian government send?
The Australian government send transactional and non transactional emails. The Australian government send emails via marketing automation platforms that are Alerts, Newsletters (Internal and external), Promotional, Reminder emails, CEO emails, Insider emails, Broadcast emails, Invitations , Media releases, Business bulletins.

Why does the Australian government use Microsoft Outlook?
The Australian Government use Microsoft Outlook mainly due to legacy and the long processes that come with implementing change. Government organisation choose Outlook also due to the integration with other Microsoft products and sometimes for security purposes.
Don't forget to share this post!
The Preferred Email, Events and SMS Automation Software For All Australian Government Departments
Swift Digital's templates help you effortlessly create stunning emails and events communications using our drag-and-drop email and event builder.
You can raise engagement with embedded images, videos, polls, article feedback, and emojis and schedule messages to send at the right time.
Government departments' unique marketing requirements are covered with Swift Digital, and full compliance with all anti-spam and privacy laws is guaranteed. Swift Digital is also ISO 27001 certified.
Swift Digital is Australia's leader in marketing automation software and event management working with organisations like the NSW Government, ATO, and companies like Westpac Bank and Qantas.
Find out why we're the Australian government department's number one choice for their professional communications and events.
To find out how your business can get the best out of Swift Digital's platform, contact our team today.
Don't forget to share this post!