What is a Company Newsletter?
A precise meaning of company newsletter is that it is an electronic or printed communications piece that is used by an organisation for its internal and external communication. The company newsletter shares details of the activities, the latest news and updates about the company. Company newsletters are sent to employees, subscribers, customers, community members and target audiences. 
Have you ever been tasked with improving the company newsletter? Or is it your job to increase the engagement rates of your company's newsletter?
If so, there are a few tips and tricks to creating the best company newsletters and we've got them covered in this blog. 
So where do you start?
This blog focuses on the electronic version of a company newsletter and by the end of it, you will know how to write a company newsletter that performs as well as learn what is needed to create and design a great company newsletter. 
Lastly, we look at 5 of the best company newsletters and explore what features make them our top picks!
Blog Contents
Email Newsletter Best Practices
1. Plan and design the best newsletters
2. Break down email deliverability jargon
3. Identify the key metrics you should be watching and why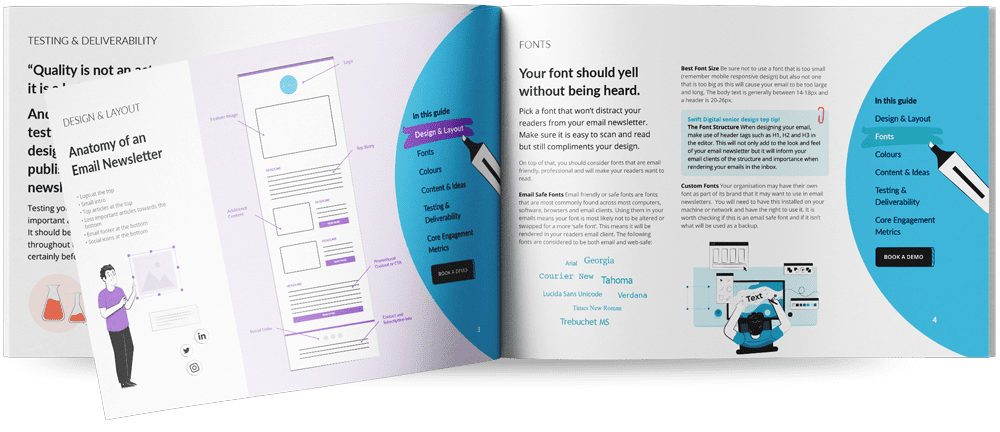 Download Guide
How to Write The Best Company Newsletters
Email newsletter publishers earn an open rate of 22%, which is a high engagement rate compared to other media outlets.
Sending a company newsletter is not something that should be an afterthought. All the best company newsletters are planned and executed strategically in line with business and organisation objectives. 
Writing the company newsletter is a big responsibility. 
If you aren't a seasoned newsletter writer, editor or creator then it can be a little daunting. 
When people first delve into the world of email marketing, one of the first things they will try out is a newsletter. However, a bad newsletter will get opened once and worst-case scenario, never again.
It's important when creating the organisation's newsletters you follow best practices by including interesting articles, encouraging engagement and following design rules.
Will your audience like it?
Will it get read?
Will people find it interesting?
Did I spell everything correct?
These are the type of questions you may ask yourself when it comes to creating your newsletter, but with the right planning and tools in place, you will be able to create the best company newsletters.
Company Newsletter Ideas
To make your company newsletter stand out, be the best and be sure it gets open and engaged with, try out some of these company newsletter template ideas:
Use polls

Use video snippets

Round up of blogs

Surveys and survey results

E-books/Training resources

FAQ's 

Upcoming webinars

Job openings

Employee stories/series

Emoji reactions

Deals and promotions for employees

Team spotlight

Company updates

Listicles
Company Newsletter Design
Logo at the top

Small intro

Top articles at the top

Less important articles towards the bottom

Email footer at the bottom

Social icons at the bottom
Your company newsletter design should also try to incorporate the following design elements:
Prominent CTA

Three columns (ideally)

Use white space 

Embrace emojis (if suitable)

High-resolution images (avoid blurry low res images)

Mobile responsiveness
Company Newsletter Testing
Humans are very familiar with the traditional style of the newsletter and it is best practice to keep your newsletter layout similar each month. 
Whilst following the standard company newsletter layout, if you want to be producing the best company newsletters you should conduct some A/B tests. Make sure you conduct one test at a time. Some tests you could carry on your organisation's emails include;
Test CTA position

Test column layouts

Test adding socials to the top instead of the bottom

Test different colours on CTA's

Test copy length

Test article numbers
Company Newsletter Templates
In order to create a high-quality company newsletter, a template is a good asset to develop and keep handy. Company newsletter templates help to keep you on-brand with your company message.
If you don't use guide rails for business and newsletter writing, you could stray from the company ethos and publish something that senior management frowns upon.
10 Tips to Create the Best Company Newsletters
Decide on an objective

Use one key call to action (CTA)

Use an email marketing platform

Review Successful company newsletters

Mobile accessible

Keep text to a minimum

Use high-quality images

Test your company newsletter

Be consistent with your publishing

Include free resources
5 of the Best Company Newsletters Examples
We have handpicked some of the best company newsletters examples and examine what makes them our top picks.
1. Email on Acid
I personally really like the Email on Acid newsletters. With this company newsletter, the EOA team makes great use of white space in their newsletter giving room for their text to look readable and giving the attention their graphics deserve. 
Although they use two CTA's, they are both strong. They are bold, clear and use intriguing language that make the reader want to click. 
The language used in the Email on Acid newsletter is informal but very targeted. The "Hey Devs, this ones for you" text is a great example of this, it's engaging, intriguing and is very targeted towards segments of their audience. 
All in all, a big thumbs up and 5 stars, this is easily one of the best company newsletters around.

2. Australian Centre For Agricultural Research
This company newsletter from the ACIAR is a stand out. The structure of this newsletter is very typical of a corporate communications organisation. They stick to the standard autonomy of a company newsletter, logo at the top, introduction, main article and footer. 
What's extra nice about this newsletter is that they use text sparingly, encouraging their users to read more. The read more button expands and collapses the text for the reader meaning they aren't overwhelmed with heaps of text.
The use of high-resolution imagery in this company newsletter also draws the reader's attention and adds to the professional design of the company newsletter. 
A stand out example for the more formal world of corporate communications and government. Solid all-round newsletter.

3. FairWork Ombudsman
Another example from the corporate communications sector. This newsletter template designed by Swift Digital for FairWork Ombudsman is ready to be used as their company newsletter. 
This company newsletter uses space very well and manages to get three articles and an introduction all within the one page, minimal scrolling required. 
The use of a poll is a fantastic addition to boost readers' engagement. 
This company newsletter template also uses quick links so readers can easily navigate to their favourite articles, a superb little feature for the skim reader. 
A clean, modern, no fuss company newsletter template. Drop some high-resolution images and interesting content in there and it's ready to go.

4. Australian Tax Office
This newsletter example from the ATO is a newsletter for the not for profit sector. It bucks the traditional newsletter design layout and opts to use a different layout with the main article featuring a snippet of text that is linked. 
This might not work for all, but it works very well due to the design of the newsletter. 
The design of the newsletter is clean, minimal and uses block and block colour to separate the elements, this style ensures you can add text links and they are not crowded or lost. 
They add the footer and social links to the bottom as per traditional newsletter designs and keep the introduction short and sweet. 
A well designed, thought out newsletter that deserves to be in the running for the best company newsletters.

5. Zapier
Below with have the August edition of Zapier's monthly newsletter.  This newsletter opts for a one-column layout and a slightly longer layout. The slightly longer layout works for this newsletter as it is not text-heavy allowing for each part of the newsletter to stand out and be seen.
The graphics are clean, not fussy and very on-brand with a very strong call to action button. The colours blue and orange are a perfect contrast to ensure the CTA stands out. The use of language in the newsletter entices the reader to want to know more and the sparse use of icons adds to the simplicity of the design.
All in all a good monthly newsletter that demonstrates that you don't necessarily have to follow the traditional newsletter layout to make it work.

Use Email Marketing To Create Your Next Company Newsletter
Is your company looking to up their newsletter game and create a newsletter people actually want to read? 
Whether it is an internal or external company newsletter, Swift Digital has all the tools you need to make sure your company newsletter doesn't end up in the junk, deleted or thrown to the side. 
Swift Digital's newsletter email builder has interactive tools including polls, emojis, videos, surveys automation and means you can create better company newsletters that you know will get read!
Swift Digital can share more resources and best practices relating to your industry and how they successfully send internal and external company newsletters.
The Preferred Email, Events and SMS Automation Software For All Australian Government Departments
Swift Digital's templates help you effortlessly create stunning emails and events communications using our drag-and-drop email and event builder.
You can raise engagement with embedded images, videos, polls, article feedback, and emojis and schedule messages to send at the right time.
Government departments' unique marketing requirements are covered with Swift Digital, and full compliance with all anti-spam and privacy laws is guaranteed. Swift Digital is also ISO 27001 certified.
Swift Digital is Australia's leader in marketing automation software and event management working with organisations like the NSW Government, ATO, and companies like Westpac Bank and Qantas.
Find out why we're the Australian government department's number one choice for their professional communications and events.
To find out how your business can get the best out of Swift Digital's platform, contact our team today.
Don't forget to share this post!