The best email marketing software in Australia is the one that delivers a full suite of email marketing (and automation) features, and aligns with Australia's data and privacy laws.
We know shopping around for an email marketing software can be an overwhelming and confusing experience. 
Add in having to consider your country's data security laws (such as the Australian Privacy Principles), and comparing software becomes even more difficult.
So, we've made a list of the best email marketing software to use, have pointed out which ones store data in Australia, and have listed out the pros and cons of each option.
Email marketing is amongst some most cost-effective strategies that can help you take your business to the next level.
Whether you are a small business or a large organisation, email marketing can do wonders for you.
For those who don't know what email marketing is and how it is so effective, email marketing involves sending marketing messages to your loyal customers, website visitors who have opted to receive emails from you, and even to a cold audience.
Marketing messages can be the reward for your loyal customers, announcements about new products and services, exclusive discount offers and anything else your audience might love.
There are several email marketing softwares available out there, that reduce the time and efforts required for email marketing otherwise.
Swift Digital Overview
Australia Data Storage
Email Automation
100% Australian
Custom Integration
Easy to Use
Download Brochure Overview
A List of Best Email Marketing Software Australia
We will be comparing these email marketing software options based on the following variables:
Does the software offer a full suite of features?
Does it provide automated journey builders?
Is it easy to design fully branded emails?
Does it have good reporting and data analysis capability?
Where is data stored?
Depending on your business, and whether you operate in the private or public sector, where your data is stored may be of the utmost importance.
Cost to use
Software usually costs money to use. We've clarified the cost of each application in the table below. Ranging from free to $$$.
| Application | All features? | Where is data stored? | Cost |
| --- | --- | --- | --- |
| Swift Digital | Yes | Australia | $$ |
| Campaign Monitor | Limited | USA | $$ |
| Marketo | Yes | USA & Australia | $$$ |
| Mail Chimp | Limited | USA | Free – $ |
| SendInBlue | Limited | European Union | Free – $ |
Swift Digital - Secure Australian Marketing Automation Platform
Swift Digital is an email marketing software made in Australia, with data stored securely in Australia as well – making it a favourite with the Australian public sector. It's not just an email marketing software, but offers automation across multiple marketing channels (such as events, SMS, and surveys). It also offers custom training, personable support and 1 on 1 account management.
Top 3 Pros
Australian-based (APP compliant, with local, state and federal government customers)

Custom, live account management and Australian support

Strong automation features across multiple communication channels
Bottom 3 Cons
Multi-channel marketing tools means more to learn

Live Support only available during Australian working hours

As a marketing platform, does not replace the need for a CRM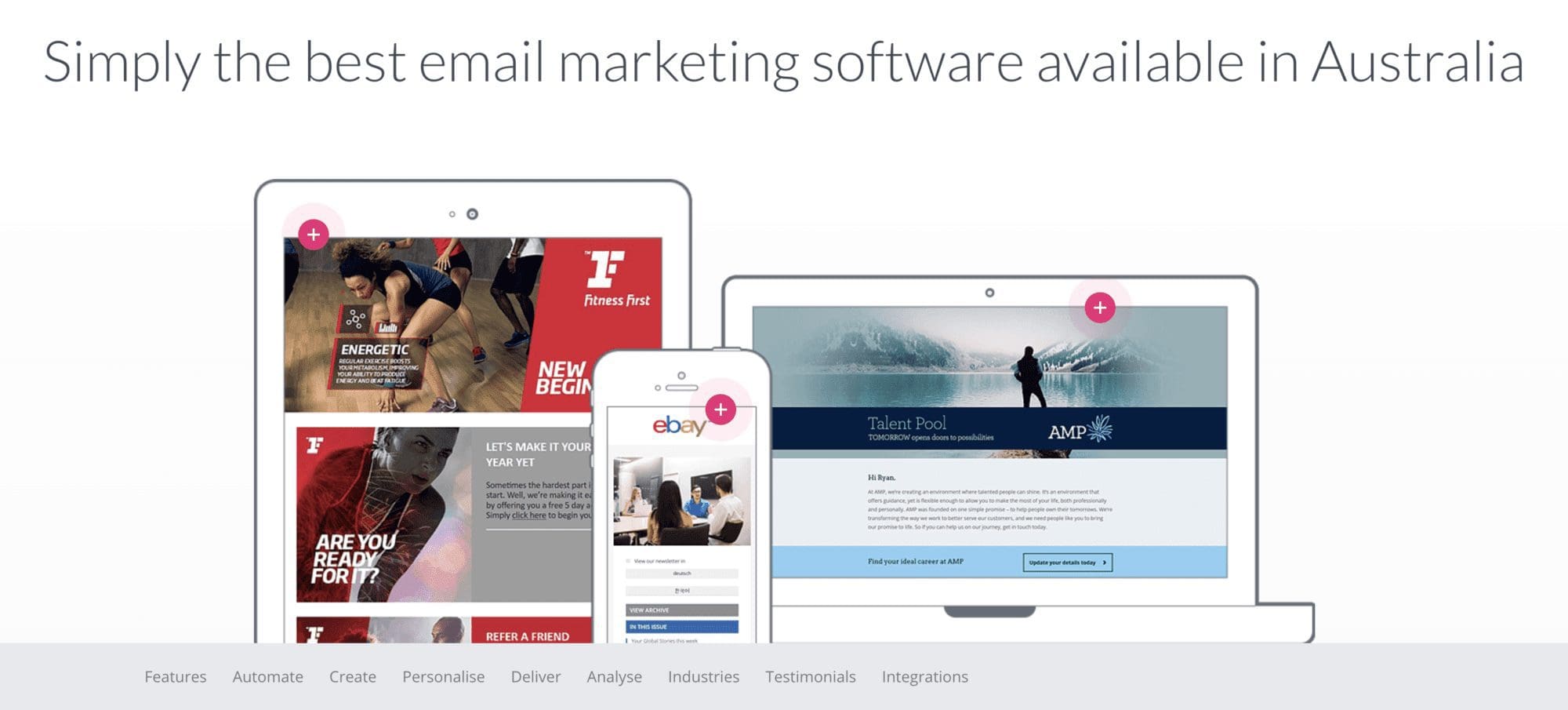 Campaign Monitor - Easy-to-use email marketing for business
Campaign Monitor is a simple-to-use email marketing application hailing from the USA. This software enables you to build beautiful, branded emails, and publish them to managed lists.
Top 3 Pros
Comprehensive email marketing tools

Easy to use API (accessible integration options)

Strong email testing capability
Bottom 3 Cons
Does not replace a CRM

Can be difficult to learn how to use without a technical background
Marketo - Complex marketing automation
Marketo is a marketing automation tool suitable for larger organisations looking to send communications in bulk. It offers a full suite of sophisticated automation tools. It's a bit on the pricier side, with subscription starting at $895USD a month.
Top 3 Pros
Easy to use

Accessible customer support

Quick account set up

Bottom 3 Cons
Steep jumps in pricing between account tiers

Not enough training for new users
MailChimp - Accessible, free email marketing software
MailChimp probably needs no introduction. As one of the only email marketing software on this list that offers a Free Account, it's used by amateurs and professionals alike. There are shortcomings though, mostly related to limited features, and a lack of depth in reporting analysis.
Top 3 Pros
Easy to use drag and drop email editor

Free to use! (with limitations)

Simple, understandable reporting
Bottom 3 Cons
Limited automation capability

Lack of customer support

SendInBlue - Free and easy, best for small groups/business
SendInBlue is another affordable and accessible application. Whilst it has most of the features you need without asking you to break the bank, there are limitations for email design. SendInBlue also includes SMS marketing capability, making it a multi-channel communication application. With monthly plans starting at just $25, you may find SendInBlue has enough features to meet your company's needs.
Top 3 Pros
SMS functionality included

Free trials available

Affordable
Bottom 3 Cons
Email design options are limited

Limitations on number of email sends per month (paid accounts have less limit)

Pardot - Paid, B2B Marketing
Pardot is a marketing automation solution that helps companies create meaningful connections, generate more pipeline, and empower sales to close more deals.
Top 3 Pros
Integrates well with Salesforce
Ongoing technical support via email
Unlimited access to the Pardot Knowledge Base
Bottom 3 Cons
Clunky User Interface
Basic Reporting
Overpriced
Harness the Power of Email Marketing
When it comes to the best email marketing software Australia, your business needs to weigh up your needs and balance them against your country's data security laws. 
It's one thing to commit to a piece of software that has all the functionality and features you desire, but it's another thing completely to find software that stores your data legally and securely. 
Marketing automation is a powerful tool when used to its full advantage. We hope our comparison helps you find the best email marketing software in Australia for your business and your goals.  
For more information on using marketing automation, check out our complete guide to marketing automation best practices.
The Preferred Email, Events and SMS Automation Software For All Australian Government Departments
Swift Digital's templates help you effortlessly create stunning emails and events communications using our drag-and-drop email and event builder. Raise engagement with embedded images, videos, polls, article feedback, and emojis and schedule messages to send at the right time.
Government departments' unique marketing requirements are covered with Swift Digital, and full compliance with all anti-spam and privacy laws is guaranteed. Swift Digital is also ISO 27001 certified.
Swift Digital is Australia's leader in marketing automation software and event management working with organisations like the NSW Government, ATO, and companies like Westpac Bank and Qantas.
Find out why we're the Australian government department's number one choice for their professional communications and events.
To find out how your business can get the best out of Swift Digital's platform, contact our team today.
Don't forget to share this post!