You have a bunch of tickets to sell, you need bums on seats and the deadline is fast approaching. We have all been there. Planning an event can take up a considerable amount of time and resources and that is before you have even sold one ticket.
Selling tickets can be one of the hardest parts. So, what is the best way to sell tickets and ensure your event runs at full capacity? 
There are some key tactics you can use to boost the success of your event whatever the budget.
Here are our top tips and tactics for selling tickets for your event.
Contents for the best way to sell tickets and increase sales
The best way to sell tickets and increase event registrations

Trying to keep costs down? Here is the best way to sell tickets on a budget

Boost your last-minute ticket sales by building up event anticipation
The best way to sell tickets and increase event registrations
1. Leverage Partnerships to better promote your event
If you are holding a corporate event, you could partner up with the venue or hotel you are holding the event at. If it is a technology event, acquiring a sponsor could help you expand your reach and generate more interest to sell more tickets. 
Your partners are likely to also have expertise on the best way to sell tickets into your target audience.
2. Offer Discounts
Your event management platform should be able to assign event statuses to contacts such as paid, declined etc. Use these statuses to keep an eye on what is happening with your event invites. 
If you are starting to see a rise in declines, or there seems to be a lull in opens of your carefully crafted invitation, then offer a discount on your ticket. 
One of the most attention-grabbing best ways to sell tickets is offering discounts. The following discount types tend to entice more sign ups:
Discount for large groups buying tickets

Time-limited discounts. Think "50% off for the next 2 hours!"

Discount codes for people inviting friends
3. Early Bird Registration/Tickets
Having people register early  generates interest for your event at an earlier stage of the planning process.  It is also a good early indication for your event planners on numbers which can help them budget more accurately for the event. 
Enticing your audience to purchase their tickets early with discounts, cheaper sign-up fees or 'buy one get one free' offers is an effective way to sell more tickets to your events.
Setting a time period for early bird tickets or limiting the availability e.g. "50 early bird tickets, grab yours today" can also add some excitement and urgency to the sign up process. 
Early bird registration has been known to evoke FOMO (Fear of missing out), so make sure you are ready, this could be the best way to sell tickets yet!
Trying to keep costs down? Here is the best way to sell tickets on a budget
Call-To-Action
Don't underestimate the call-to-action (CTA) for attracting your customer's attention. The right placement with the right language, can enhance the user experience and increase the chances of your user following the customer journey you have mapped out for them.  
Your CTA needs to be well designed, with strong wording, and should be strategically placed on your websites and landing pages. These characteristics will make sure your CTA is the one out of the hundreds your prospect will come across that will convert your user into a ticket holder.
Ensure your invitations and registration forms have a very clear CTA. You want to ensure that your reader knows exactly how to sign up, register or accept your invite, so take away any other distractions where possible, such as other buttons and menus.  Avoid vague language like 'submit', that don't compel your prospects to convert.
Event Registration and Confirmation Forms
Ideally, the use of an automation platform will align the design and branding of all your materials. If you aren't using an automation platform, then it's worth making sure that all your materials are on brand. Consistency of design makes an event campaign more memorable and recognisable. 
The idea here is that we want the user's buying journey to be seamless i.e. we don't want them feeling lost at any time during the user journey. If your user feels lost, they will lose confidence, get distracted and are less likely to complete the purchase process.
Event Pricing
To start with you'll need to decide how much each guest will cost you, and from that you can  determine your average ticket price. Once this has been established you can work out the rest of your pricing structure, discounts and categories. 
Try and offer multiple levels of pricing for your tickets, even if it is just an option of two ticket types. As mentioned, early-bird ticket options can generate early interest. Try and incorporate these into your pricing strategy e.g. first release, the second release, final release.
Lastly, who doesn't love a discount? Make your audience feel special. Create an email campaign and use triggers that send discount codes based on user engagement. For example; if they have opened a particular email you recently sent in the run-up to your event, entice them to purchase with a discount code. Swift Digital's all-in-one automation software uses triggers for campaign building, so you can set up your campaign and trigger your communications based on your user's actions.
Content is still King
Yes, this is still true when it comes to selling your tickets as well. You could look into commissioning a content writer for your event, but this can start to add up very quickly. 
As the event planner, you will know more about the event and understand its value more than anyone else, this alone makes you the best source of engaging and compelling content.
Most event automation platforms have a landing page module you can use to create a landing page that has one goal – to sell your event. Your landing page is essentially a microsite on the web and your content should follow basic web principles such as:
-A brief introduction to your event
-Use easy to digest bullet points for key information
-Use clear headings
-Clear CTAs
-Use of short sentences
-Highlight key info
Boost your last-minute ticket sales by building up event anticipation
Event Social Media
In the lead up to the event, it's important that you start to generate interest around your event. First stop, do your research around the social channels that your audience use. 
Is it a corporate event? If yes, then they are likely to be using LinkedIn as their preferred channel. If it is a more social event, you may want to use a combination of social channels. Establish the hashtags you will be using for your event as soon as you start releasing any content. You should start using these in the lead up to your event and monitor their engagement levels.
Reminders to Register/Attend
It is getting closer to the date of your event and your attendee numbers are looking a little bit sad. If you have already implemented all of the above suggestions on the best way to sell tickets to your event, then it may be time to give your audience a little nudge. 
This is where your reminder emails come in. Reminder emails can be a powerful ace card so use them wisely. 
What to include in your reminder emails:
-A reminder of what the event is, include the title of the event and tag line as well as any presenters.
-Include the date and time again, make this very clear.
-How to register and sign up (your CTA)
-Keep key info above the fold
-Make sure your reader knows where they can go for more information
-Make sure your subject line is effective and includes action words e.g.
          'Reminder; you have an event coming up',
          'Reminder; you're invited!'
          'Save Your Spot at this year's Swift Digital back to the Future Digital Conference'
Lead up events
Last but not least, schedule some smaller events prior to the main event. These can help build up anticipation and raise awareness of your event. A small event could include a webinar with one of the presenters, or even a meet and greet prior to the event. Also, you could hold workshops prior to the event or post event. 
Planning an event? Before you go any further take a look at our Event Management Handbook which is full of tips on putting together an event strategy. Don't forget to download your free event planning checklist.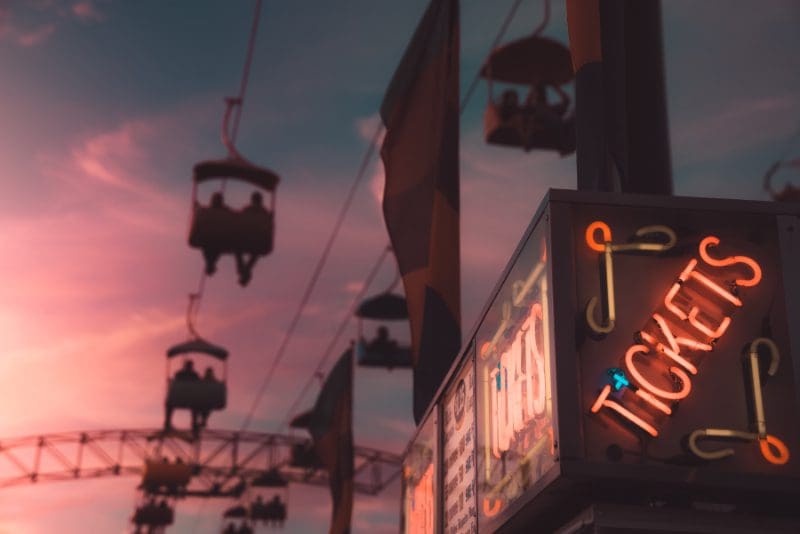 Buy a ticket. Take the ride.