What's the Best Way to Manage Federal Government Stakeholders?
Amazing marketing automation platform really works for the public service.
What do the Australian Taxation Office, Hobson's Bay City Council, and NSW Department of Premier and Cabinet all have in common? They've all used Swift Digital's marketing automation software to connect with their federal government stakeholders.
That might surprise some readers; however, the same powerful tools businesses use to effectively communicate with customers can also serve government agencies of all shapes and sizes.
Local, state, and federal government stakeholders departments may not require traditional marketing tools. After all, what good will email marketing do them? They don't generally need to grow their brands or sell more units
Stakeholder Comms Plan Template
Improve communication on projects

Reduce resources

Make decision-making easier!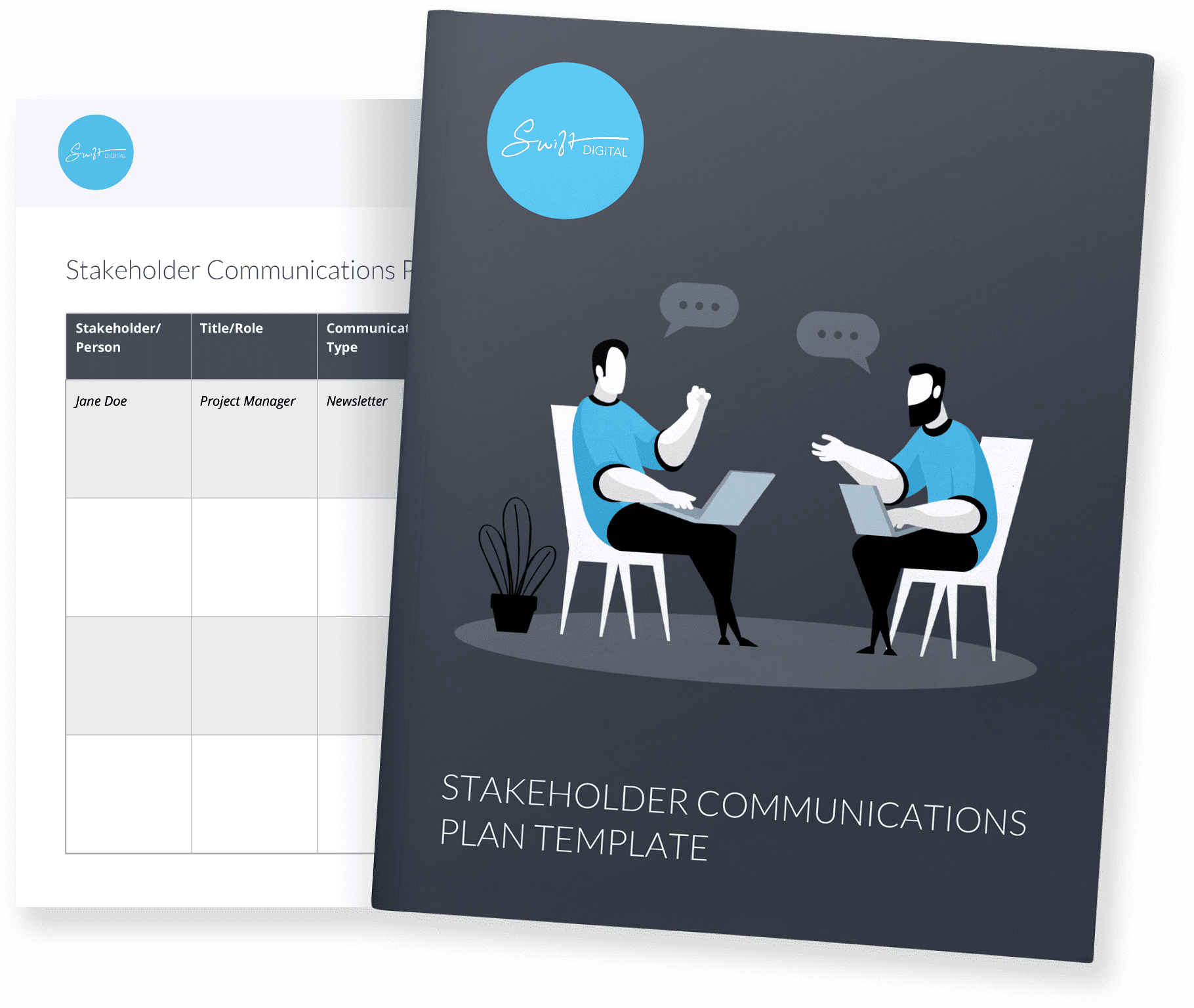 Download Template
The public interacts with most government departments on a needs-only basis. Nonetheless, a marketing automation platform remains an important tool for internal and stakeholder communication.
Swift Digital offers a communications solution that includes powerful, simple, and straightforward automation features across multiple communication channels.
One of the features that government users appreciate is the eye-catching templates that allow them to incorporate images, video, maps, and other exciting interactive elements in their emails.
You may be thinking, 'What difference does it make what a government department's email looks like?'
That's simple: it's to stand out in a crowded communications environment, in addition to projecting a level of professionalism and trustworthiness.
You wouldn't bother sending a messages if you knew it was going to be left unread.
Yet so many people in the public sector do that very thing. Government organisations can level-up their emails' looks by using Swift Digital's marketing automation platform to ensure every message looks professional, with appealing copy and interactive elements.
It's the best way to seamlessly engage with stakeholders, increase enrolment rates and performance, automate engaging email campaigns, and nurture relationships.
One Swift Digital user from the University of Sydney uses interactive elements to see how well their communications are performing, saying, "The tool is really fabulous to use and makes our communication look professional," s/he adds, "And importantly, means we can track engagement."
How exactly can Swift Digital make everything so much simpler?
The all-in-one stakeholder and internal communications platform has been developed and upgraded over the course of 15 years of close collaboration with businesses such as Qantas, Westpac, RACV, and multiple organisations associated with the Australian Federal Government.
Over this time, Swift Digital has helped create countless forms of communication between internal employees, and assisted local, state, and federal government stakeholders departments in integrating into internal communications systems.
Within the context of the stakeholder management platform, you have access to all of the tools that you might require, whether you are organising a series of events, developing sophisticated email marketing campaigns, or writing regular monthly internal and external newsletters. 
The platform makes it easy to:
Create stunning custom branded emails from templates

Automate common user journeys to save time 

Personalise otherwise impersonal messages 

Keep employees and stakeholders informed with regular newsletters 

Filter databases so people only receive messages relevant to them

Keep everyone's messages and data safe

Free up time for other marketing activities
The Preferred Email, Events and SMS automation Software For All Australian Government Departments
The ability to set and forget common user journeys is a time saver.
By automating campaigns, email programmes, and SMS campaigns, you can ensure that your messages reach the right people on a consistent basis, with the desired impact, and without consuming your time. 
Swift Digital is the market leader in marketing automation software in Australia. In addition to email marketing, the platform includes tools for event management, landing pages, surveys, SMS, automation, engagement scoring, and more.
All of these tools integrate seamlessly with your CRM software. 
Swift Digital is a 100% Australian-owned company, and all data is hosted onshore in accordance with Australian privacy laws. We offer live local support, certified data security, and customised integrations.
With simple reporting and analytics, you can keep track of how your messages are performing. Most importantly you can be confident that your data is safe and secure with Swift Digital's enterprise infrastructure and APP compliance. 
Given the ability to customise and create anything from email marketing campaigns and landing pages to event management and online surveys, it's no surprise that Swift Digital is used by many of Australia's largest companies and government departments.
The platform's wide range of features and integrations ensure your internal and external communications are as effective as possible.
Harness the Power of Email Marketing with the Swift Digital Suite
Swift Digital's templates help you effortlessly create stunning emails and events communications using our drag-and-drop email and event builder.
You can raise engagement with embedded images, videos, polls, article feedback, and emojis and schedule messages to send at the right time.
Government departments' unique marketing requirements are covered with Swift Digital, and full compliance with all anti-spam and privacy laws is guaranteed. Swift Digital is also ISO 27001 certified.
Swift Digital is Australia's leader in marketing automation software and event management working with organisations like the NSW Government, ATO, and companies like Westpac Bank and Qantas.
Find out why we're the Australian government department's number one choice for their professional communications and events.
To find out how your business can get the best out of Swift Digital's platform, contact our team today.
Don't forget to share this post!