What is Bulk SMS Marketing?
Bulk SMS marketing is a digital channel which enables mass communication allowing marketers to reach out to their customers directly to their mobile device. A text message is crafted in an SMS software and is sent out to a database of mobile numbers.
How Effective is SMS Marketing?
Some of the reasons why SMS marketing is so effective are:
So, it's obvious that SMS is a strong marketing channel, and well worth utilising for any organisation. 
But what makes the difference between an effective SMS campaign and an ineffective one?
We explore some of the fundamental bulk SMS marketing tips for 2020.
Before we get into it, let's refresh ourselves on why SMS marketing is important. Is bulk SMS marketing worth doing?
Does SMS as a communication channel result in high engagement? The answer is yes!
SMS Marketing Campaign Checklist
Plan your SMS goals and objectives
Ideas for successful SMS campaigns
Tips on being spam compliant with your SMS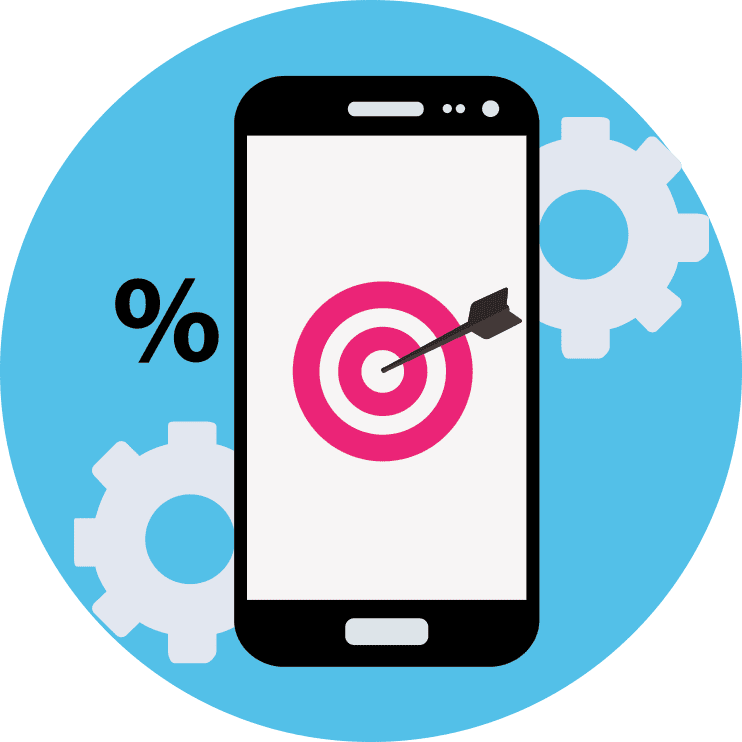 Download Checklist
Bulk SMS Marketing Tips: Planning a great SMS campaign
Decide on the goal of your SMS marketing campaign

As with any other marketing campaign strategy, your SMS campaign needs a measurable goal to guide your efforts. For example, your goal might be to have 50% of your audience click through to claim a voucher.

Build a Target Persona to represent your target audience

Now that you know your goal consider who the best audience for your SMS campaign would be to reach that goal. Create a Target Persona to help yourself and your team fully understand the kind of person you're talking to in your SMS.

Ask yourself: "Is SMS the best channel to reach this goal and audience?"

Whilst SMS is an effective channel, you run the risk of a high unsubscription rate if your audience does not appreciate receiving your campaign over SMS. Receiving promotional material over the phone can feel like an invasion of privacy to some. However, when the SMS content is valuable and timely – your audience is more likely to receive your SMS positively. Whilst a purely promotional campaign would do better sending via email, any extremely valuable information is best sent over SMS. Like exclusive offers with expiration dates and last minute information about event changes.

Implement a bulk SMS marketing platform

You're not going to send an SMS manually to hundreds of people, are you? That's a recipe for thumb strain. Use a bulk SMS marketing platform to get your SMS campaign out quickly and smoothly to as many recipients as you like.

Design the content of your SMS (more on how to create engaging SMS content below)

Ensure your SMS content is compliant with local SPAM laws (we've written about keeping your SMS communications legal, here)
Bulk SMS Marketing Tips: Creating engaging SMS content
1. Have a call to action? Make it obvious
Whilst you don't have the design capability of email, you can make an in-SMS CTA more obvious by given it priority placement in your text, using emojis to make the CTA stand out, and shortening CTA's that happen to be long URLs in order to make them less of an eye sore, and easier to click through.
2. Use emojis to grab attention
It's not just CTAs that emojis can help emphasise. Use an emoji or two in your SMS campaign to increase engagement. Emojis are the only way to add visual stimulus to a text based campaign, after all. Of course, it's important not to overdo it. Not everyone can pull off strings of emoji like Cher on Twitter.
3. Use personalisation to increase engagement
If you have captured useful information on your contacts, consider adding some personalisation to your SMS to increase engagement. The most obvious way to do this is to address a recipient by their first name. If you're sending a transactional SMS, you might include personalisations such as member number or a membership renewal date – as long as it adds value for your target audience.
4. Keep it as short as possible
When it comes to bulk SMS marketing tips for content, this has to be your number one priority: keep your SMS content short. 
Mobile devices have smaller screens, and as such are not great for long form reading. Make it easy for your audience and reveal your SMS campaign's value offer and CTA in as little words as possible. SMS is more forgiving when it comes to grammar, spelling and formalities. Skip all that stuff in order to get a short and sweet SMS campaign.
For example, say we're sending an exclusive downloadable offer/gift to our VIP customers. Let's explore what short, sweet and effective content might look like for an SMS campaign versus an email one.
Example of an Email Campaign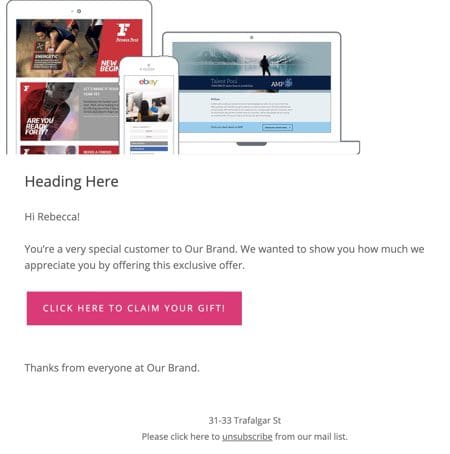 Example of an SMS campaign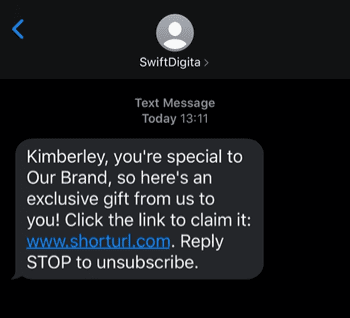 Example of Short SMS campaign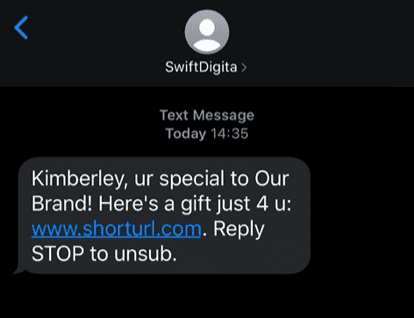 Notice that we have room to write more content in the email version, and we're not bound to include the sender name and unsubscription directly in the copy.
In the SMS versions, not only do we have to announce the sender name, but we also have to provide unsubscribe instructions – this is to keep our SMS compliant with the Australian SPAM Act.
We can use paragraph breaks in the email and write out grammatically correct sentences.
We can also provide hyperlinks and buttons for our CTAs. In SMS, we don't have the space to worry about grammar – and can forgo proper spelling in this channel without it being a problem. We also have to provide full links for the CTA.
Whilst you can use emoji in email content, you're probably adding design elements and visual stimulus to your email campaign in other ways. With SMS, emojis are your only option for adding in-content imagery.
Bulk SMS Marketing: Should you send 1-way (branded) or 2-way?
We mentioned above that your SMS campaign needs to divulge who the sender is in order to be SPAM Act compliant.
You can always divulge who you are by sending an SMS 1-way. This means that your recipients will receive a text from a brand name that you specify, rather than a mobile number.
This also means your recipients can't reply. However, if your SMS campaign doesn't require response, then sending an SMS 1-way can make it look more branded and professional.
If you need to receive and record replies to your SMS campaign, you will have to publish your SMS using a 2-way broadcast. If you're using an SMS marketing platform, that means a mobile number will be generated for you and will appear as the sender of the SMS.
To be SPAM Act compliant when using 2-way SMS publication, you have to divulge who you are early on in the SMS. We've done that in both the SMS examples above.
As more and more of the world hop on the smartphone bandwagon, SMS marketing is only going to become a more important part of your overall marketing mix.
We hope these bulk SMS marketing tips help you realise the full potential of communicating over this powerful channel.
tart collecting SMS subscriptions today, and see how your ideal ROI is only a couple text messages away. Is your business currently using sms and email as part of your wider strategy?
Do you need help with the creation, automation, or increasing engagement?
Harness the Power of Automation Software for your SMS Campaigns
SMS Marketing isn't just the future, it's the present day
Without SMS as a core part of your marketing strategy, your brand risks lagging behind and failing to reap the benefits of the wider reach and better engagement rates of catering to mobile devices.
Is your business currently using SMS and email as part of your broader strategy?
Do you need help with the creation, automation, or increasing engagement?
Here at Swift Digital, we can help you with your email and SMS campaigns by providing tips on email and SMS best practices to make your next campaign a success!
Start collecting SMS subscriptions today, and see how your ideal ROI is only a couple of text messages away.
The Preferred Email, Events and SMS Automation Software For All Australian Government Departments
Swift Digital's templates help you effortlessly create stunning emails and events communications using our drag-and-drop email and event builder.
You can raise engagement with embedded images, videos, polls, article feedback, and emojis and schedule messages to send at the right time.
Government departments' unique marketing requirements are covered with Swift Digital, and full compliance with all anti-spam and privacy laws is guaranteed. Swift Digital is also ISO 27001 certified.
Swift Digital is Australia's leader in marketing automation software and event management working with organisations like the NSW Government, ATO, and companies like Westpac Bank and Qantas.
Find out why we're the Australian government department's number one choice for their professional communications and events.
To find out how your business can get the best out of Swift Digital's platform, contact our team today.
Don't forget to share this post!