What is a Communication Plan?
A communication plan is the documented outline of how you plan to communicate with your audience, subscribers, colleagues and stakeholders.
Your communication plan will document the messages, call to action, communication objectives and goals as well as outline what channels and mediums you will use for the communication. 
Communication plans are used for email campaigns, content marketing, social media marketing, internal comms, product launches and other projects.
Email Communication Plan
An email communication plan or strategy is the planning of your email campaigns and/or email communications.
You will use the email communication plan to identify their goals, objectives, communication mediums, and frequencies. 
In this blog, we will be focussing on identifying the 5 key components of an email communication plan and what you should include in your communication plan in 2023.
What's The Purpose of a Communication Plan?
A communications plan's purpose is to act as a guide to follow when it comes to communicating your marketing messages including product launches, internal communications and in times of crisis and emergencies. 
A number of Swift Digital's clients and users have put together communication plans during the Covid-19 pandemic to help guide them on how they will communicate important messaging to their audiences and subscribers.
They have also used communication plans to plan how they will communicate amongst themselves when the workforce is working from home.
They have used the plan to identify what messages, mediums and tools to carry this out.
Email Marketing Cheat Sheet
1. Get yourself out of an email pickle fast
2. Tips to avoid email emergencies
3. Avoid common marketing automation mistakes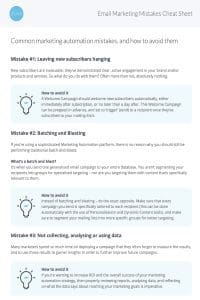 Download Cheat Sheet
Why is a Communication Plan Important?
A communication plan is important because it provides you with direction and outlines the method of execution. Think of it as your road map, without your map you aren't clear on what is your destination and how will you get there. 
Our clients use Swift Digital's email and SMS services to keep their internal and external subscribers up to date on the rapidly changing situation that is the Covid-19 pandemic and ensure important updates are communicated clearly and efficiently.
What Should a Communication Plan Include?
SMART objectives –

Specific, measurable, achievable, realistic, timely

Target Audience –

Their persona, likes and dislikes, media consumption etc.

Content Plan –

Topics of interest, keywords, engagement tools, a content calendar

Communication/Channel Medium –

Email newsletter using something like the Swift Digital platform, or Zoom online event.

Tools –

Identify the tools used to execute the communications 

Timeline –

Highlight when the communications will be sent out including date and time

Success and Improvements –

Identify the wins and the losses of the communication methods
What are the 5 Components of an Email Communication Plan?
1. Established SMART Goals/Objectives
Needless to say, your external and internal communications will achieve the best results if you plan ahead and set measurable goals to guide your efforts. 
Your communications plan should outline goals in detail and should clarify what key metrics you can come back to time and time again to make sure you're still on track.
2. Audience and Person Identification
Are they internal or external stakeholders? What is your audience average age, gender and demographic? What are their likes and dislikes? What is of value to them? Where are they located? What media do they consume? These are all questions that will make up your audience identification and persona creation.
3. Key Messaging
What will be the focus of your communication? Is it information only? is it action-orientated?
For example, is your desired action is for your reader to click a particular button? Build your key messaging out around your wider communications strategy. Be sure to align your key messaging with your brand tone of voice and overall objectives.
4. Medium/Communication Channel
These are the tools you select to execute your email communication plan. This can be a range of communication tools including email, SMS, social media, website and website content, blog posts, podcasts, webinars, online events and or video meetings.
Be sure to select the right communication tool that you know your audience is likely to consume.
For example, if you want to communicate an important message that is time-sensitive, then sending an SMS directly to your recipient's phone would be best. You can then direct your users to click on a link in the SMS that will take them to a landing page of information.
5. Frequency
The frequency of your communications should be included in your email communication plan. It's important that you know how regularly your audience wants to be contacted or have agreed to be contacted. 
A subscription preference centre is a great way to ensure you have your audiences permission to contact you and you can ask them how frequently also. Engagement is improved when readers can control how frequently you will be contacting them. This could be daily, weekly, monthly or quarterly.
5 Questions Your Email Communication Plan Should Answer
What is the key message you want to communicate with your audience?

What tools should you use to communicate your messaging?

How often should you be communicating with your audience?

Who is your audience?

What content will you be communicating to your audience?
The Preferred Email, Events and SMS automation Software For All Australian Government Departments
Swift Digital's templates help you effortlessly create stunning emails and events communications using our drag-and-drop email and event builder.
You can raise engagement with embedded images, videos, polls, article feedback, and emojis and schedule messages to send at the right time.
Government departments' unique marketing requirements are covered with Swift Digital, and full compliance with all anti-spam and privacy laws is guaranteed. Swift Digital is also ISO 27001 certified.
Swift Digital is Australia's leader in marketing automation software and event management working with organisations like the NSW Government, ATO, and companies like Westpac Bank and Qantas.
Find out why we're the Australian government department's number one choice for their professional communications and events.
To find out how your business can get the best out of Swift Digital's platform, contact our team today.
Don't forget to share this post!