Do you use company newsletter templates? If you don't, finding content to use in your company newsletter can be a daunting task and leave you asking yourself;
What should I write this week?
Why do I always struggle for content?
If this sounds familiar, try putting together a handful of templates to help you compose your company newsletter instead.
This article explains the benefits of reusing the same frameworks and provides 13 company newsletter templates ideas you can steal to use in your own business.
Why Have a Company Newsletter?
It can be tempting to overlook internal comms. But, internal communication is vital to help improve employee efficiency and morale.
A company newsletter's main is it helps teams and departments, who often operate in silos, understand each other better.
It also provides a way to control the narrative in your organisation. You can prevent or mitigate problems caused when misinformation and gossip spread around the company grapevine.
Email Newsletter Best Practices Guide
Plan and design the best newsletters

Use fonts and colours that complement each other

Write content that your readers want to read

20 content ideas!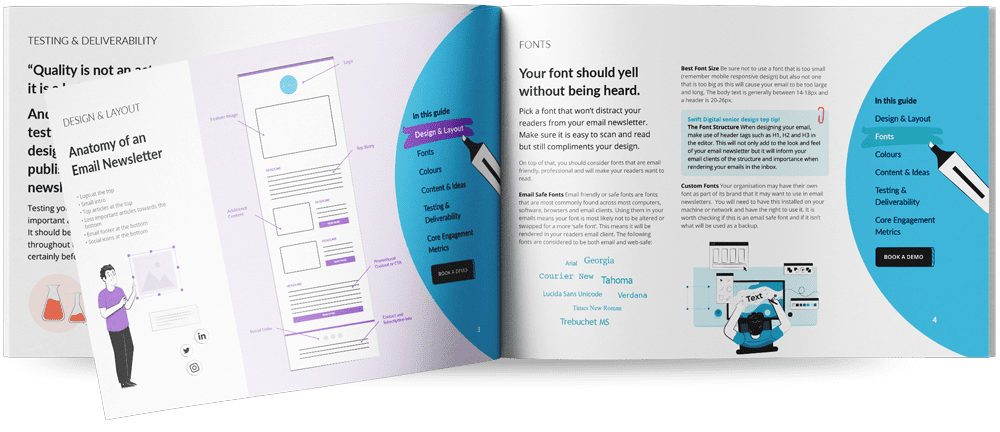 Download Guide
Benefits of an internal company newsletter include:
A newsletter can help to improve morale and engagement, which should translate into higher productivity.

Newsletters prevent employees from claiming they haven't been informed about a change you're implementing.

You can make employees advocates for your business by encouraging them to share information about your company on their personal social media.
Why Use Company Newsletter Templates?
Having a selection of templates to pick from saves you time while keeping your quality and publishing schedule consistent. 
Company newsletter templates also help to keep you on-brand with your company message. If you don't use guide rails for business writing, you could stray from the company ethos and publish something that senior management frowns upon. 
Don't be concerned that using company newsletter templates is 'cheating' either. A wide range of media follows a templated format. The popular screenwriting book Save The Cat! explains that most Hollywood films follow 15 basic 'beats' or plot points.
A company newsletter template will keep you routinely publishing content that meets everyone's expectations.
13 Company Newsletter Template Ideas
1. Announce New Employees
When you take on a new hire, you can use your company newsletter to announce their arrival. Provide a recent photo and include some background information so your workforce can start to know them.
You can state their professional qualifications, accreditations, and any honours they hold. Add brief biographical information, too, and perhaps a few fun facts to round off the announcement.
Let everyone know what their title will be, what they'll be working on, and who they report to. It's also a chance to ask your new hire the name they wish to be called and if they have preferred pronouns they'd like people to use.
2. Celebrate Company Achievements
If you've landed a prestigious customer or reached a landmark sales target, share the achievement in your company newsletter.
It will help engage your employees and make them feel part of the success. A Harvard Business Review survey found that engaged employees make productive ones, so make a habit of sharing the good news.
Here's an example from Zeus Jones celebrating their accreditation as B Corp (a company that balances profit with people and the planet).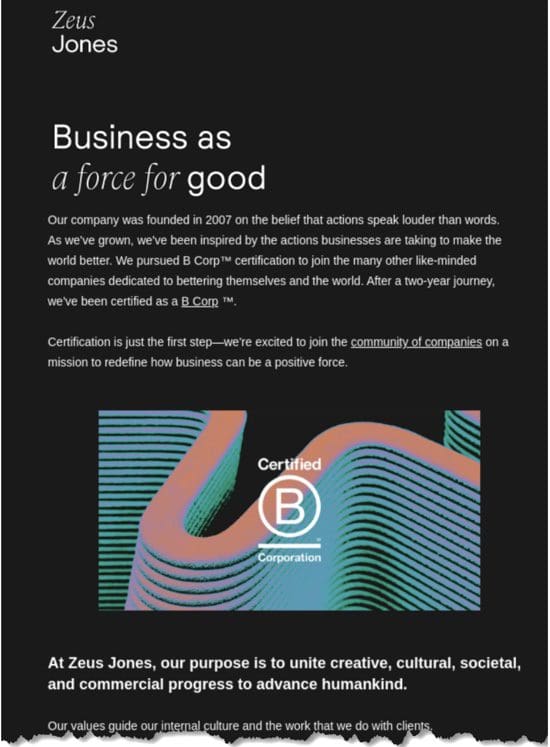 3. Attendance at Exhibitions and Other Trade Events
If your business attends trade shows, conferences, or group training days, share a report about the event.
You can include images and short videos to illustrate how the day went and even do a short interview with an employee who attended to get their take.
Share any results and successes of the event and how it will benefit the company moving forward.
4. Team Spotlight
Many teams and departments operate in silos and don't appreciate other staff member's contributions to the business.
Create a team spotlight newsletter showing the teams' daily duties, how their work fits in with the rest of the business, and celebrate their achievements. Make this a regular in your company newsletter template.
Employee recognition is valuable and can improve productivity. According to Quantum Workplace, companies with a formal recognition program have 31% less voluntary turnover than those who don't.
The Team spotlight newsletter can be a regular feature as you rotate around the different teams that make up the company.
5. General Housekeeping
Whether you've installed a new vending machine in the canteen, or need to make changes to car parking arrangements, the company newsletter is the perfect channel to convey this information.
Routine information like seasonal holiday opening times or internal promotions is the perfect material for your internal company newsletter.
If you don't have fresh news to share, you can always ask a random selection of colleagues their opinion on a work-related matter.
The example below from Public Goods shares compelling employee insight about a problematic experience everyone was going through.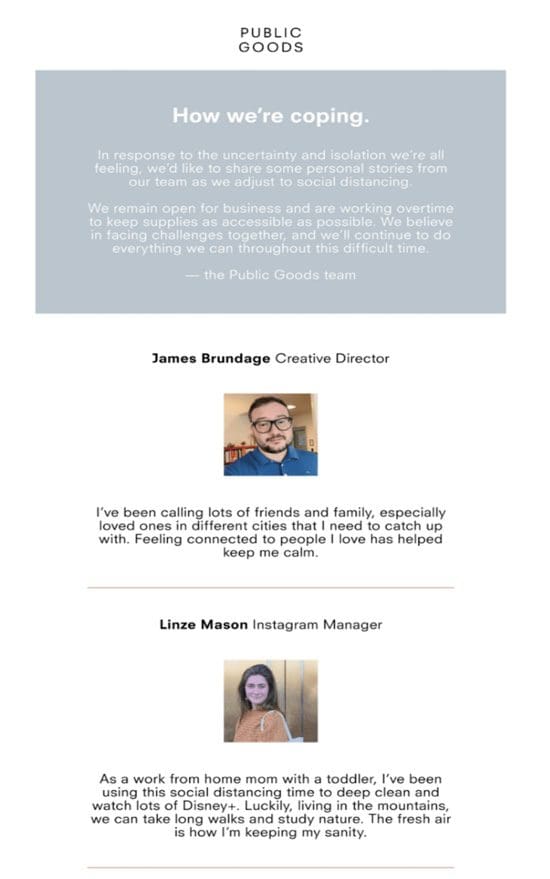 6. Regular Performance Benchmarks
Keep your employees in the loop about your business performance by sharing big-picture KPIs regularly. It can help reassure your staff that the business is on track and that their future is secure. 
In a 2015 survey, the London Business School found that only 1/3rd of senior managers could name their firm's top priorities.
If you make sure all your employees know the company's goals and share regular metrics about them, you can get everyone focused on company objectives.
7. Industry Information
Every business sector has industry-specific standards and news. Your company newsletter is the perfect conduit for keeping your employees updated with the knowledge they need to operate effectively.
Sharing changes to regulations, how you're responding to competitors, and the long-term outlook for your sector will help them be better at what they do.
8. Thought Leadership Pieces From Senior Managers
It's not always easy to bridge the connection between senior management and the rest of the staff. Your company newsletter can be a direct route for the management team to talk to the workforce.
Your newsletter can use thought leadership pieces to galvanise everyone around a business objective, offer thanks for excellent performance, or refocus a distracted workforce.
9. Formal Position Statements
From time to time, events of global significance prompt businesses to make a statement setting out their opinion on the matter.
A formal position statement is something a business will publish for the wider public, but you can also repurpose it for your internal company newsletter too. After its sent, you can use it to start a conversation in your business about the issue.
The Black Lives Matter movement in 2020 was one such moment, and many businesses made formal statements in support of the campaign.
Here's an example of a formal position statement by Jot.
10. Share the Latest Posts From Your Company's Blog
Repurpose the content from your blog and share the latest posts with your staff. You can also add further commentary explaining the post's importance and the reasoning behind a position you've taken. This can be a regular feature in your company newsletter template as the content changes regularly.
You can also encourage your staff to share the posts via their social media accounts to promote a wider readership of your company's blog.
11. Follow a Team Member For a Day
In a similar vein to the team spotlight, you can also profile an individual member of staff.
Day-in-the-life posts demonstrate how roles are performed and give a greater appreciation of individuals' work.
It can also reassure team members that their work is essential, valued, and part of the bigger picture.
12. Add a Company Poll or Question
Polls and surveys add variation to your company newsletter, and you can collect hard data about important work issues and then use it for your business decision making.  
Not every poll has to be about matters of consequence, though.  You can survey your employees about more everyday subjects, like where to go for the next company day out or what brand of coffee to use. 
Remember, polls can be anonymised too, so you can capture unbiased feedback that's not skewed by day-to-day office politics. 
You might take inspiration from the Wirecutter, who surveyed their newsletter readers to see the types of content they wanted to receive.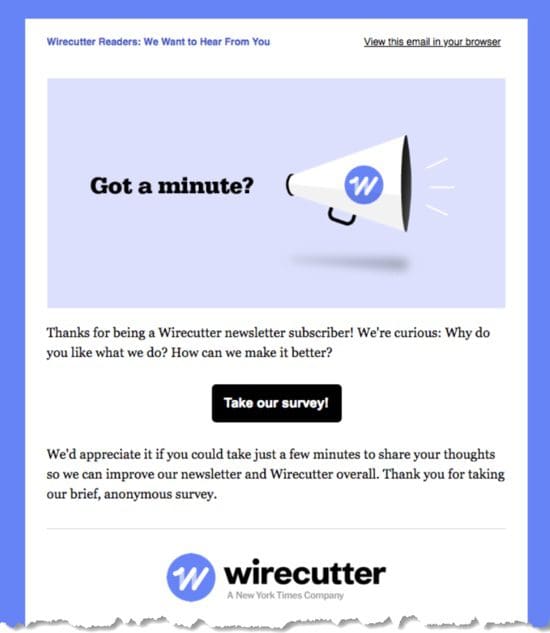 13. Video
In the YouTube age, anyone can shoot high-quality video and publish it quickly. Using video in email allows you to explain complex or nuanced messages more effectively. It will also save your employee's time, as they won't need to read through lengthy blocks of text. 
Video can also provide more trust and authenticity than simply letters on the page. So if you need to communicate a detailed or sensitive message, consider using a video company newsletter.
The Preferred Email, Events and SMS Automation Software For All Australian Government Departments
Swift Digital's templates help you effortlessly create stunning emails and events communications using our drag-and-drop email and event builder.
You can raise engagement with embedded images, videos, polls, article feedback, and emojis and schedule messages to send at the right time.
Government departments' unique marketing requirements are covered with Swift Digital, and full compliance with all anti-spam and privacy laws is guaranteed. Swift Digital is also ISO 27001 certified.
Swift Digital is Australia's leader in marketing automation software and event management working with organisations like the NSW Government, ATO, and companies like Westpac Bank and Qantas.
Find out why we're the Australian government department's number one choice for their professional communications and events.
To find out how your business can get the best out of Swift Digital's platform, contact our team today.
Don't forget to share this post!