Despite the increased adoption of smart devices, social media platforms, and other digital communication technologies, email remains one of the most effective means of interacting with any audience, including local and federal Governments providing essential news and information to citizens and stakeholders. In this blog we will discover the email marketing automation for governments organisations can be a powerful tool for improving communication, outreach, and engagement with citizens and stakeholders.
Since Australian Governments frequently deal with extensive data lists, the mass email system is valuable for delivering various types of content and communications.
There are numerous Government agencies with strong protection and privacy regulations.
They can link their email marketing automation platforms to their CRM.
As a Government communicator, you are mindful that working in the public sector always entails working with a limited budget.
In light of this, you must check the compilation of CRM tools and select which one best fits your organisation. Utilising CRM tools and email marketing software can improve customer experience and drive better critical outcomes for Government agencies.
Email Marketing Cheat Sheet
Get yourself out of an email pickle fast

Tips to avoid email emergencies

Avoid common marketing automation mistakes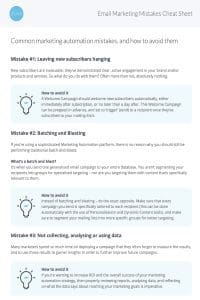 Download Cheat Sheet
10 Benefits of Email Marketing Automation Solutions for the Public Sector
1. Catch People On-the-Go
People live in a fast-paced environment. The days of leisurely coffee intake and newspaper reading are over. As the value of time has increased, more people are receiving news and updates while commuting to work or running personal errands.
According to Statista, there are currently 6.65 billion smartphone users in the world, and over 80% of the world's population owns a smartphone.
With this data, it is crucial to consider how you will reach your target audience.
Incorporating email marketing into your communications strategy can enable you to contact more citizens regardless of their location.
2. Enables the Implementation of Tailored Marketing Plans
The marketing team will have more time to develop tailored marketing strategies if automation frees up additional worker capacity.
This may mean having more time to evaluate a particular government initiative or program and determine its intricacies, such as creating its target audience persona, building data lists, and conducting omnichannel marketing campaigns.
With email marketing automation tools, you can develop a communications strategy and create automated ad campaigns to attract your stakeholders at all stages, including awareness, interest, desire, and action.
3. Offers Inexpensive Communications
Email is a less expensive marketing method than text messages if you attempt to contact community members via their smartphones. Emails are free for your citizens to receive; however, text messages may incur a cost. Emails can also contain more information than text messages, giving you a more significant investment return.
Even if you use an email marketing platform like Swift Digital to send your emails, you can send emails for a little cost per message, whereas sending texts to the same group can be extremely expensive.
Email marketing is also less costly than internet or print advertising. According to HBR, "Direct email costs more than $600 per thousand pieces. With email, there are almost no costs at all."
Plus, email has a higher ROI with an average of $36 for every dollar spent—higher than any other channel.
4. Provides Effective Communications
Small business owners identified email marketing as the second-most effective channel for boosting brand awareness.
The public sector's mission differs significantly from a business seeking to attract and retain loyal customers. But ultimately, your objective is to effectively communicate your message, promote involvement, and evoke community engagement. 
Even if you're promoting an e-waste collection program or a new food waste initiative, your objectives are comparable to those of a business seeking to sell a service or product.
For this reason, building compelling email communication is not just an excellent tool for enterprises but also for local and federal government agencies.
5. Encourages Actions and Engagement
The best tool to promote action and assist the public sector in achieving its objectives is email marketing automation solutions. The support and actions of the community are not simply influenced by the emails you send.
Create a snappy CTA to encourage the most engagement. Most email marketing automation examples feature a strong call-to-action that motivates people to take action.
Your call to action (CTA) might be as straightforward as "Read More" or as compelling as "Vote to control the future."
6. Complement Other Marketing Endeavours
Email can be used as a standalone e-blast or newsletter, but it is most effective when combined with other communication tools and platforms.
You may, for instance, utilise an email campaign to promote your agency or group's blog site or social media profiles. Add a direct sign-up box to your website or a partner's page to increase your email subscriber list.
Your outreach would be more effective the more content you could cross-promote through various methods and networks.
7. Utilise Email to ask For Feedback
To achieve success, your community must communicate with its citizens. Email automation is an efficient method for soliciting citizen opinion via polls.
For instance, request community opinion on a planned development initiative or summer activities they would want to see at your summer youth camp.
With a well-established email marketing automation flow, you cannot only directly target citizens and provide them with a handy venue for responding, but the very act of requesting their feedback communicates that your government values their viewpoint.
8. Provide Links to Additional Information
According to research provided by Blue Core, 59% of millennials and 67% of Gen Z use their smartphones to check their inbox. This means that if your citizens are reading their email on the go, they may not have the time to read extensive information.
In your email, summarise the essential elements of your correspondence and include a link to your municipal website for additional information.
For instance, if the objective of your email is to announce the start of ski season in your local government area, include links to your tourism website, a link where they can download your route map, and a link to your recreational page to explore schedules and upcoming events.
9. Promote Community Partners and Stakeholders
Another email marketing tip for engaging citizens while developing critical community connections is to send automated emails highlighting partner efforts.
For instance, work with your local public school to send email reminders on school student council voting or work with companies in your neighbourhood to advertise their forthcoming events or outreach programs.
10. Enable Citizens to Establish their Communication Preferences
Modern constituents desire the ability to select what and how they obtain their information.
Adopting an email production and distribution solution with a built-in subscription preference centre allows residents to choose the communications they wish to receive, such as community events, employment notifications, and current news, without manually managing many distribution lists.
Harnessing Email Marketing Automation is the Future
Governments may be able to provide exceptional levels of customer service through automation if they adopt technologies.
Email marketing automation solutions can be a potent instrument for enhancing the effectiveness and calibre of customer contact, freeing up government employees to address people's issues and improve their lives, and eventually boosting public confidence in the institution of government. 
Government agencies can adopt cutting-edge automated services that give a customer experience similar to that of lean start-ups or top private-sector firms.
These automated services help satisfy the citizens' growing demand for dependable, user-friendly, and individualised assistance from the public sector.
The Preferred Email, Events and SMS automation Software For All Government Departments
Swift Digital has you covered whether you are sending broadcast emails, business bulletins, preparing corporate invitations or sending critical public messages.
Swift Digital works with over 300 public and private sector companies – including Government Agencies, Local governments, Universities, Healthcare and the Financial sector– to improve their communications and stakeholder management.
Find out why we're the Australian government department's number one choice for their professional communications and events.
To find out how your business can get the best out of Swift Digital's platform, contact our team today on 02 9929 7001.
Don't forget to share this post!