What is Email Deliverability?
Email deliverability is the ability to deliver emails to your subscribers' inboxes. Email deliverability is one of the most important factors in a successful email marketing campaign. Email deliverability is related to bounces, spam, DKIM, SPF and DMARC, email throttling, internal IT set up and email sender reputation.
Email deliverability is about sending an email that reaches your subscribers' inboxes – it is key to running a successful email marketing campaign.
Swift Digital has been working with local, state and federal government departments for over 15 years to create professional employee communications and help them perfect their email deliverability to ensure their emails land in their subscriber's inboxes every time.
How Do You Know if Your Email Deliverability is Suffering?
High bounce rates mean an unusual amount of emails are not being received.
This may be because the email has been erroneously marked as a hard bounce, which then excludes them from future sends and causes a drop invalid email addresses to which you send.
Supposing that your data list is clean, you can compare that email send with previous email publishing results and check to see if the rate of engagement has dropped significantly.

Data and Security Platform Checklist
Cover essential data and security requirements

Ask the right questions to your security team

Highlights internal security procedures you should be looking for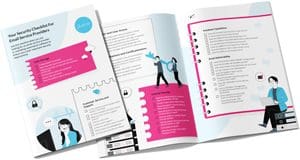 Download Template
So, what is the cause of bad email deliverability?
There are three key areas we need to focus on when trying to find the root cause of email deliverability failure:
The reputation of your sending IP
The email deliverability set-up was incorrect or missing
Invalid sender – the organisation you are sending from does not permit this email from broadcast, or the sender's email address is malformed
If the above conditions have been checked and satisfied, you'll need to troubleshoot the issue further and look to the journey of the email.
What are Your Troubleshooting Options?
Each government department or agency in the public sector has its own mail servers, third-party security software and internal IT network configurations; meaning the journey of a public sector email can have a more complex path when it comes to communicating internally.
The diagram below simplifies an email's journey from the sender to the recipient, showing four typical journeys of broadcasted internal emails:
Journey A
Journey A is an email that passes the third-party internal and internal email servers' configuration, allowing it into the organisation's network. It is also accepted by the internal network protocol. The recipient receives the email.
Journey B
Journey B is an email that passes the third-party internal and internal email servers' configuration, allowing it into the organisation's network. However, it is marked as suspicious by the internal network protocol. The recipient receives the email, but it comes with a warning or lands in your spam or junk folder. In this case, the internal network configuration is at odds with the third-party and internal email network settings. In this situation, you should notify your network IT manager.
Journey C
Journey C is an email that did not pass the internal and third-party mail servers. The security configuration finds the incoming email suspicious. In such a case, it will be quarantined in the mail server until it is released. The recipient will receive their emails late as the emails need to be released to them after it passes the quarantine. At this point, the email can be rejected depending on the rules set here. If rejected, it will send a bounce message back to the broadcast email server.
Journey D
Journey D is an email that was immediately rejected by the internal and third-party mail servers. A bounce message will be returned to the broadcast server. In this case, the recipient will not receive the email.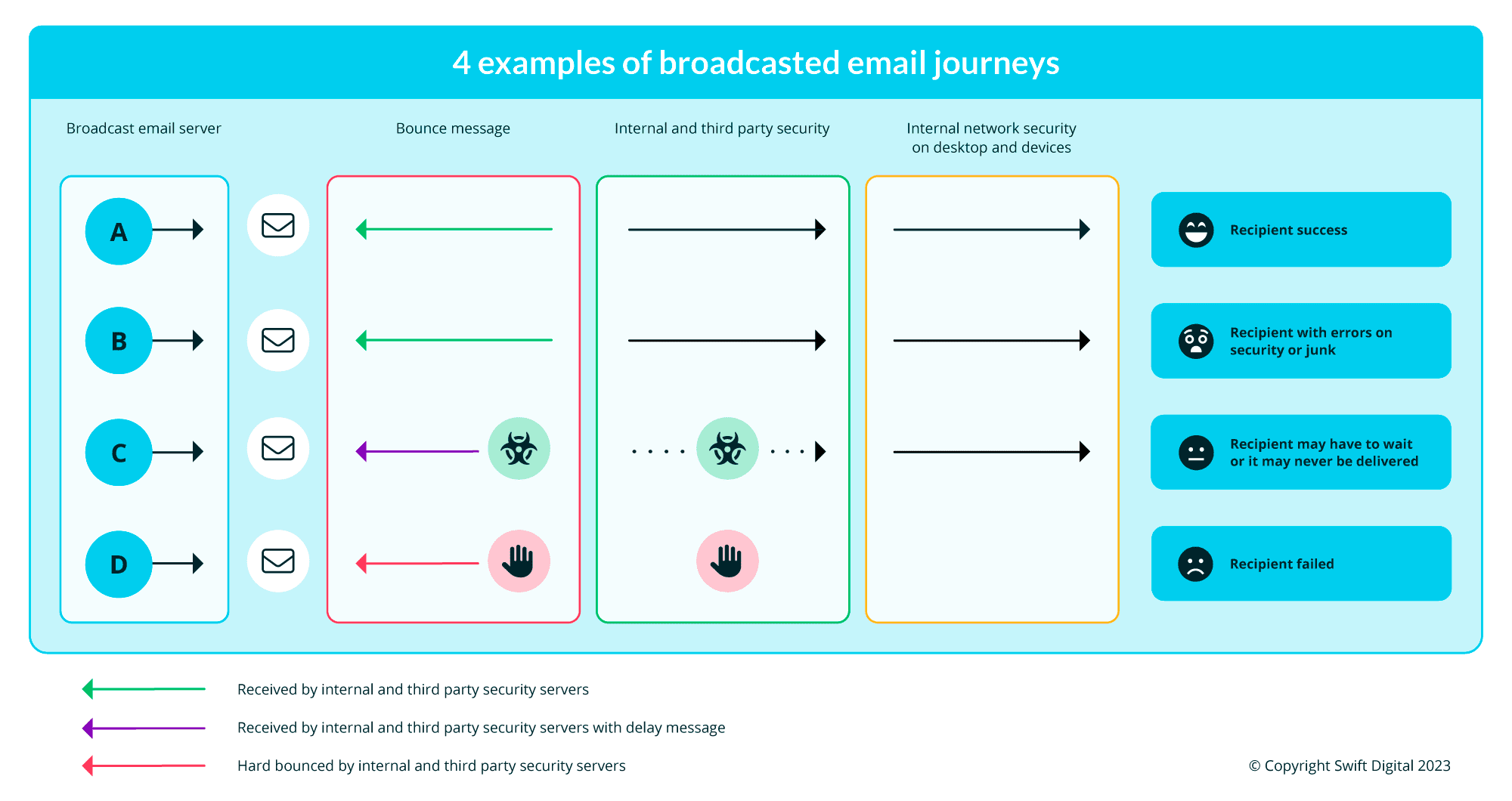 Swift Digital's Email Deliverability Team
In most unsuccessful deliveries, your emails may receive erroneous hard bounce codes, impeding your future email deliverability.
Your email deliverability team should be able to troubleshoot, validate the issue and rectify it accordingly to ensure smooth deliverability for your next send.
If you encounter any scenarios from Journey B, C and D, you can contact the parties involved in this journey.
At Swift Digital, we pride ourselves on the responsiveness of such incidents.
With our deliverability reputation score being 99%, our email deliverability team can help you troubleshoot which part of the journey is causing the issue with speed and accuracy, ensuring your email reaches your intended recipients. Our managers are experienced, and their priority is ensuring your emails reach your subscribers.
Download Swift Digital's email deliverability guide to help ensure your emails land in your subscriber's inbox every time.
The Preferred Email, Events and SMS Automation Software For All Australian Government Departments
Swift Digital's templates help you effortlessly create stunning emails and events communications using our drag-and-drop email and event builder.
You can raise engagement with embedded images, videos, polls, article feedback, and emojis and schedule messages to send at the right time.
Government departments' unique marketing requirements are covered with Swift Digital, and full compliance with all anti-spam and privacy laws is guaranteed. Swift Digital is also ISO 27001 certified.
Swift Digital is Australia's leader in marketing automation software and event management working with organisations like the NSW Government, ATO, and companies like Westpac Bank and Qantas.
Find out why we're the Australian government department's number one choice for their professional communications and events.
To find out how your business can get the best out of Swift Digital's platform, contact our team today.
Don't forget to share this post!