How to Easily Boost Email Marketing Capacity
Did you know intuitive landing page builders can do the hard work for you?
When it comes to attracting new customers, user journey is vital.
Every marketing team knows you need to ensure you get your target buyer down that marketing funnel.
Instead of slogging it out moving leads from awareness to consideration, decision to retention, why not make a landing page do the heavy lifting for you?
What is a Landing Page?
A landing page is a single web page that appears when a user clicks a search result, social media post, marketing email, or online advertisement.
Typically, the page will include content that is a logical extension of the whatever the user clicked. Landing pages are generally used to generate leads and build databases.
Email Newsletter Best Practices Guide
Plan and design the best newsletters

Use fonts and colours that complement each other

Write content that your readers want to read

20 content ideas!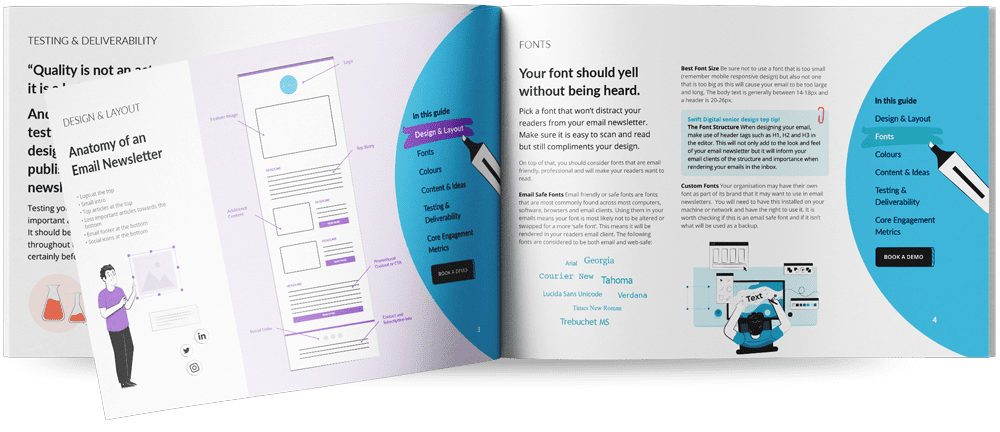 Download Checklist
How Can a Landing Page Drive People Through the Marketing Journey?
A landing page's overall goal should be to convert site visitors into sales or leads. If the goal is to generate a lead, the landing page will include a way for the visitor to contact the company, typically an enquiry or signup form.
If a sale is required, the landing page will include a link that directs the visitor to a shopping cart or a checkout area.
Is it Time Consuming and Expensive to Make a Landing Page?
So how can your landing page boost your email marketing strategy? Well, if you're using a landing page builder with the right tools, you'll see your mailing list grow in no time.
You'll need to look for a landing page builder with features such as social sharing, interactive polls, and most importantly, call-to-action forms.
Marketers used to spend months working with website-building teams to create a landing page.
That meant any reactive marketing – campaigns, adverts or social media that was relatively unexpected or sudden – couldn't benefit from a landing page. It also meant a big chunk of the marketing budget would be eaten up by web development. 
In the last 15 years, much has changed. Now there's a faster, more affordable, and easier way.
Swift Digital provides an intuitive landing page builder, packed with features that engage users at every step of the journey. Best of all, anyone can use it – you don't need specialist web building knowledge.
 Swift Digital's intuitive landing page builder includes:
Drag-and-drop editor with flexible, easy to use layout controls. 

No-effort mobile-responsive layouts and features. 

Ability to insert your YouTube video URL. 

Microsite creation capabilities, with a navigation bar and links. 

Easy map inclusion, by entering your address or event venue. 

Drag and drop social networking icons to share your page. 

Fun, interactive polls to collect visitor comments. 

Ability to add a list of events to your page or pull them in dynamically! 

Capacity to add an event RSVP section so visitors can register or decline. 

Form creation to collect subscriptions, leads, feedback, and more.
6 Top tips for Building a great Landing Page
A landing page is the focal point of your company's online presence for new leads, so it must be excellent. Leads will arrive at your landing page during their consideration stage when they are seeking solutions.
So, aside from being visually appealing and containing important information, how else can you use your landing page to turn leads into customers?
Set a clear goal – build database, more sales, attract subscribers. 

Ensure you're using a landing page builder that is quick and easy to use and that provides all the right tools.

Map each user journey, ensuring your results are measurable.  

Don't just make it easy for the user to engage, make it a pleasure. 

Incentivise the actions you want the user to take e.g., Join our mailing list for 15% off your first order.

Check the stats, learn from the results, and adjust accordingly for your next campaign.
Is a Call to Action (CTA) Necessary?
Without a call to action, visitors to your landing page won't know what to do next. Remember you need to help drive them through the marketing funnel.
A call-to-action form on your landing page allows your website visitors to opt-in to marketing and promotion materials.
Swift Digital's landing page builder makes adding your call-to-action form to your landing page easier than ever. It's as simple as dragging and dropping!
You only need to select your specific data fields, whether you want a subscription form, lead generation form, or anything else. You can even choose which mail group to add the new contacts to and redirect to a 'thank you' URL once the form is complete.
Swift Digital has spent years perfecting our landing page builder by working with businesses in industries ranging from educational institutions to federal government departments and everything in between.
The Preferred Email, Events and SMS automation Software For All Australian Government Departments
Swift Digital's templates help you effortlessly create stunning emails and events communications using our drag-and-drop email and event builder.
You can raise engagement with embedded images, videos, polls, article feedback, and emojis and schedule messages to send at the right time.
Government departments' unique marketing requirements are covered with Swift Digital, and full compliance with all anti-spam and privacy laws is guaranteed. Swift Digital is also ISO 27001 certified.
Swift Digital is Australia's leader in marketing automation software and event management working with organisations like the NSW Government, ATO, and companies like Westpac Bank and Qantas.
Find out why we're the Australian government department's number one choice for their professional communications and events.
To find out how your business can get the best out of Swift Digital's platform, contact our team today.
Don't forget to share this post!