What Are Email Lists?
An email list is a set of data that includes information such as first name, last name, email address that has been acquired by subscription and marketing methods. Email lists are used by marketers when sending emails from their email marketing software and can be used for more targeted communciations.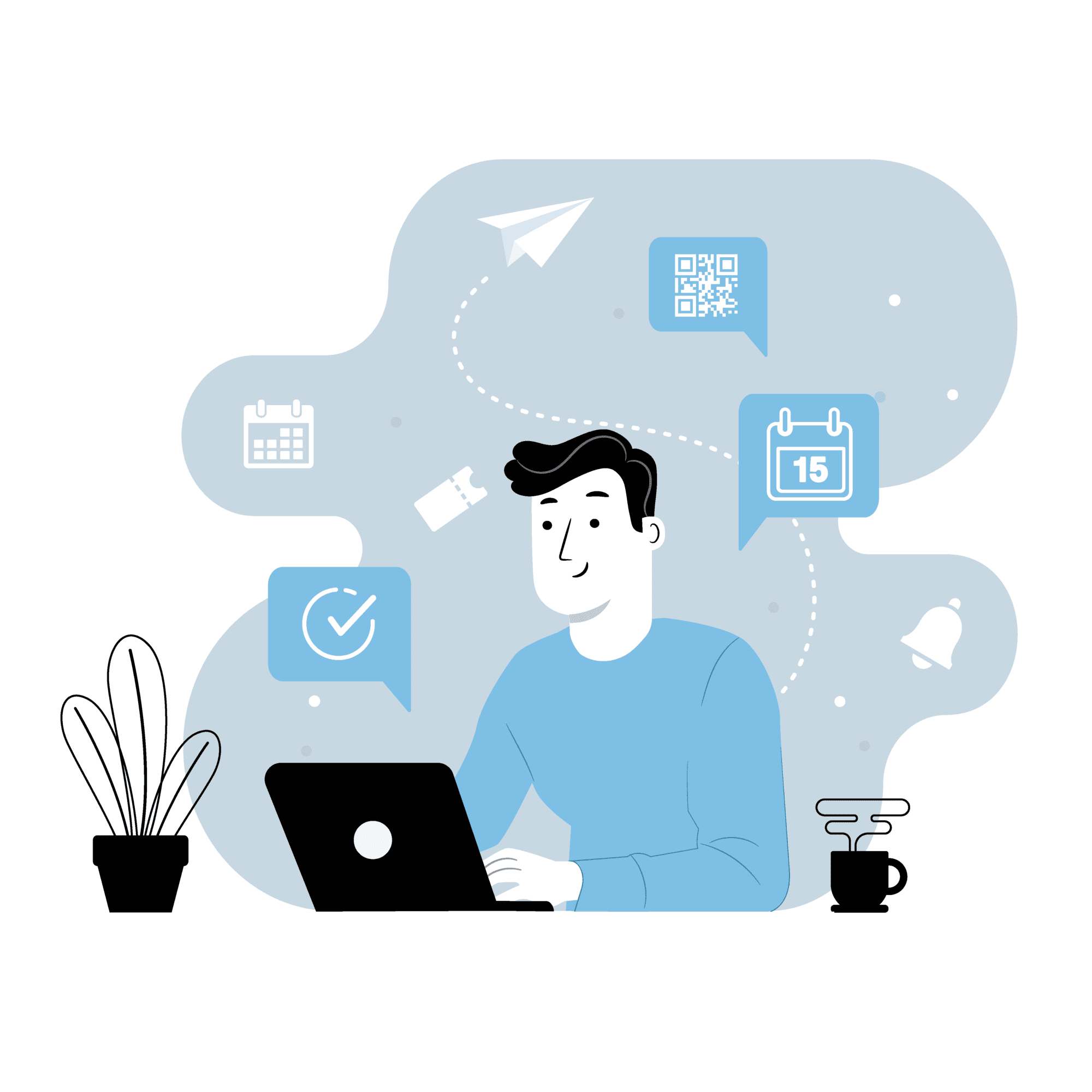 Over the years, we have seen the significant impact of email marketing. It improves brand awareness, engagement and has a jaw dropping ROI. In this article, we explore building and managing email marketing lists in 2023, the right way.
Email continues to offer the highest ROI of any marketing activity for most businesses. It's also a sure-fire way to reach the majority of your audience. 
Your email marketing lists (the contacts you send your communications to) should be a major focus if you're wanting to make the most of your email marketing strategy
A clean, well built email marketing list will help you reach your campaigning goals, without landing you on blacklists – something that could tarnish your brand deliverability and reputation for the long term.
So, how should you be building email marketing lists? What's the right way, and what's the wrong way?
How do you manage your email marketing lists to avoid being marked as spam, or getting caught by blacklisters which will taint your brand in the long term?
What is Email List Hygiene?
Email list hygiene is the process of making sure the data that you send your emails to is kept healthy and viable.
You should actively review your lists at least every quarter to remove bounced email address, unengaged subscribers and incorrect emails.
Sometimes list hygiene methods include reactivation campaigns to ensure your subscribers still want to hear from you.
Email Newsletter Best Practices Guide
Plan and design the best newsletters

Use fonts and colours that complement each other

Write content that your readers want to read

20 content ideas!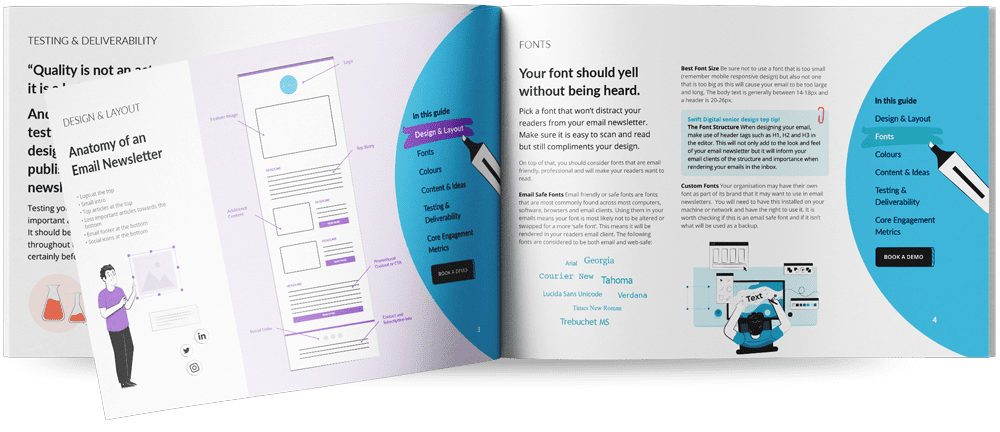 Download Guide
How Do You Clean Email Lists?
Start by identifying your most active email lists, these include the ones you send to most regularly and the ones with the highest engagement.
Remove duplicate email addresses – your ESP should automatically remove duplicates when sending but if not manually go through to remove these.
Find and remove email addresses that look spammy or don't fit the criteria
Remove people who have unsubscribed from your list
Use a reactivation campaign
How to Build Your Email Marketing Lists in 2023
Your email marketing efforts can only maximise results if you have a sizeable subscriber base. Gaining subscribers is, therefore, a top priority for email marketers.
But not all email marketing lists are created equal. Here are the best practice tips you need to know when building your lists:
Gain subscribers genuinely, never buy lists

It's both illegal and bad practice to purchase contact lists for your email marketing efforts. Not only will a purchased list bring you low deliverability and engagement results, but it is likely to land you in spam filters and on black lists. Always build your subscriber base transparently – by getting individuals to opt-in knowingly.

Add opt-in opportunities across your campaigns and websites

To maximise your subscription rate, try adding opportunities for subscription across any of your comms. You can add a subscription form to your website and to your social media profiles. You can also add 'opt-in's to feedback surveys, event registration forms, and white paper download forms. Wherever you're interacting with your audience – you can clearly ask if they'd like to subscribe to further communications.

Give your subscribers full autonomy in subscribing

Your opt-in should be clear and require permission. Never use default opt-in's that have to be 'unchecked' to not subscribe. You want your subscribers to fully consent.

Add email validation, and double opt-ins to avoid invalid email addresses in your lists

Some people get their email addresses wrong, or purposely use fake email addresses when subscribing. This can land you in hot water if a fake address happens to be a spam trap. To avoid invalid email addresses in your email marketing lists, try using email validation on your email field, and consider using a double opt-in process (where an email is sent asking the subscriber to click to confirm their subscription).

Use a Subscription Preference Center to add more value to your subscribers

Now that you know you have to get full consent from contacts to get them to subscribe, you might be wondering how to entice people to subscribe. Make sure you offer value to your subscribers, and make it clear at any opt-in steps what that value may be. You can make the value even more targeted by using a Preference Center rather than a standard Subscription form. Preference Centers allow subscribers to customise their subscription by enabling them to select what types of communications they want to receive.
Maintaining Email Marketing Lists in 2023
So you've built up a stellar email marketing list full of eager contacts ready to hear from you. How do you keep your list well maintained into the future? 
As time passes, regardless of the quality of your subscribers, some of your contacts will disengage, or stop using their email addresses. As this happens, the likelihood of you hitting a spam trap (see: recycled spam traps) increases. 
This means your list has to be consistently maintained over time in order to ensure high deliverability and engagement, and to keep your brand off of spam black lists. 
Here are a couple tips for how to maintain your email marketing lists:
Run wake the dead campaigns

Every now and then, run a wake-the-dead campaign and target all disengaged contacts in your list/s. The purpose of this type of campaign is to prompt disengaged contacts to prove that they're still engaged. Any contacts who are confirmed as disengaged can be unsubscribed from your lists to avoid wasting resources on dead subscribers, and to avoid landing in a recycled spam trap. There are a few strategies for wake the dead campaigns, so read our tips here.

Use a marketing automation platform that helps to manage your data for you

If your list contains invalid addresses, or abandoned ones, you may find manually managing your list to be a pain in the backside. Fortunately, if you're using a marketing automation platform (such as Swift Digital), your list's invalid addresses will be automatically marked as 'hard bounces' and you won't need to lift a finger to avoid sending to them again. Email marketing platforms may also offer protection against spam traps by monitoring your lists for known traps and telling you when you may be at risk of sending to one.
You've probably already seen the business benefits of building an email list and running an email marketing campaign. 
Email is already integrated well into your business and marketing processes and slots right into any CRM system you're using.
Many aspects of email marketing can be automated, making your business more efficient and freeing up your time to work on other things.
The results of an email campaign can also be instantly and easily measured, including how many people opened your email, read it, and clicked links in the content.
This data is invaluable to help you make the right changes to your business, products, and services, as well as to drive your future marketing strategy.
Whilst the benefits of email marketing are clear to see, it's important to remember that your success depends on a well maintained, properly built email marketing list.
Building email marketing lists in 2023 is more involved than just hastily grabbing as many contacts as possible.
To avoid tarnishing your brand's reputation, and to ensure high engagement and better results, you should be following our above tips for building an email marketing list so that you can easily kick goals.
Is your business currently using email as part of your marketing strategy? Do you need help with creation, automation, or increasing engagement?
Put Yourself In Their Shoes
Take a moment to take a look at your inbox. Scroll through the last few days and appreciate just how many emails you've received, and how many more you've trashed.
The inbox is a busy place these days, and not everyone can stand out from the noisy, vibrant crowd.
Now, consider the last few campaigns you've sent out. Were they informative? Were they promotional? What time did they go out? Would you have stopped everything to read a message like that at that time of day?
If the last answer was 'No', it might be time to reconsider your publishing strategies. Trial a new publish time or day of the week. You might find that your audience is more likely to open in the evening or early morning.
This time, it's personal.
In email, as in everything, first impressions are important. Make your content stand out from the crowd by personalising the subject line and sender names.
"Maxine, make the most of your weekend with these travel tips!" is about as relevant as it gets at first glance. Similarly, if there's someone at your organisation with a personal relationship with each recipient – an account manager, for example – personalise the sender name and address.
Why You Should Not Buy Email Lists
If there is one takeaway from this blog post, it is this. Do not buy data lists. And build your email marketing lists authentically.
As tempting as it may seem, it could be your email strategy's downfall and leave your brand damaged and your inbox placement abysmal.
Sending emails to people who have not provided you with their permission is considered spam and in some cases illegal.
These people have not provided you with permission and will likely mark you as spam. This will affect the overall deliverability of your emails which will, in turn, start to land in the spam folder.
Swift Digital encourages all our users to acquire their data legitimately via a subscription form or preference centre and discourages the buying of data lists and encourages building email marketing lists using transparent methods.
The Preferred Email, Events and SMS automation Software For All Australian Government Departments
Swift Digital's templates help you effortlessly create stunning emails and events communications using our drag-and-drop email and event builder.
You can raise engagement with embedded images, videos, polls, article feedback, and emojis and schedule messages to send at the right time.
Government departments' unique marketing requirements are covered with Swift Digital, and full compliance with all anti-spam and privacy laws is guaranteed. Swift Digital is also ISO 27001 certified.
Swift Digital is Australia's leader in marketing automation software and event management working with organisations like the NSW Government, ATO, and companies like Westpac Bank and Qantas.
Find out why we're the Australian government department's number one choice for their professional communications and events.
To find out how your business can get the best out of Swift Digital's platform, contact our team today.
Don't forget to share this post!