Everyone makes mistakes, even email marketers! But when it comes to email marketing mistakes, there's little ones and then there's big ones. Big email marketing mistakes can be a PR nightmare for an established brand, and can lead to subscriber distrust and mass unsubscription. 
In this article we explore 3 big email marketing mistakes, and what to do to remedy the situation and save your brand's reputation.
Here's a handy contents list so that you can skip to the mistake, and resolution, of your choice:
What should you not do in email marketing?
Email marketing mistake 1: I published to the wrong contacts!
You've perfected your email campaign, and published it – only to realise you selected the wrong mail list. 
What do you do? Once you've published an email, it starts to instantaneously land in the inboxes of your target recipients.
Unfortunately, you can't undo an email send, so the remedy for this situation is damage analysis and control.
Email Marketing Cheat Sheet
1. Get yourself out of an email pickle fast
2. Tips to avoid email emergencies
3. Avoid common marketing automation mistakes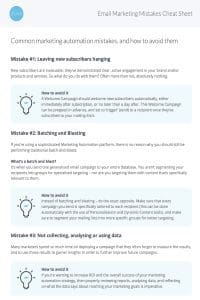 Download Cheat Sheet
First of all – how big of a deal is it that you sent your email campaign to the wrong list?
If your target contacts are still subscribers or customers (as in, they have opted in at some point for communications from your brand) then that's at least not SPAM-my.
If your email is more general; about a new product, or a brand update that won't seem senseless to the contacts you sent to, then again – your email won't necessarily be received negatively.
However, if you've sent to contacts who don't expect communications from your brand (haven't opted in) or have sent an email with information completely irrelevant to them (confirmation of event registration, for example, to people who aren't registered) – then a bit of damage control is needed.
If you've assessed that this mis-send can have negative impacts on your brand, then you need to send an apology email.
What should an apology email look like?
Be sent quickly. Try to send a followup apology email no later than 1 hour after your email marketing mistake. 

Be simple, short and straight to the point. A text only email explaining the mistake made is enough. Don't forget to still include a link to unsubscribe.

Have the apology in the subject line. Your recipients shouldn't have to open the email to tell what's going on. Your subject line should explain, e.g. "Oops! We sent you an email by mistake."

Be more casual, and less catastrophic. Swap out the "We apologise for this error" for an "Oops! We sent the wrong thing". This mistake will be as big or small as your language conveys it to be.
Email marketing mistake 2: I made a typo on my email and have already sent it!
When it comes to email marketing mistakes, making a typo can either be a small nuisance, or a major catastrophe for your campaign and your brand in general.
When it comes to dealing with typo mistakes in email campaigns, don't sweat the small stuff.
A misspelled word, or incorrect grammar, is easily overlooked by your contacts.
The wrong date and time on an event invite, however, can spell disaster if not corrected.
So how do you deal with this kind of email marketing mistake?
Correct the web version of the email
Depending on how you've created and published your email, and also where your typo is located within your content, you may be able to fix the problem within the web version of your email.
If you use a marketing automation platform – such as Swift Digital's – your email will have also been published to the web.
Any recipient who receives your email can click through to the web version.
Whilst emails in inboxes can't be edited, web pages can. Editing the web version of your email will only solve your typo problem if the typo is located only on the web version. How would that be?
Well, by using something like 'Read More' tools which contract content in your email, but then expand on it when clicked (by launching the email's web version), as long as your typo is located under a 'Read More' – fixing it on the web version will fix the issue completely.
It means that anyone that clicked 'Read More' will see the live web version of the email; they simply won't see the typo.
This fix only really works if you're
a) using a marketing automation platform that automatically publishes your emails to web, and 

b) the typo/mistake is under a 'Read More'
Send correction email
If the typo is something that absolutely needs to be rectified, yet changing the web version of the email is either inaccessible for you, or useless – then you will want to send a follow up correction email.
Like the apology email above, time is of the essence.
Your correction email needs to go out soon after the original publish. If possible, allude to what correction you need to make in the subject line of your email.
For example, "Correction: event date is 12th of December". This means recipients won't overlook your correction email, and also won't need to open it to understand what correction has been made.
Email marketing mistake 3: I didn't include an unsubscribe link in my email campaign
As far as email marketing mistakes go, this is one that's often made, and many email marketers don't consider it to be a slip up at all.
However, not giving an unsubscription option in your email campaigns is not only a big mistake; it's possibly illegal depending on your country's privacy laws, as well as the SPAM act. 
Worse yet is if you've sent your email from a no-reply address. This means any contact wanting to unsubscribe from your communications will be unable to do so. This can quickly tarnish your brand's reputation.
So what do you do if you've sent an email with no unsubscribe link?
If you've sent your email from a contactable email address (which we always recommend, by the way) then simply action any unsubscription requests that come through as replies to your campaign.
Make sure to respond to those replies as well, "Thanks John for letting us know you wish to opt out of further communications from us. You've been unsubscribed."
If you've sent from a no-reply address, then fixing this issue is a little more difficult.
It may not be worth sending an apology email in this case, especially since the type of contact who is ready to unsubscribe will undoubtedly not appreciate a second incoming email from you.
You could talk to your internal IT team to see if the no-reply address could be temporarily 'opened' for replies, so that you can manage unsubscription requests as above.
If that's not an option, you'll have to remedy the situation by simply never making the same mistake again, and acknowledging your mistake in a subsequent communication (NOT an apology email, but another campaign you had already planned for the future).
Here are some ideas for ensuring you never make this big email marketing mistake again:
Use an Email Marketing platform.

Most email marketing software will force-include unsubscription links on all outgoing communications; meaning you will never be able to make the mistake in the first place.

Have a strict process checklist in place for anyone who publishes emails; making sure that one of the steps is to: check if email has an unsubscribe link

Don't use no-reply sender addresses
As for acknowledging that the mistake was made, consider including a visual alert at the top of your next outbound campaign.
Perhaps a yellow bar up top with text that reads, "Our last email didn't include an unsubscribe link.
That's our bad! If you wish to unsubscribe, click the opt-out link in the footer of this email" Depending on your brand's messaging guide, you may want to use more casual, or more formal language.
Those are the 3 Big Email Marketing Mistakes email marketers often make, and how to fix them.
You may have noticed that all 3 of these big mistakes are borne of human error.
Although human error still plays a part when using marketing automation software, the chance of a major screw up is greatly diminished by using email marketing automation tools. 
For example, you never have to think whether people can opt-out of your campaigns when sending from a platform that auto-includes unsubscription links in all your outgoing comms – and you have more options to rectify typos in emails that also publish to the web – another feature many email marketing platforms provide. 
Regardless of whether or not you use a marketing automation software, know that it's always better to acknowledge and address email marketing mistakes soon after they're made.
The easiest way to build subscriber distrust against your brand is to not only make mistakes, but to fail to address them.
We hope our above recommendations for how to face your big email marketing mistakes ensures that your brand keeps its reputation in spite of error – because if there's one guarantee, it's that mistakes are inevitable.
The Preferred Email, Events and SMS automation Software For All Australian Government Departments
Swift Digital's templates help you effortlessly create stunning emails and events communications using our drag-and-drop email and event builder.
You can raise engagement with embedded images, videos, polls, article feedback, and emojis and schedule messages to send at the right time.
Government departments' unique marketing requirements are covered with Swift Digital, and full compliance with all anti-spam and privacy laws is guaranteed. Swift Digital is also ISO 27001 certified.
Swift Digital is Australia's leader in marketing automation software and event management working with organisations like the NSW Government, ATO, and companies like Westpac Bank and Qantas.
Find out why we're the Australian government department's number one choice for their professional communications and events.
To find out how your business can get the best out of Swift Digital's platform, contact our team today.
Don't forget to share this post!