We are two decades into the millennium, and the rapidly changing world we live in, which does not exclude the world of email marketing, is here to stay for a while at least.
With the rise of automation coupled with AI, email marketing is now perhaps the most effective marketing channel in today's hyper-connected world.
We have put together nine email marketing tips for success in 2023.
Email marketing has an incredible ROI rate of 4400%, which means for every $1 spent on email marketing – $44 is made.
What current trends do you need to stay on top of to keep your strategy relevant this year? How will your brand make the best of email marketing in 2023?
Let's Find out What Email Marketing Tips are Sticking around For 2023
Email Newsletter Best Practices Guide
Plan and design the best newsletters

Use fonts and colours that complement each other

Write content that your readers want to read

20 content ideas!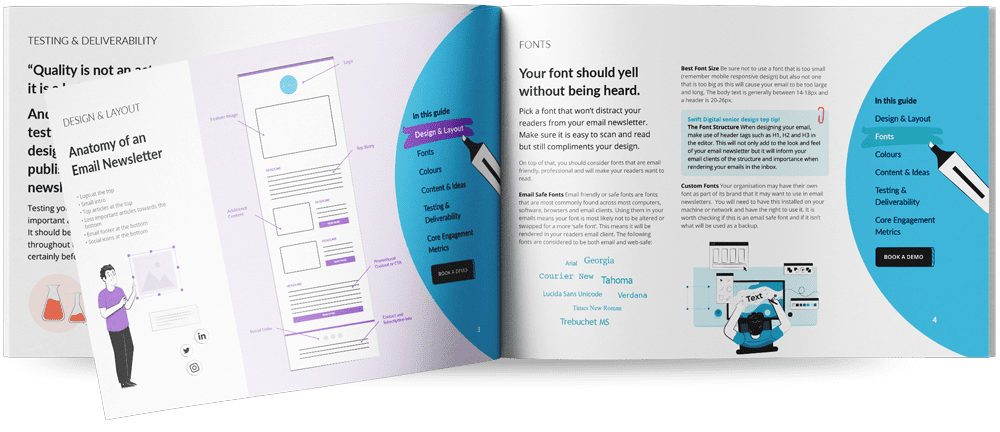 Download Guide
1. Enrichment of Database
With recent cyber security events still fresh in people's minds, there will be a focus in 2023 on how we collect and store our subscriber's data.
Organisations will want more transparency regarding how their data is stored and more control over who can access the data.
On top of that, we will start to see a change in how marketers collect data. A shift that sees us collect only the data we need and to store only the data we need.
Start a data tracking plan or a data audit for your team or organisation.
You will be surprised by what data you have on file that you really don't need and how some of your data is stored.
2. Personalisation and Empathy
For years we've known the power of personalising email content has been one of the top tips for emailing marketing, but how many emails do you receive addressing you by your first name in the first line?
Personalisation is a great way of grabbing your readers' attention, but your contacts are used to the usual ways in which personalisation is deployed.
In 2023, personalisation has proven to still be a major part of email marketing as always, but it will be used in more surprising, attention-grabbing ways.
Even simply addressing your reader by their first name in the middle of a paragraph, rather than the standard greeting, will make your copy stand out.
If you're collecting valuable data on your contacts, then the world of personalisation is your oyster. Wow, your contacts by personalising your emails with references to the state they live in, the item they last bought from you, or the renewal date for their membership.
A great email marketing tip to add further value to your emails, and surprise your contacts with how you include personalisation – rather than just using it in standard ways.
Using Empathy in Emails
We know many of our clients use our services to communicate important updates and time-critical alerts, and times are still quite challenging for some organisations and businesses.
2023 will be the year we become even more aware of emotionally intelligent messaging and using an empathic voice in our emails and communications.
3. Make Use of More and More Automation
The future is here, and most marketers are scrambling to make use of automation and AI to minimise overhead whilst improving ROI.
Marketing automation platforms are delivering on tools previously unimaginable: not only is data being collected, but it can be used to segment, target, personalise, trigger timely communications, and even predict future behaviour.
Automation has continued to be employed in 2023 by marketing teams across all business. If your brand is already using automation tools, you'll want to be upping the ante this year.
Perhaps you already use automation to segment and target, but aren't using automation to score engagement and trigger emails based on behaviours such as click-throughs, or webpage visits.
To compete in email marketing, you'll have to expand your use of automation tools and start experimenting with automating aspects of your strategy that are currently performed manually.
4. Leverage Smarter Segmentation and Targeting
As email marketing platforms become better at collecting, collating, and making use of data – their tools for segmenting audiences, and targeting individuals, are becoming near godlike.
In 2023 marketing emails won't stand a chance unless they're being sent to the right person, at the right time, with the right content relevant to the individual.
You're missing the point if that sounds like a lot of manual work.
As long as you've adopted an intelligent email marketing platform, you'll be able to set and forget email campaigns that will send to each contact at unique times, with unique content.
Of course, segmenting your database, and knowing who to target with specific copy requires detailed data. That's where the following tools will come in:
Preference centres (replacing ordinary subscription forms)
Dynamic content (replacing static copy)
Engagement scoring (further segmenting your contacts by how they engage with your brand)
Behaviour-based triggers (sending emails to contacts based on their behaviour)
5. Cyber Security
Cybersecurity and data security will continue to be hot topics as we roll into the new year. Why?
"Only 21% of consumers trust brands to keep their personal information safe" – Security Magazine
With major players experiencing cyber security attacks, we need to do more regarding data and cyber security. Next year will see a new focus on data privacy and protection, meaning marketers will need to think of more creative ways to segment their data.
We will also see more emphasis put on cyber security and will see organisations tightening their belts and investing more of their budget into cyber security and Australian-hosted data.
Keep on Top of Privacy - This Year it Matters More Than Ever
This means that your contacts are more aware of their privacy and data rights than ever.
Any brand looking to gain trust with their contacts in 2023 will have to be 100% across their local privacy laws and want to comply with SPAM Act and common sense respect.
Across the board, this looks like having clear opt-ins for subscription, giving clear unsubscription options in emails, being transparent about how data is used, and not sending spammy content.
Of course, it's essential to look at ways you need to comply with national law, so it's well worth engaging in legal advice for email marketing in 2023.
Regarding email marketing in 2023, the general message is to ramp things up. Email marketing's strengths have only proven themselves over the last few years, and in 2023 you can expect brands to double down on their investment and effort.
If you want to rise above the email marketing noise in 2023, make sure to use the tools available to the best of your ability and to further commit to email marketing automation.
6. Use Less Graphics, and Be More Interactive
Graphic-heavy, website-like emails used to be unique and cutting edge – but as email marketing has taken off across all brands and contacts become more inundated with promotional content, graphic-heavy emails are now less effective at grabbing attention.
The ironic plot twist is that as email marketing has become more prolific, it's the more straightforward, less graphic-intensive emails that stand out amongst the crowd.
In 2023, more brands have opted for text-dominant emails with strong calls to action and opportunities for interaction.
What does this look like? A branded, styled text email, perhaps one graphic (header) and clear buttons for interactive purposes.
Interactive emails will be better received than promotional campaigns using one-way communication techniques.
This means rethinking your promotional campaigns to act more like journeys where the contact has ample opportunity to interact with your brand along the way.
7. Embrace the End of Promotional Content, and the Resurgence of Storytelling
As aforementioned, in 2023 your contacts will be far more discerning email consumers. This is because the average office worker receives upwards of 121 emails a day. What makes your email so unique?
If you want your emails to matter in 2023, then it's time to hark back to the cornerstone of human communication, introducing email marketing tip; storytelling.
Rather than blasting out once-off promotional campaigns, brands will have to build campaign journeys with multiple emails included. These journeys will have to tell some sort of story to grab and keep the attention of much pickier readers.
Storytelling also requires a strong personal voice.
This means brands must design and solidify strong tones to build brand personality. With a strong brand personality, storytelling should become a breeze.
8. Strategy First
As we aim to seek recovery from the emergence of the disruptions of the last few years, 2023 will be the year of putting email strategy once again at the forefront of your email marketing. I
If businesses want to start to heal from the effects of the disruptions of the last few years, they will need to concentrate on mapping out an appropriate strategy for 2023.
Mapping out strategies for the year ahead will help you identify the technologies and software needed to execute successful email campaigns. That concludes our review of email marketing tips for 2023. There have been some new ones, but also some that keep sticking around year after year.
9. Investing in Newsletters
2023 will be the year of the email newsletter! Yes, that's right, it's time to invest more of your efforts into your newsletter.
This could be a new design, fresh ideas, a new layout or an increased emphasis on storytelling. Time to ditch the lengthy newsletter, less is more.
Tell a story about your brand or organisation in increments on a more regular basis. Bi-weekly newsletters increase engagement and build relationships with your audience.
The Preferred Email, Events and SMS automation Software For All Australian Government Departments
Swift Digital's templates help you effortlessly create stunning emails and events communications using our drag-and-drop email and event builder.
You can raise engagement with embedded images, videos, polls, article feedback, and emojis and schedule messages to send at the right time.
Government departments' unique marketing requirements are covered with Swift Digital, and full compliance with all anti-spam and privacy laws is guaranteed. Swift Digital is also ISO 27001 certified.
Swift Digital is Australia's leader in marketing automation software and event management working with organisations like the NSW Government, ATO, and companies like Westpac Bank and Qantas.
Find out why we're the Australian government department's number one choice for their professional communications and events.
To find out how your business can get the best out of Swift Digital's platform, contact our team today.
Don't forget to share this post!