What is an Email Sunset Policy?
 A Sunset Policy outlines your strategy and plan for how to manage your disengaged email contacts. A Sunset Policy might outline a process of attempted re-engagement, followed by a way to end relationships with confirmed disinterested subscribers. 
Why is an Email Sunset Policy Important?
The deliverability of your emails – including how likely your emails are sorted into primary inboxes – is determined by recipients' past engagement with your previous communications.
Positive engagement behaviour that improves your deliverability are:
High open rate

Click throughs

Email forwarding

Replies
Negative engagement behaviour is indicated by:
Low (or no) open rate

No click throughs

No replies

Unsubscribes

Flagging an email as spam
When a subscriber of yours checks the 'negative engagement' boxes consistently with your brand's communications, their email provider will recognise their disinterest and may end up filtering messages from your brand to avoid taking up prime inbox real estate.
At worst, an email provider may look at consistent disengagement with your emails and relegate your brand's communications to spam folders.
Email Marketing Cheat Sheet
What to do if you find yourself in an email pickle
Tips and tricks on how to avoid email errors
Avoid the most common email automation mistakes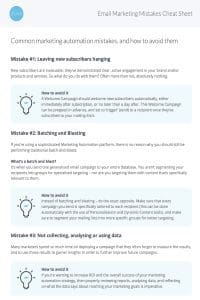 Download Cheat Sheet
Disengaged Subscribers
The problem of letting disengaged contacts take up space in your target audience is that the more contacts across the one email provider that show disinterest with your brand's communications.
The more likely it is the email provider will make sweeping generalisations about your emails, and may start filtering your brand's messages across the board – affecting your deliverability even for engaged subscribers, and subscribers of the future.
This trend of email providers filtering your brand's emails based on the disengagement of multiple contacts is called graymail – and should be avoided.
You could also run the risk of being black listed by email providers by sending to disengaged subscribers who no longer use their email address, and have since been turned into recycled spam traps.
If your brand falls into a spam trap or two, it can really undermine your deliverability for the future. We've written about spam traps and how to avoid them, here.
Having a Sunset Policy that you can automate, or deploy regularly, will help you to minimise the effects of graymail, spam traps and general disengagement; helping to protect the deliverability of your brand's communications. 
What Does an Email Sunset Policy Involve?
Your email Sunset Policy needs to do the following:
Identify disengaged subscribers

Attempt to re-engage subscribers

The management (aka removal) of confirmed disengaged subscribers
As your Sunset Policy is for the management of email subscribers, the above tasks may involve email campaigns at each step.
For example, you may identify disengaged subscribers by viewing metrics on your past email campaigns. You might attempt to re-engage subscribers via a re-engagement email campaign (more on this below). 
Finally, you might send a goodbye email as a last-chance effort to subscribers you otherwise plan to remove.
Examples of Sunset Policy Email Campaigns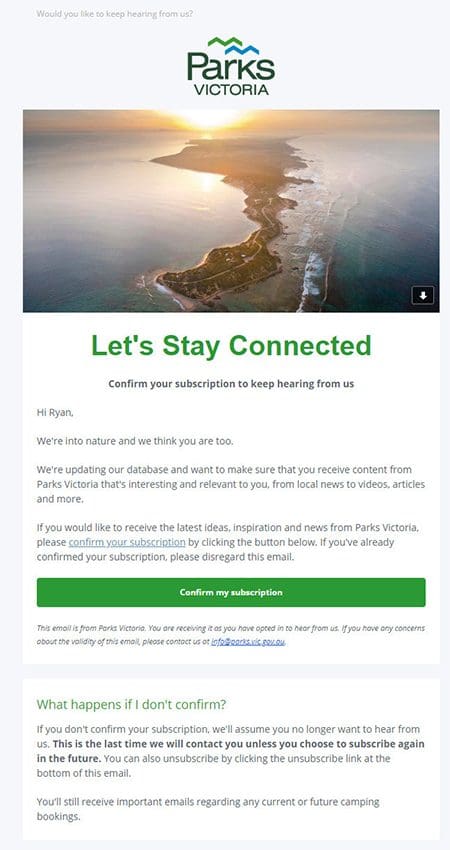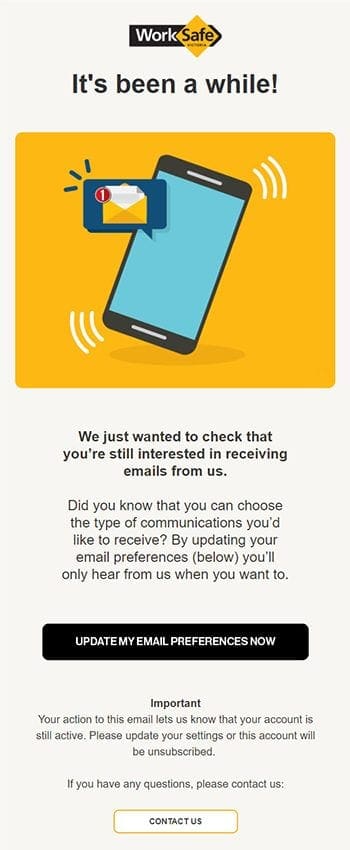 How Do I Know Who is Disengaged With My Emails?
Whilst there are general signs that your contacts are disengaged, your specific organisation might have other metrics that indicate someone is no longer offering high value engagement.
Here are some ideas of what you might want to check to help you identify disengaged contacts:
How much time has lapsed since this contact last opened an email? 

Does this contact engage with your brand via other channels?

If this contact opens emails, have they ever shown interest via clicks?

Does this contact open certain emails consistently, but not others?
How Do I Re-Engage Subscribers?
As an email marketer, you may flinch at the suggestion of unsubscribing invaluable subscribers. After all, you have worked hard to bring them on board. However, don't forget that disengagement has a negative effect on your brand's deliverability – meaning that although subscribers are valuable, they are only valuable when they are engaged. 
Before going ahead with the rest of your Sunset Policy, you may want to include a re engagement step to try and wake up long inactive subscribers. If re engagement works, it's a win-win. The contact is no longer hurting your deliverability AND they're engaged with your brand again. 
How do you go about re engaging these contacts? By running a wake-the-dead campaign! 
We've written about how to run a wake-the-dead campaign, here.
In a nutshell, your wake-the-dead campaign should:
Be sent to confirmed disengaged subscribers

Incentivise re-engagement (e.g. "claim your e-voucher")

Announce that the subscriber is identified as disengaged

And confirm that they will be unsubscribed automatically unless they show engagement (e.g. by clicking a link or replying)
How do I Execute a Sunset Policy via Email?
1. Wake the dead campaign
Sent to identified disengaged subscribers, this email should be a last ditch effort to re-engage. If subscribers fail to disengage, you would opt these contacts out of further communications.
2. Goodbye campaign
Send one last Goodbye email to disengaged subscribers you are going to opt out. This gives the contact one last chance to resubscribe if they wish to stay in touch with your brand.
Starting Your Sunset Campaign
Whilst much of your Sunset Policy involves management on your end, such as looking through data to identify disengaged contacts, and the eventual bulk removal of these records, the rest of your policy will involve a handful of email campaigns.
The ideal email Sunset Policy is set and forget. Re-engaging subscribers, and removing those that are consistently disengaged must be an ongoing priority for every email marketer.
Create your Sunset Policy, decide on how you identify the disengaged, and have the above email campaigns ready to go. 
If you use a marketing automation platform like Swift Digital's, you could put the whole Sunset Policy on auto-pilot.
By using data analysis tools you can auto-identify disengaged subscribers, segment them, and target them with an email journey taking them through the necessary steps – all without you having to lift a finger.
It's a fact of life: the sun sets on certain relationships, and your brand's relationship with its subscribers is no different.
To avoid the deliverability issues that the accumulation of disengaged contacts leads to, make sure you have an email Sunset Policy outlined, and in place.
The Preferred Email, Events and SMS Automation Software For All Australian Government Departments
Swift Digital's templates help you effortlessly create stunning emails and events communications using our drag-and-drop email and event builder.
You can raise engagement with embedded images, videos, polls, article feedback, and emojis and schedule messages to send at the right time.
Government departments' unique marketing requirements are covered with Swift Digital, and full compliance with all anti-spam and privacy laws is guaranteed. Swift Digital is also ISO 27001 certified.
Swift Digital is Australia's leader in marketing automation software and event management working with organisations like the NSW Government, ATO, and companies like Westpac Bank and Qantas.
Find out why we're the Australian government department's number one choice for their professional communications and events.
To find out how your business can get the best out of Swift Digital's platform, contact our team today.
Don't forget to share this post!