Event Management Skills
Event management skills are what an event manager or event planner possess in order to run successful events. Event management skills consist of organisational skills, people management, event management, negotiating, budgeting, strategising, creative skills and more.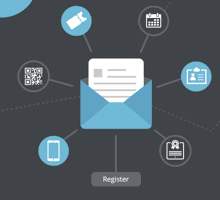 We all have our own event management skills. From arranging a birthday party to planning for your annual summer holiday, these all require some degree of planning and management. 
Planning and organising a professional event with over 5000 attendees in less than a week does require its own set of event management skills. 
We highlight the top 5 event management skills that will help you plan and run a successful event that will never be forgotten (in a good way!).
What is Event Management?
The definition of event management is the processes involved in the planning and running of an online or offline event. Event management is a project management profession which focusses on every aspect of events, from choosing a location to following up on attendee satisfaction.
Event Planning Checklist
Plan your event successfully and make sure you don't miss a thing.
Get our Event Planning Checklist now!
Download Event Checklist
What is an Event Manager?
According to Seek.com Event Managers are; professionals responsible for the development, coordination and organisation of occasions such as weddings, festivals, conventions, conferences, exhibitions, concerts and trade shows.
Event managers possess their own event manager skills and duties specific to their role of event manager.
The Duties and Responsibilities of an Event Manager Include:
Planning events from start to finish in line with requirements for the stakeholders, target audience and in line with project objectives.

Suggest ideas for events and build on these with creativity 

Plan and prepare event budgets 

Negotiate with suppliers, vendors and work closely with procurement team on event forecasts

Take charge and coordinate all the event operations 

Liaise and work alongside marketing teams with promotional activities for the event
What type of events do Event Managers run?
Conferences

Seminars

Meetings

Team Building

Trade Shows

Business Dinners

Press Conferences

Networking Events

Incentive Travel

Opening Ceremonies

Product Launches

Theme Parties

VIP Events
5 Event Management Skills You Need To Run a Successful Event
1. Communication
Event Managers communicate with a range of different on a day to day basis as part of their overall event management. From a brand sponsor to event attendee, they need to be able to communicate with people from all different backgrounds and walks of life.
One thing an employer may look out for in an Event Manager is strong people skills. Event manager skills include strong people skills which can be key to making sure event management is executed efficiently and an event is planned and run as smoothly as possible. 
Other communication skills for event planners include excellent written and verbal language which conveys confidence, perspective and clarity. Event Managers are also required to be good listeners and be able to process information and communicate this with their wider team. These attributes can together complement each other and will make a well-rounded Event Planner.
2. Organisational Skills
Your organisational and time management skills will be a good insight into whether or not you would make a successful Event Manager and be able to excel in the event management industry. 
A professional Event Manager will be able to prioritise their tasks to ensure maximum productivity from their time. Time is precious and should not be ignored when working in the event industry.
3. Budgeting
Event management skills don't stop at written and verbal literature, they also reach out to the mathematician in you. Yes, we are talking about numbers and budgeting.  An Event Planner or event manager will frequently be tasked with managing an event budget and ensuring costs are kept within scope. There are a number of really good tools out there that can help you with this including mybudget and calxa.
What Should Be Included In Your Event Budget?
For a simple business conference or seminar using Excel or Google Sheets will be sufficient. Start off by adding these headers into your budget;
Area/Category 

Forecast Cost

Actual Cost

Comments/Details
From here you start filling in your event spreadsheet under Area/Category with all the costs associated with your event. For example: venue costs, presentation equipment, travel costs, marketing and promotional costs and catering.
4. Creativity/Eye for Detail
The devil is in the detail so they say. Do you have a keen eye for minor things? Then you may well possess the right event management skills to become a successful Event Manager. 
A key event manager skill is for event planners to be able to spot when something is not quite right with the event and will easily pick up on issues and prevent things from turning into a bigger issue!
5. Technology Adopter
62% of marketers who use email marketing to promote their events use event management or event marketing software. 
Using an event marketing automation software to promote your event streamlines the invitation and registration process and eases the pressure on the Event Manager. Most event managers have skills in using event automation software. A good Event Manager likes to be able to manage their attendees to make sure they do not miss anybody. An event management platform is ideal as they can store all your attendee data and attendee behaviour all in one place, no more manual paperwork!  
Benefits of an All-in-One Event Management Platform
Event Management Skills FAQ
What are the 10 event management skills?
Planning, flexibility, listening, communication skills, problem solving skills, event automation skills and knowledge, management skills, budgeting, negotiating, attention to detail.

What are the 5 C's of event management?
Concept, Coordination, Control, Culmination, Closeout

What are the qualities of a good event manager?
Organisational skills, planning skills, communication skills, knowledge and use of event management platforms, positive attitude and creative problem solvers.

What are the responsibilities of an event manager?
The roles and responsibilities of an event manager are to plan events, manage events, design the budget, plan event communications using event management platforms, draw up event strategies, manage event team and more. See our event management handbook for more.
The Preferred Email, Events and SMS Automation Software For All Australian Government Departments
Swift Digital's templates help you effortlessly create stunning emails and events communications using our drag-and-drop email and event builder.
You can raise engagement with embedded images, videos, polls, article feedback, and emojis and schedule messages to send at the right time.
Government departments' unique marketing requirements are covered with Swift Digital, and full compliance with all anti-spam and privacy laws is guaranteed. Swift Digital is also ISO 27001 certified.
Swift Digital is Australia's leader in marketing automation software and event management working with organisations like the NSW Government, ATO, and companies like Westpac Bank and Qantas.
Find out why we're the Australian government department's number one choice for their professional communications and events.
To find out how your business can get the best out of Swift Digital's platform, contact our team today.
Don't forget to share this post!