7 | Minute Read – (Enjoyed best with a hot cup of coffee!) 
Events are only successful when people attend them. "D'uh" you might be saying, but it bears reminding: without a successful marketing campaign, your event will go without the engagement and attendees it needs to reach its goals.
Marketing your event is just as important as planning it, and managing it on-the-day.
It may surprise you to know that marketing your event doesn't start and end at invites; a successful event marketing strategy involves multi-channel marketing touchpoints throughout the entire event journey, from pre-event, through to post-event.
What is Event Marketing Automation?
Event Marketing Automation is the process of using automation tools and platforms to automate event marketing communications.
This means that your invites, reminders to register, reminders to attend, last-minute reminder SMS, thank you for coming, and sorry we missed you emails can be set up in advance and set to publish at the right time to the right people.
With the advent of modern technology, more and more automation tools and capability are offered online.
This helps marketers put much of their campaigns and strategies on auto-pilot.
The benefit of automation your event marketing communications is that it takes much of the day-to-day work out of managing your event; freeing your event marketers and managers for more important work, like ensuring that the event itself is well planned for success.
A large majority of event marketers (86%) believe that today's tech can have a major positive impact on the success of their events. 
It's time to bring your Event Marketing into the 21st Century, by using the best available technology.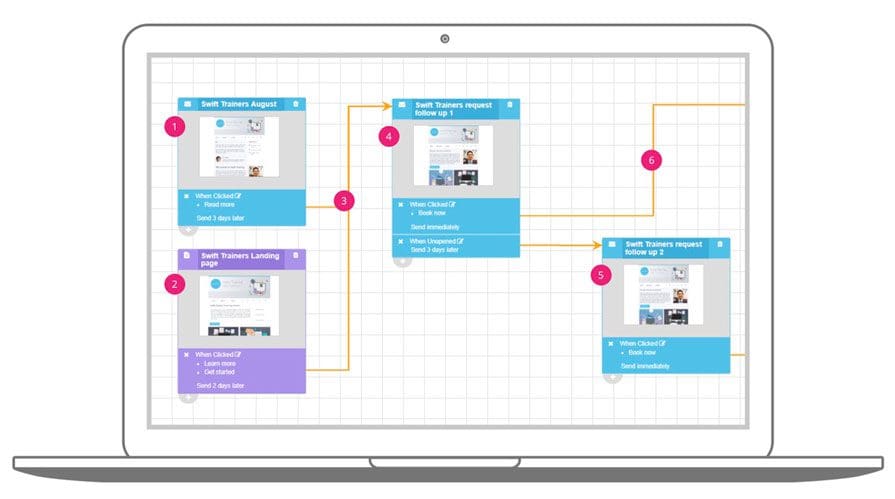 Event Marketing Automation Workflow
How do you use Event Marketing Automation?
Event Marketing Automation is facilitated by the use of tools available on an Email Marketing and/or Event Management automation software.
There are plenty of event marketing platforms to choose from.
We compared a few popular ones, here.
Once you have an event marketing application ready to use, automating your event marketing strategy might look a little like this:
Set up both a scheduled email invite, and an event invite landing page that you'll drive traffic to. Both lead to an auto-generated registration form.

Set up 'reminders to register' that send via email and SMS. These can be 'triggered' to send based off simple rules. For example, any contact who clicks through to the landing page but doesn't register, and anyone who opened the invite but didn't register, can automatically receive the reminder.

Set up 'reminders to attend' to all registered contacts. This can be set up in advance, and scheduled to auto-send to all registrants a couple days before the big event.

On the day reminders sent via SMS, with important info like parking suggestions and last minute changes. This again can be set up in advance, and will auto-send to registrants on the day of the event.

'Thank you for coming' emails, with links to feedback surveys, and other goodies can be set up in advance and will automatically send to all marked attendees.

Sorry we missed you will target registrants who were not marked as attended.
All of the above communications can be set up quick smart, way ahead of the event, freeing up valuable time as the event crunch time approaches.
If you're using an event management platform that allows for cloning, you could also set up all these automated emails for one event, and simply clone the event for next time – meaning you'll never have to spend time creating invites, registration forms, and reminders ever again.
Is Event Marketing Automation sounding real good right about now?
Creating the necessary email and SMS campaigns for a single event could take upwards of 20 hours, not to mention the time it would take to manually create a registration form, and segment contact lists based on their engagement (whether or not they opened an email, whether or not they registered or attended). 
The ROI argument is clear: by automating what is traditionally dozens of hours of work (spread out amongst a team of people), event marketing automation would save you countless resources and staffing needs, whilst also improving your results. 
Automation tools give you the ability to easily segment and target; increasing engagement, and thus increasing the chances of your event meeting its goals. 
Using event technology can increase event attendance by 20%, and decrease event-related costs by 20-30%.
If your business regularly runs events, there is a huge case to be made for investing in Event Marketing Automation software. 
What is not to love? Less time, money and resources spent, whilst reaping in stronger, better results.
Your event is only as successful as your event marketing strategy.
An automated strategy is often a successful one.
Harness the Power of Marketing Automation
Marketing automation is a powerful tool when used to its full advantage. We hope that you now understand how you can use its marketing automation's powerful potential to level up your marketing in your business.
Is your business looking to leverage marketing automation as part of the wider marketing strategy? Or are you simply looking to change your marketing automation platform?
Swift Digital can share more resources and best practices relating to your industry and how they successfully use marketing automation
To find out how your business can get the best out of Swift Digital's platform, contact our team today on 02 9929 7001.
Don't forget to share this post!
Marketing Automation Checklist
Looking for a new platform?
Make sure you cover all your needs with our Marketing Automation Checklist.
Download Checklist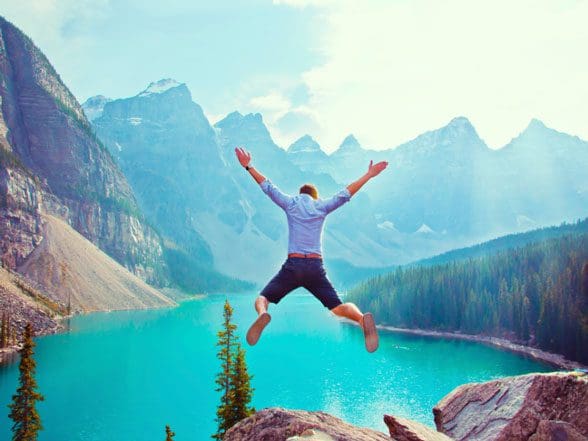 What are you waiting for? Jump right in.