An Event Manager's job is not complete once the event has taken place, actually far from it.
Managing all the elements of a complex event can take its toll, and without the right event planning tools and event management tools, project and event planning can be quite a tricky process.
From the initial event concept through to the check-in process, it is up to the events team to ensure they stay on top of all elements of event planning. 
How do they stay on top of it all? By using event management tools.
Not just one tool, but combining event planning tools in a way so they work for you.
But with so many event management tools, event planning tools and corporate event planning tools out there, which are the best tools to use when planning an event.
Swift Digital works with a number of public and private sector companies including Government organisations and Universities helping them to set up, manage, promote and market their online and offline events using our event management platform.
We have taken our experience with event, particularly corporate event planning and put together our top seven-event management and planning tools that event planners will love and will ensure your next event is a success. 
Event Planning Checklist
Plan your event successfully and make sure you don't miss a thing.
Get our Event Planning Checklist now!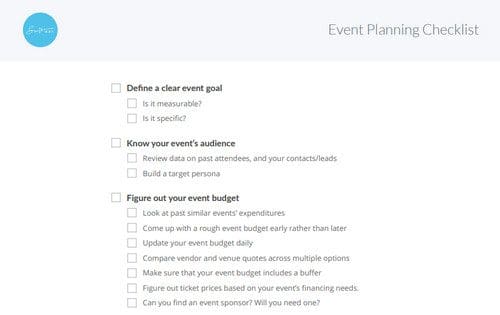 Download Event Planning Checklist
What are Event Planning Tools?
Event planning tools are made up of communication tools, project management tools, event management tools, apps and browser extensions.
Event planner tools are usually online software or platforms that specialise in assisting you to help plan and manage your online or offline event. Some event planner tools specialise in the planning of online events whilst others focus primarily on offline events.
We have compiled seven of the best event planning and corporate event planning tools that can help you run and market a successful event.
How To Choose The Best Event Planning Tools
Choosing the right tools for any project is often one of the hardest parts of event planning. It's important that you get it right from the start to ensure event planning goes smoothly and you don't have to fret about the small stuff.
There are 3 major ranking factors when selecting your event management and planning tool, these include;
Ease of Use – How intuitive is the platform or event planning tool? The interface is super important when it comes to event management. Make sure your tool is easy to use. Ask for a demo of the tool if available or a trial period. If the event management tools you use are easy to use, then you will find your team will be keener to adopt these as part of the event planning process.
Support – What support is there available? Is it during Australian hours? Is it instant? Do you need to pay extra? These are the types of questions you should ask yourself when looking at what event planning tools you will select. A good event management platform will provide real-life support and a wide knowledgebase archive.
Peers/Colleagues Feedback/Reviews – Have you been recommended this by another colleague or department? Peer reviews and referrals are some of the most valuable sources of information when it comes to selecting your event management tools, it's like they have test drove the planning tool before you so can provide you with the feedback and review.
7 of the Best Event Planning Tools
1. Use Communication Tools Like Slack or Skype to Coordinate Your Event
First thing's first, you need to ensure that everybody in your team is on the same channel. This means making sure your event planner tools are in place. Slack is a cloud-based communication tool, similar to Skype but is just that little bit more sophisticated.
It allows easy instant messaging between your team with group threads so you can identify different conversations. If you use project planning tool JIRA at all for planning your event tasks then Slack integrates easily with this as well.
2. Stay Focussed - The distraction limit tool
This one can be a lifesaver. It is not necessarily an event planning tool but more of a time-saving event planner tool. If you are prone to distractions then this tool is for you. Stay Focussed increases your productivity by limiting the amount of time spent on distracting websites. 
How this tool works is that it allocates a certain amount of time to specific time-wasting websites – like Facebook – and once that time is up it will block that URL for the rest of the day, allowing you to finish what you started! 
3. Plan and Manage Your Event Tasks with Monday.com
This is another cloud-based application that if used to its full potential can make an event coordinators job that much easier. Monday.com helps you to see the bigger picture, and make plans that can be tracked as well as tasks that can be assigned. 
These type of event planner tools allow you to create and customise your event workflow and decide what tasks and activities are important for that day, you can then go ahead and add statuses and priorities to these for maximum clarity on what has and hasn't been done. Go ahead and give it a go and banish the Monday blues with Monday.com
4. GoTo Webinar - The Ultimate Pre Event Planning Tool
Webinars are a great event planner tool and help to create pre-event noise and raise awareness of your event. However, webinars can be quite time consuming and resource-intensive, something that can become quite sparse in the lead up to your event.
Event planner tools to help you plan
Luckily for you and your event team, GoTo Webinars have released event and corporate event planning tools that help you plan, present and follow up on your webinar.
These tools include post-event surveys for your webinars, polls and automated follow up emails.
Swift Digital's events module easily integrates with GoTo Webinars so you can build out your events, track your attendees and send your invitations all in one software.
5 Tips for using Event Automation Software to Run GoTo Webinars
5. Google Drive
It may seem like an unusual one and you may be thinking 'how is this an event planning tool?', but Google Drive is one of the top trending event planner tools of the decade, and can be particularly useful for planning and managing events. 
Keep your plans in one place, for free
After all, it now has the equivalent of Excel, Word, Powerpoint all in one cloud application. It is a central source that comes with a crazy amount of free storage, it is accessible by many, so the whole team can collaborate on documents.
Above all, its version control is a great time-saver, no more saving and resending to your colleagues; running the risk of a colleague working on the wrong version!
If you are about to start planning an event or are in the middle of planning an event, check out our Event Management Handbook where you will find event checklists and tips on how to run a successful event.
6. Swift Digital Event Management Platform
Harness the true power of event software. The Swift Digital online event management software provides numerous automation features to simplify the event planning and management of your events.
Swift Digital's Events Desk automates your event marketing with powerful event management software. Easily build and manage your events, promote and boost attendance with Swift Digital's Event Marketing Automation platform, Events Desk.
7. Trello Boards
Sneaking in seventh place is Trello. Trello is an event planning and collaboration tool that organises your projects into boards. This is useful if you have a number of events being planned simultaneously so at one glance you can see at what status each part of the project is at.
It's like having a whiteboard full of stick notes but much more organised!
Use Trello as one of your event and corporate event planning tools to help you assign tasks to your event team members. Trello is a great event planner tool for project and event planners because you are able to see at what point in the event planning journey your tasks are at. Collaborate your event management with Trello today!
Powerful Event Management Software
At Swift Digital, we have the ideal corporate event planning tool in the whole of Australia. Packed to the rafters with event automation features, there's not much it can't do when organising and running events.
The benefits of running events, whether you hold physical or virtual events are endless. 52% of respondents asked about the importance of events in their marketing strategy said that events drove more results than other marketing channels.
Planning an event is always hard work.
Make things easier for yourself by using our corporate event planning tool. It can automate a lot of the work that helps you to promote, plan, and execute a successful event.
Ask the experts at Swift Digital about how we can help automate the process of organising and marketing your corporate events (virtual or face-to-face). Email us at info@swiftdigital.com.au
Don't forget to share this post!