It's hard to plan and run an event.
You often face the same old problems of unmet attendance targets, poor attendee engagement, and, making matters worse, the shortest of lead times―there's always plenty for you and your team to do when tasked with delivering a successful event.
The thing is, technology is already available to help you combat these problems―specialist technology that can manage the whole process from beginning to end: event solutions software. 
What is Event Solutions Software?
Event solutions software helps you to run your business events smoothly. Holding an event is an important business activity.   A vast majority (97%) of B2B marketers believe in-person events have a significant impact in achieving the desired business outcome. 
No event can succeed without a steady stream of enthusiastic attendees, so event planners must do all they can to get people in through the door. 
Event marketing begins with you spreading the word using a variety of methods; a website, registration forms, reminders to attend and more. But more often than not, it's a scattergun approach with no central management method. You need to take a more cohesive and organised approach.
We've got 12 critical event solution software features you need to help you organise, plan, and execute your next big event successfully.
Critical Event Solution Software Features
A Single Dashboard

Event Promotion Capability

Integrated Email Marketing

Event Microsite/Landing Pages

Mobile and SMS Marketing

Extensive Payment Integration Options

Multiple Ticket Types

PDF Certificates

Attendance Checkoff

QR Codes

Survey
1. A Single Dashboard to help you Control Everything
You can control all event promotion and marketing aspects for your planned event in one handy dashboard. And that's not all. When the big day arrives, event solutions software also helps you run the event.
Tasks like checking in attendees, managing payments, tracking capacity limits, and more are more efficient using specialist event software. Then, once the event has concluded, you can poll and survey your attendees to get their opinions on how it went.     
Event solutions software is something your organisation should be using.  89% of event planners say that event management software helps them save time when planning an event, and 80% say it helps them prove event ROI.  
2. Event Promotion Capability
After you have built an audience for your event with your landing page and email marketing, you can use the event management features in your event solutions software to run the event on the day. 
There is no need for reams of A4 paper with the attendees' details to check off who's shown up. Nor do you need to worry about point-of-sale technology to take payment of entry fees. 
Swift Digital's event management features are jam-packed with event management capabilities to help your event run smoothly. 
You can assign your attendees a QR code for you to scan on arrival for speedy attendance management and take payments beforehand or on the day, using the online payment gateway integration. 
Further tools in Swift Dgital's event solutions software include:
Manage a waitlist should your event become fully booked

Handle cancellations and refunds with ease

Manage the event location capacity limits

Use multiple ticketing types for a single event

Take payments for events

Provide custom PDF certificates to recognise event attendance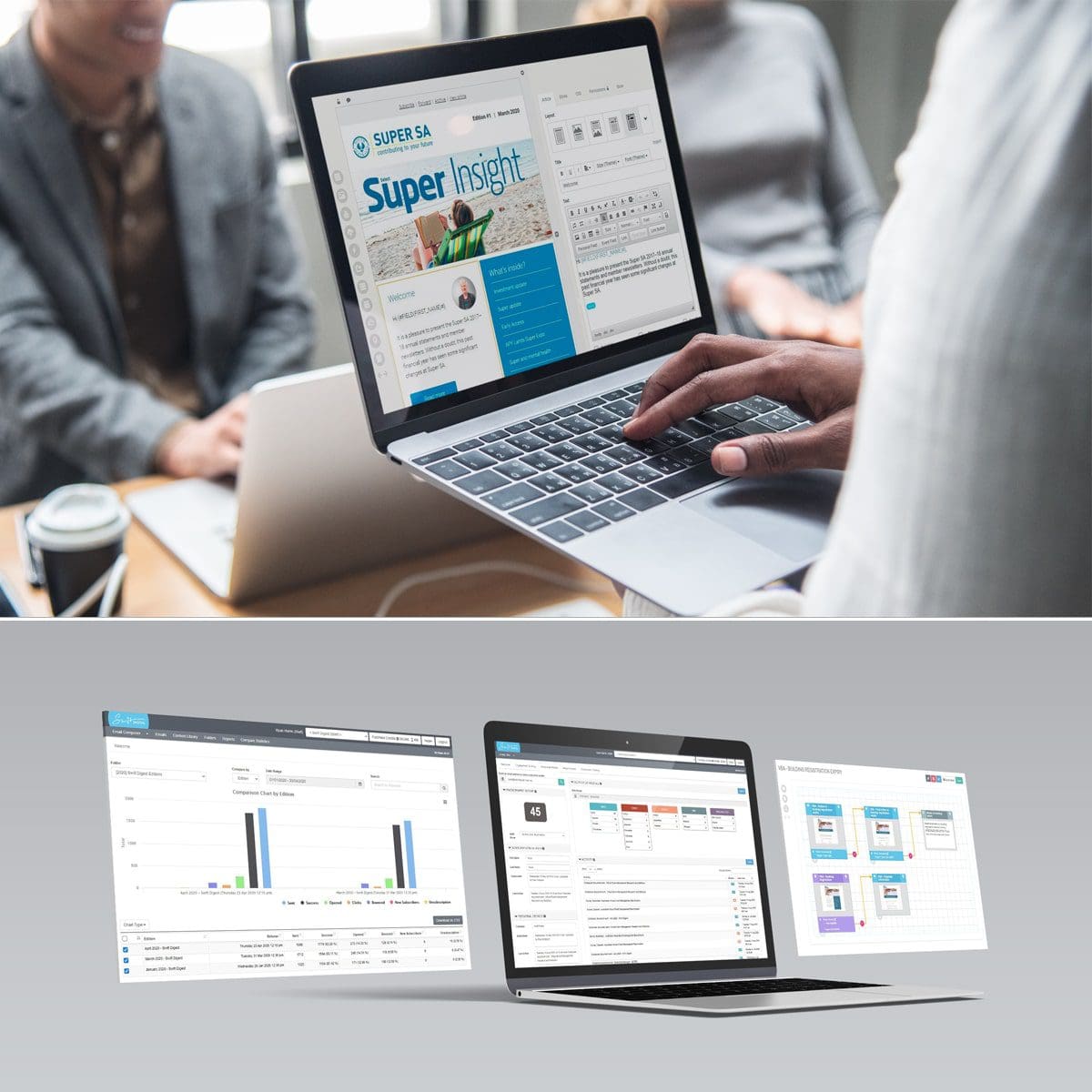 3. Integrated Email Marketing
Before your event, you'll want to build up some anticipation and buzz around it.
While you can't ignore social media when marketing your event, an Event Manager survey demonstrated that email marketing is the next most popular marketing and communications channel.   
Your event solutions software helps you collect registrants' email addresses per the 2003 Spam Act via your event's landing page.  Which then allows you to send them event marketing email messages. 
A significant benefit of using Swift Digital's event solutions software is the ability to send automated email drip sequences.
These are a set of email messages sent on a fixed schedule that starts once an attendee provides their email address.    
You can send the set of emails on a schedule of your choosing and compose them to provide the information that has the maximum impact on the reader and contributes towards the success of your event. 
A further vital email marketing practice is message personalisation.
People warm more to the personal touch. So you can design your emails with a drag-and-drop editor, then let your event solutions software automatically add the recipient's name and other information into each email. 
It transforms every bulk message you send out to your email contacts into an email that appears written especially for them.
4. Event Microsite/Landing Page
So what is a landing page? 
Websites used to be more straightforward: a couple of pages of information about you and your business and how an interested party could contact you. 
Today, thanks to digital business transformation, websites,  microsites and landing pages play a critical role in how a business functions. 
Most events need a microsite or website, a place to share event information, the dates it will happen, and how attendees can reserve a spot.  But, if you mix all this in with your existing website, your event details can become lost in the noise. 
What you need is a simple one-page website―a landing page―that focuses on your event.
There are no nagging menus to draw visitors away, so they can concentrate on your messaging, which increases your chances of converting them to your offering.  
Our event solutions software lets you design simple, attractive one-page layouts using our inbuilt drag-and-drop editor.  It's so easy; even the most technologically shy can use it to produce a dazzling page. 
The landing page provides the essential information a web visitor needs and, most importantly, provides an easy way for them to register their interest in your event. 
Capturing a visitor's email address is an essential step in delivering a successful event, too, because it lets you send promotional messages to build up the buzz.  So always ensure that it's easy for visitors to give you their email addresses.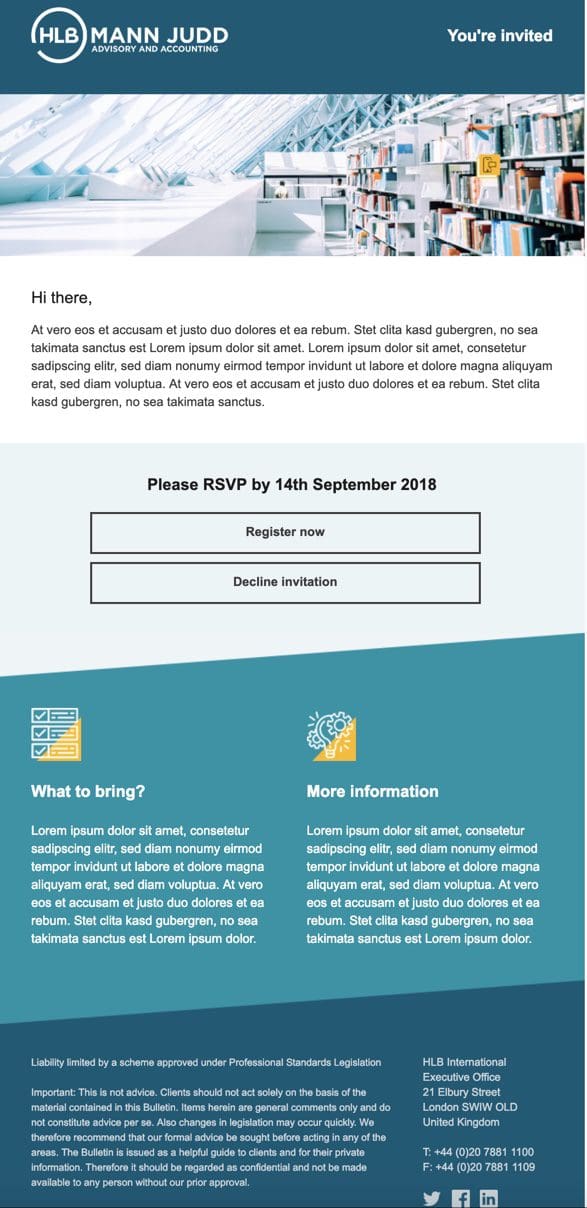 5. Mobile and SMS Marketing
Now that nearly everyone has a smartphone, you can employ the power of mobile and SMS solutions to enhance your event. 
There are the standard reminder messages you'd expect to alert your attendees to the forthcoming event. But SMS can do more than this when combined with our event solutions software's digital marketing features. 
Say you are about to host a seminar at your event.  You can send an SMS message to all the people attending the event announcing that the workshop will soon start. Those who reply to the SMS to say that they're going can get a PDF emailed immediately containing further information.
While many of us ignore automated emails or only give them a passing glance, according to Techjury, SMS has an open rate of an impressive 98%. 
SMS marketing messages are cheap, quick, and practical.
With our event solutions software, you can manage all your SMS messages and track user interaction all from within the same platform.  
6. Extensive Payment Integration Options
Running paid events shouldn't be an arduous affair. Event managers need event solutions that have the option to take online payments and track payment statuses in the system.
Your event solution should offer to invoice for manual payments or Bpay/bank transfers, online payments through your bank, and automated receipts/payment confirmations.
Having the option to integrate your selected payment gateway with your event solution will make your event management a lot easier to manage and is beneficial.
Some of the benefits of having options for payment gateway integration include the following:
You receive funds immediately in your designated bank account
Self-managed funds, improving security as everything goes straight to your bank account
You can initiate refunds directly within your payment gateway
Tip: Watch out for event solutions that skim money off the top of your event sales/transactions.
7. Location capacity
Whether it's an online event or physical event it is likely to have a capacity so having the ability to control the capacity is a must
8. Multiple Ticket Types
Does your event have different ticket types? For example, one ticket type includes the buffet and a welcome drink, whereas the other ticket type is a simple ticket with no extras.
Having different ticket types is becoming more popular, so make sure your event solution has the ability to let you select multiple ticket types as part of your event.
You should be able to have the choice of a multi-select, single select and the ability to add a guest and assign a booking agent.
9. PDF certificates
PDF certificates are commonly used in events to acknowledge and recognise a certain activity or program's participation, achievements, or completion.
These certificates are typically distributed to attendees, participants, speakers, or organisers as tangible proof or documentation of their involvement.
Issue event certificates at the end of your events to attendees, whether it be a corporate conference or an internal learning event.
Keep track of your attendee's level of progress.
Conferences and Workshops: PDF certificates can be given to conference or workshop attendees to acknowledge their participation. These certificates often include details such as the event name, dates, attendee's name, and sometimes the topics or sessions attended.
Training Programs: In training programs or courses, PDF certificates are awarded to individuals who successfully complete the training or achieve specific learning objectives. These certificates serve as evidence of their acquired skills or knowledge.
Competitions or Contests: Events that involve competitions or contests, such as hackathons, coding challenges, or academic competitions, may provide PDF certificates to winners or participants who achieve a certain level of performance or recognition.
Webinars or Online Events: With the rise of virtual events, PDF certificates are frequently used to acknowledge the participation of individuals in webinars, online workshops, or other virtual learning activities. These certificates can be sent digitally to the participants' email addresses.
Volunteer or Organising Roles: Event organisers often distribute PDF certificates to acknowledge and appreciate the efforts of volunteers or individuals involved in organising the event. These certificates recognise their contributions and can serve as a testament to their dedication and commitment.
10. Attendance checkoff
Gone are the days of shuffling through pages of registrants to mark attendance. Manual, paper-based check-ins can be time-consuming and flustered and leave attendees with technological ineptness.
Use a check-in app to make your attendees and add attendees on an ad hoc bass.
11. QR codes, etc
Now you can use our iOS event check-in app to scan attendance with bar codes, or quickly locate an attendee through incremental search (Eg. type "Fra" to immediately see all "Franks" or "Frans" registered for your event).
12. Surveys
Once your event has concluded, you'll want to find out if your attendees enjoyed it and found it a beneficial experience.
Pre-event surveys: Prior to the event, you can use surveys to gather information from attendees. Ask about their preferences, expectations, and specific topics or activities they would like to see at the event.
Post-event satisfaction surveys: Distribute satisfaction surveys to attendees after the event to assess their overall experience. Include questions about the event's organization, venue, content, speakers, networking opportunities, and any other relevant aspects. This feedback will provide valuable insights into what worked well and what areas need improvement.
Speaker evaluations: Use surveys to collect feedback on individual speakers or panel sessions. Ask attendees to rate the speaker's knowledge, presentation style, relevance of content, and overall satisfaction. This information will help you identify the most effective speakers and refine your speaker selection process for future events.
Post-event content evaluation: If your event included workshops, breakout sessions, or educational content, surveys can be used to evaluate these sessions. Gather feedback on the content's relevance, clarity, and usefulness. This feedback will assist you in curating more effective and engaging content for future events. Demographic and registration surveys: When attendees register for the event, you can include survey questions to gather demographic information, such as age, industry, job title, and location. This data can help you understand your target audience better and tailor future events to their specific needs and preferences.
Future event planning: Use surveys to solicit ideas and suggestions for future events. Ask attendees what topics they would like to see covered, what formats or activities they prefer, and any other suggestions they may have. This feedback will guide your event planning and ensure that future events align with attendee expectations.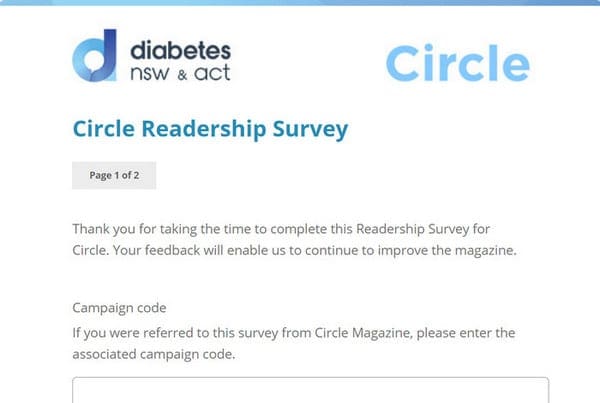 You can send them out automatically after your event and choose whether you want them to be anonymous or not. Surveys are a quick and efficient way to see your event's success. 
Use Event Solutions Software to Plan and Deliver Your Next Event
At Swift Digital, we run the best event solutions software in the whole of Australia. Packed to the rafters with event automation features, there's not much it can't do when organising and running events. 
The benefits of running corporate events, whether you hold physical or virtual events, are endless. 52% of respondents asked about the importance of events in their marketing strategy said that events drove more results than other marketing channels.
Planning an event is always hard work. 
Make things easier for yourself by using our event solutions software. It can automate much of the work that helps you promote, plan, and execute a successful event.
Ask the experts at Swift Digital about how we can help automate the process of organising and marketing your corporate events (virtual or face-to-face). 
Don't forget to share this post!
Event Planning Checklist
Be on top of every task of event organisation

On the go checklist that you can easily download, print and save

Don't plan your event without it!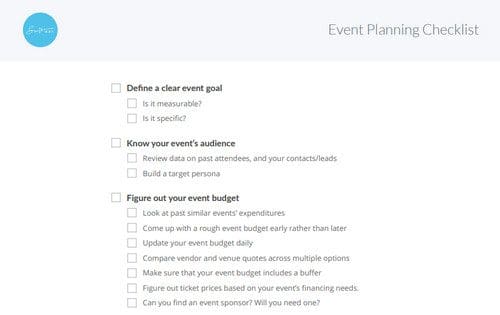 Download Event Planning Checklist