When it comes to boosting sales, your brand's customer experience can make or break your results. How your customers and leads experience your brand, based off of the interactions they have with you, affects their level of ongoing engagement, loyalty, and thus their likelihood of converting, or making a repeat purchase.
Just as it's true in our personal lives, the health of a relationship is dependent on the communication that occurs within it, and it's for this reason that your customer journey has to be thoughtfully considered and designed.
Where does email marketing come into all of this? Customer journeys encapsulate all touch points between customers (or prospects/leads) and your brand, and as such rely heavily on email marketing as a communicative foundation.
It's email that fills in the gaps of your customer journey, and it's email that provides the most opportunities for customer relationship nurturing, and of course – engagement and conversion.
How do the smartest brands use email marketing to capitalise on customer experience, in order to improve sales?
We're going to look at some examples of email marketing campaigns, and techniques, that Swift Digital clients use to improve upon conversion rates, and make their customers' experiences all the more enjoyable, trustworthy, and trackable.
Making product offers relevant to the customer's interests
One of the easiest ways to boost the conversion rates of your email campaigns is to make them hyper relevant.
The more relevant your emails are, the more likely you'll grab, hold, and capitalise on your recipient's attention. Relevance matters because recipients are no longer strangers to promotional content in their inboxes. In fact, the average email user is positively drowning in marketing emails – and it's going to take more than default, generalised promo material to engage them.
By utilising a marketing automation platform to carry out your email marketing strategy, you'll have access to relevance-boosting tools such as Dynamic Content, and Personalization. These tools enable you to create the one email campaign for a vast audience; whilst having each individual in that audience receive an email custom fit for them.
Let's take a quick moment to talk about how Dynamic Content actually works.
Dynamic content enables you to create one email campaign, in which the content will be specific to each individual contact. How? Using this tool you create variations of content and set rules for whether that content appears or not. These rules can be behaviours based (i.e. if the contact clicked on the link in last week's email, show this content) and data based (i.e. if the contact lives in NSW, hide this content). This way your email campaign has plenty of content variables, and no one recipient will receive a generalised campaign. The campaign will appear customised to each of them; making them feel valued, and engaged.
Let's take a look at this email campaign promoting brand products. To incentivise conversion, this email has offered special vouchers and discounts. To further boost conversion, you can use Dynamic Content to create multiple variations of special offers relevant to different products. Depending on what a contact has shown interest in in the past, certain offers will display and others won't. Let's say a contact who's previously bought a pair of shoes from your brand opens this special offer email; it'll further increase the chances of them using the voucher, if the voucher offered is for the shoes they've already displayed interest in.
Using appointment booking calendars to make conversion a seamless experience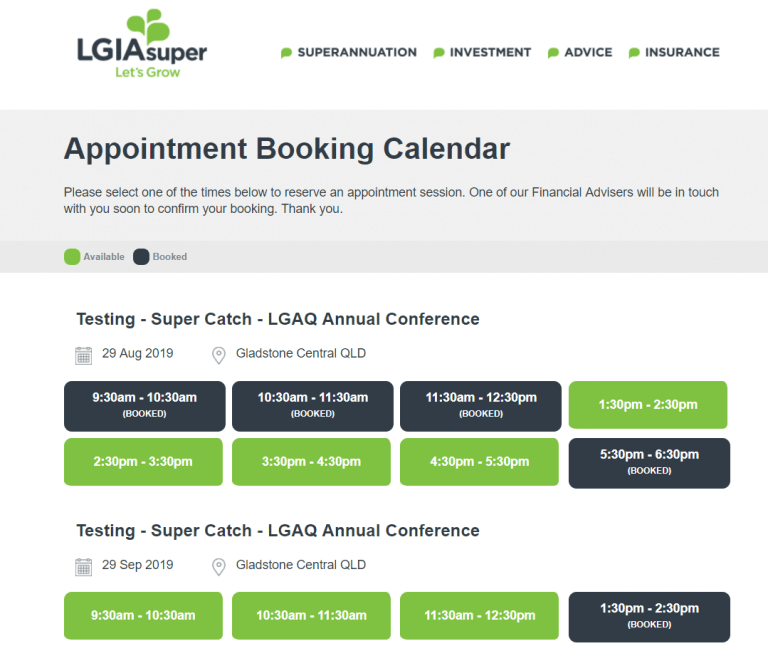 If your brand sells services rather than products, this example might be more relevant to you.
Using booking calendars as part of an email campaign can help you capitalise on the engagement of your email campaign; driving that engaged traffic to an appointment booking page which is easy to use. This incentivises conversion as the process is seamless, trustworthy (due to consistent branding) and ridiculously easy (in a few clicks, a contact can book an appointment and is on their way to becoming a fully fledged customer).
Appointment booking calendars can take a lot of manual work and resources when created from scratch, but by using a marketing automation platform (like ours at Swift Digital) you can easily create one by simply defining booking times, and making small custom tweaks as you see fit. The process of inviting contacts via email to book, and managing those bookings is fully automated, saving you time, and simplifying your appointment management process.
How do appointment booking calendars improve customer experience and boost sales? By making appointment booking easy as pie, you improve customer experience (they're required to spend a couple minutes clicking around rather than half an hour calling your customer service) thus improving your conversion rate on autopilot.
Using landing pages to capitalise on conversion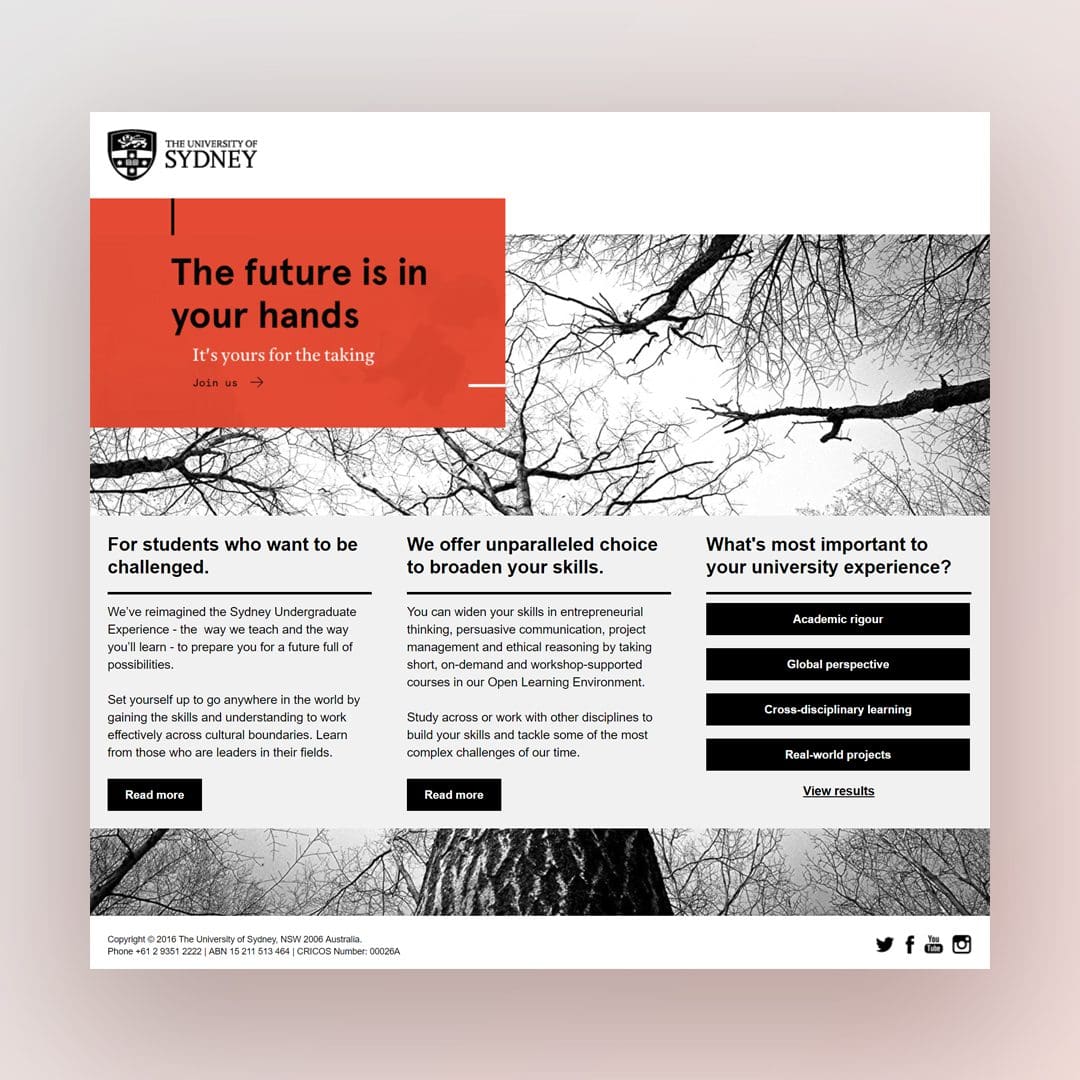 Landing pages are a fantastic conversion-boosting complement to the average email campaign. As landing pages are web based, they give you more content options – such as the ability to embed playable video, a navigation menu to orient recipients around a large volume of information, and interactive embedded forms, surveys, polls – you name it.
Landing pages fill in the functional gaps of an email campaign and improve experience, as well as conversion rates. Being web based, your marketing team will have more sales boosting techniques they can try out beyond the email campaign, without losing the traffic funneling benefits of the email strategy itself.
If you'd like to know more about landing pages, and how you can easily create one with a drag and drop editor (on a marketing automation platform, such as Swift Digital's), read our landing page article, here.
Replacing a Subscription Form with a Preference Center to increase engagement

One of the easiest ways to stay relevant with your customer base is to ask them directly about what kind of communications they prefer to receive.
A Preference Center replaces the traditional Subscription form. It not only enables subscription to your email marketing, but also management of what topics or communications each individual wishes to subscribe to.
Check out this example. PTV provides public transportation for the city of Melbourne. When prospects want to subscribe to PTV travel updates, they are also asked to specify which particular travel routes they want to be updated on. This means PTV not only collects more valuable data on each of their subscribers; making segmentation and targeting easier, but it also improves the experience of subscribers who don't want to receive travel updates that are irrelevant to them.
Preference Centers minimise unnecessary unsubscribes, and also build brand-customer trust (as contacts have more autonomy over their relationship with your company). For this reason, Preference Centers boost customer experience, and conversion rates as they lead to improved long term engagement.
Providing opportunities for interaction, using surveys and polls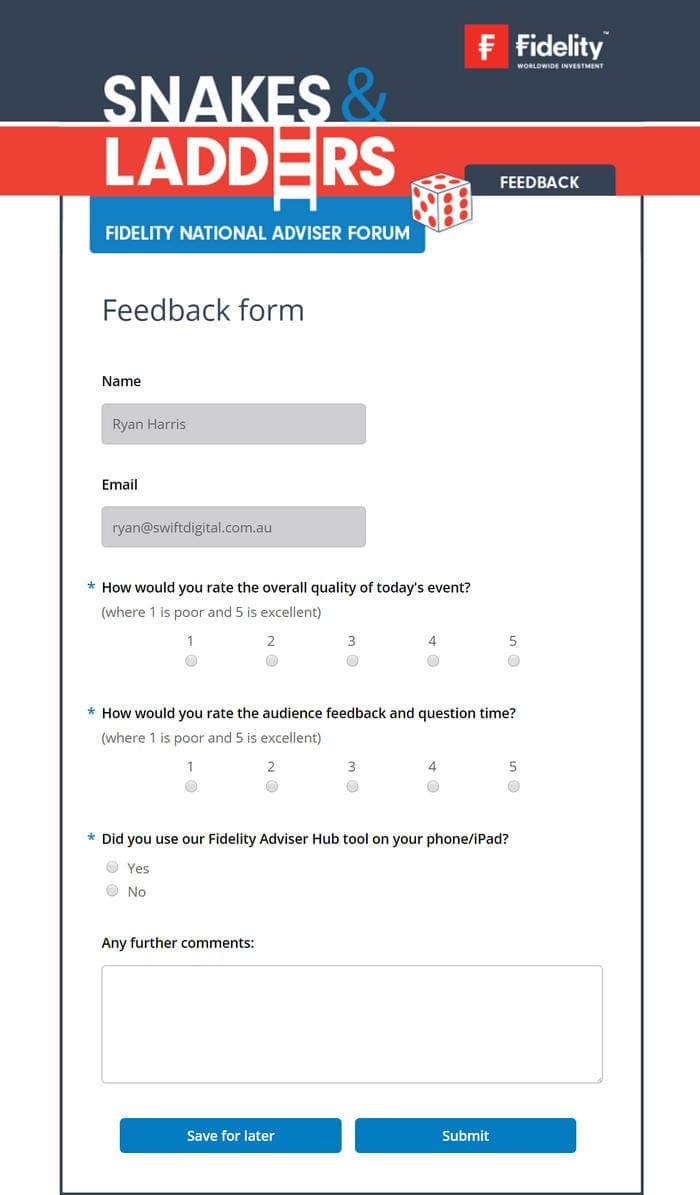 The average modern contact is inundated with one way promotional soap boxing day in, day out. One of the growing trends we're seeing for email marketing in 2019 is avoiding one way communications and instead focussing on campaigns that have an interactive element.
Interactive email campaigns invite contacts to be active participators rather than passive consumers, and therefore stick out in noisy inboxes where recipients are often just sold to.
One of the easiest ways to incorporate interaction into your campaigns is by using surveys, and polls. These options invite contacts to willingly give their opinion, feedback, ideas, and of course – data. Providing opportunities for participation and interaction increases the amount of attention and time spent on your email campaigns – making it more likely that a recipient will convert via any call to action you've included.
Collecting data is no small feat either, with surveys and polls recipients are not only giving up incredibly valuable data that you can use to further segment and target them, but they're doing so out of their own free will; demonstrating trust and loyalty.
Surveys and polls should always be incentivised, either because the contact sees value in participation (e.g. like in the example above, where the survey asks for post event feedback) or because completion of the survey or poll unlocks some sort of reward. You can set up an email with vouchers or other prized goodies which auto-sends (triggers) when a contact completes your email's interactive survey. This way you increase the number of submissions, and thus useful data which you can use to inform future strategy to further improve email ROI.
When it comes to smart brands and how they use different email marketing strategies to deliver improved customer experience, and conversion rates, it's clear that the foundation of such strategies are marketing automation tools. Using a marketing automation platform to carry out your email marketing campaign gives you access to the data and tools you need to properly segment, target, and provide hyper relevance to your audience. It's relevance that drives improved customer experience, and it's that improved experience that increases the traffic funneling in from your campaigns into your sales pipeline.
Email marketing already has a high ROI on its own; properly using automation and smart tools to boost relevancy, value, and sales just further capitalises on that strong footing.
Keen to try out some of the above examples in your email marketing strategy, but not sure where to start? Talk with the marketing automation experts at Swift Digital, and we'll help you put your marketing and sales strategies on autopilot.
The Preferred Email, Events and SMS Automation Software For All Australian Government Departments
Swift Digital's templates help you effortlessly create stunning emails and events communications using our drag-and-drop email and event builder.
You can raise engagement with embedded images, videos, polls, article feedback, and emojis and schedule messages to send at the right time.
Government departments' unique marketing requirements are covered with Swift Digital, and full compliance with all anti-spam and privacy laws is guaranteed. Swift Digital is also ISO 27001 certified.
Swift Digital is Australia's leader in marketing automation software and event management working with organisations like the NSW Government, ATO, and companies like Westpac Bank and Qantas.
Find out why we're the Australian government department's number one choice for their professional communications and events.
To find out how your business can get the best out of Swift Digital's platform, contact our team today.
Don't forget to share this post!