What is a Stakeholder?
A stakeholder is an individual, or group of people, that all share a common interest in a project or organisation, and share an interest in its outcomes. A stakeholder is anybody that affects or is affected by a project or organisation. Each stakeholder has different interests and requests and should be communicated with on an individual level that suits them.
Learning how to communicate with stakeholders is an invaluable skill and comes with practice.
In this blog post we will be looking at why stakeholders are important, how to successfully manage and engage your stakeholders, and look at five top tips on how to communicate with stakeholders effectively.
Why are Stakeholders Important?
Stakeholders are important because they provide your project and business with support and input (from a business perspective and from a financial perspective).
They broaden the range of people involved in your project and have a collective best interest for the project and/or organisation.
One of the main reasons a project can fail is because the stakeholder management has been mismanaged. Knowing how to communicate with stakeholders is an important part of stakeholder management. 
Stakeholder Comms Plan Template
Improve communication on projects

Reduce resources

Make decision-making easier!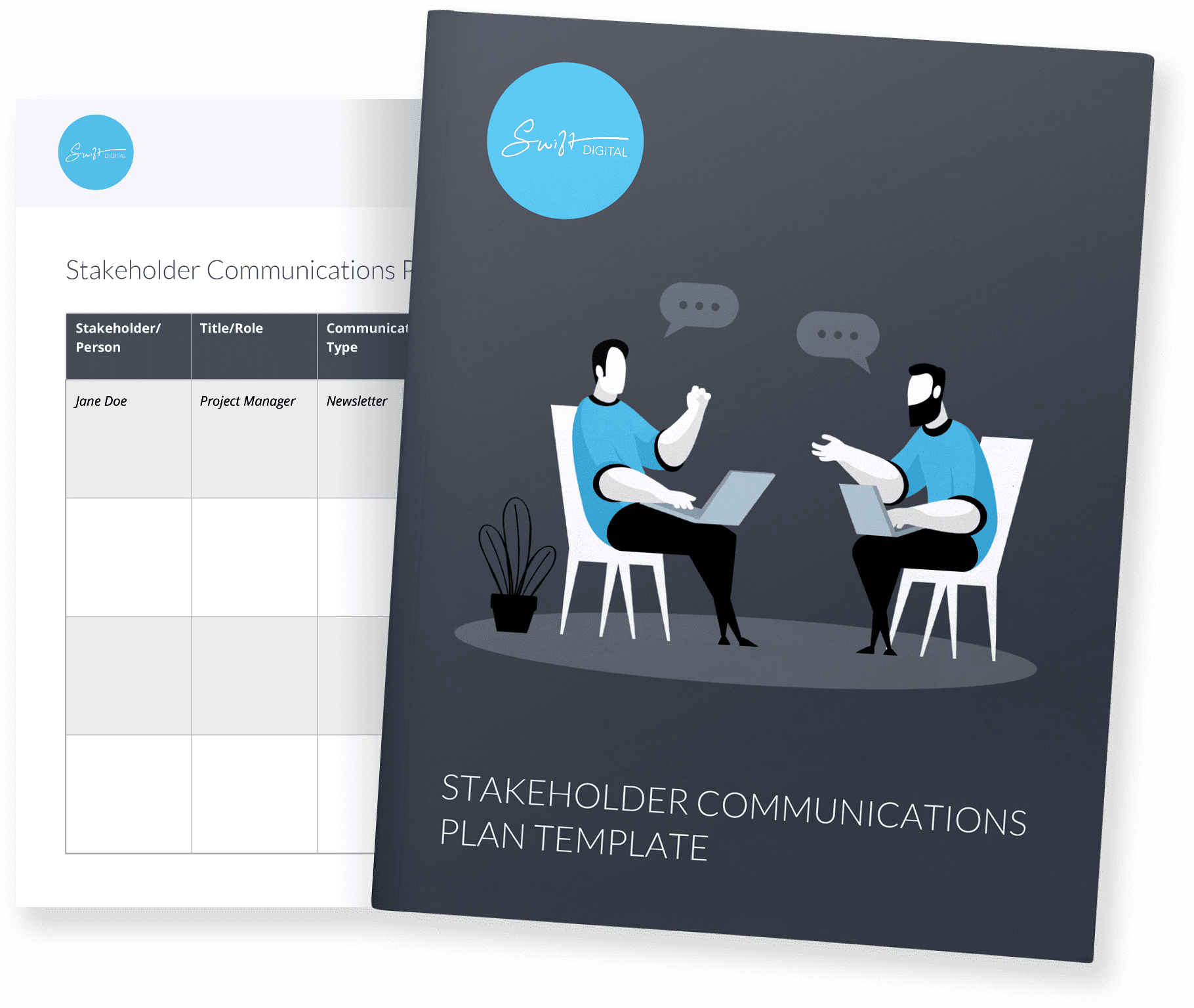 Download Template
Examples of Stakeholders
Stakeholders are internal and external people who are interested in your project or organisation. They can range from company employees to first time customers. Understanding how to communicate with stakeholders is one of the most important skills in running a successful organisation or project.
Firstly, let's look into some examples of stakeholders.
Employees

Owners/CEOs

Customers

Stockholders

Investors

Suppliers

Partners

Creditors

Trade Unions

Government
How to identify your stakeholder
When it comes to stakeholder communication requirements – transparency, accuracy and communication are key. An expectation from stakeholders is that you have already completed and identified the key stakeholders for your project. 
Identifying your stakeholder at an early stage can help to keep your project on track. Your stakeholder communication requirements usually request that the stakeholder identification is done before the project starts.
Stakeholder engagement and stakeholder management are the two most important parts of the overall success of a project, but what is the difference between the two?
What is Stakeholder Engagement?
Stakeholder engagement refers to the communication between the project leads and individual stakeholders in regards to a project or organisation. The stakeholder engagement process involves all identified stakeholders or people who make decisions that affect the project.
Learning how to communicate with stakeholders via stakeholder engagement is one of the most effective ways to learn about your stakeholders and helps you find out what their needs are. In turn, this will improve your overall relationship and will help shape the goals and objectives of your project. 
For example if you find out one of your key stakeholders requires that your project meet certain criteria, you can make sure this is discussed and covered off in your plan. You can then contact your stakeholder on their specific requests via your stakeholder communications plan.
What is Stakeholder Management?
Stakeholder management is the process you adopt to manage your stakeholders. Managing your stakeholder is imperative to the success of your project and should not be overlooked. You can use a stakeholder communications template plan to help manage stakeholders, this is especially useful if you have a number of stakeholders which all have different requirements. 
The benefits of efficiently managing your stakeholders include;
Building trust
Building better relationships
Being prepared for questions
Risk management
Better budgeting
Accountability
Quicker decision making
Education
Keeping people informed
5 Tips on How To Communicate With Stakeholders Effectively
1. Email and Newsletter
Email is one of the most popular tools to use for stakeholder communication. Why? It has a number of benefits such as immediate delivery of information, proof of sending, it makes it easier to manage communications with each stakeholder and you can also monitor engagement and open rates. 
Try using a weekly digest to inform stakeholders of the top-level information from the week. This can include; budget updates, photos, news of the week, contact information, next steps, top-level project plans and more.
2. Email Automation
Now you have your emails and newsletters in place, why not automate them and save your time? You can set up regular daily updates which will be sent out to each stakeholder via an RSS feed. Automating your BAU information will save you heaps of time, time that can be better spent elsewhere. 
With email automation, you can customize your emails with dynamic content and only send certain stakeholders specific information, as well as use visually appealing templates which make the information much easier to digest. 
Whatever way you choose to communicate with email, make sure it is easy to read. Ensure content is skimmable, informative and avoid too many buzzwords or technical jargon. Use headers, bold important titles and words and use images sparingly.
3. Online/Virtual Presentations
Another popular way of communicating with stakeholders is via a presentation. 
This can be physical (Note: Please check the latest information on physical meetings due to Covid-19) or online. If online, you can opt to use video presentation software. There are many video presentation platforms out there and a lot of them are free to use. Video presentations are great tools to effectively engage and manage your stakeholders. 
Once you have completed your online presentation, save the slides and send them off to your stakeholders so they can refer to them in their own time. See some tips and tricks on how to keep your audience engaged in an online presentation here.
Tip: Send presentations, decks, and other materials before a meeting. But don't assume anyone will read it before the presentation!
4. Project Summary Report
One of the more traditional methods of stakeholder communication, but still very effective is the project summary report. 
The good thing about this is if you have done your research on your stakeholder identification and have filled out your stakeholder communications plan and/or matrix you can tailor these reports to each stakeholder. This will mean each report is much more useful and unique and your stakeholders will thank you for it. This does however mean more work for the project lead. 
Alternatively, you could send out a top-level highlight summary report of the project each week which details the project events of the week.
5. Group Video Call or 'Screen to Screen' Meetings
Schedule a group video call once a week to give a summary of the project and to provide any updates. These are often good to have if there is a sudden obstacle which needs to be addressed quickly. Jump onto a Zoom call and discuss immediately. 
When using it for a weekly update on project status, have an agenda prepared and leave time in the end for questions. 
If you have a more personal relationship with your stakeholders you may find a one on one or 'screen to screen'  with each stakeholder will help you address their concerns in more detail and with greater control.
Informal Ways To Communicate With Stakeholders
We have spoken about formal ways of communication with stakeholders, let's take a look at two of the most popular informal ways of stakeholder communication. If done right, Informal activities for stakeholder communication are sometimes more effective than the formal ones. Think a day out on the golf course, or a lunch date. These are excellent ways to get to know your stakeholders and understand what they require from you.
Lunch Date
Top of the informal ways of stakeholder holder communication is lunch dates.  They are very useful for getting causal feedback and can serve a real purpose when it comes to relationships and building trust. These are often as effective as formal stakeholder communication so don't rule them out.
Leisure Events
Sporting events, lunches, team building and high tea. These are just a few examples of the leisure events that you and your stakeholders can take part in to help build on your relationship and to improve communication and trust.
Improve your Stakeholder Communication with Automation Software
Building bridges and understanding how to communicate with stakeholders is an invaluable skill and is important to the overall project success.
If you would like more information on how to improve your communication with stakeholders then feel free to get in touch with Swift Digital.
Swift Digital works with a number of public and private sector companies – including Government organisations, Universities and Utility companies– to improve their communications and stakeholder management.
How To Communicate With Stakeholders FAQ
How do you connect with stakeholders?
Connect with your stakeholders via email, newsletters, online meetings and virtual events. You can also connect with stakeholders informally by holding lunch meetings and leisure events.

What information should be communicated to stakeholders?
Conduct a stakeholder identification to find out how your stakeholders want to be communicated, what information they require and the frequency of communication.

How do you inform stakeholders?
Inform stakeholders important information via email, newsletters, video meetings, project summaries and by presentations.

How do you effectively engage with stakeholders?
1. Identify
2. Analyse
3. Plan
4. Act
5. Review
Don't forget to share this post!
The Preferred Email, Events and SMS Automation Software For All Australian Government Departments
Swift Digital's templates help you effortlessly create stunning emails and events communications using our drag-and-drop email and event builder.
You can raise engagement with embedded images, videos, polls, article feedback, and emojis and schedule messages to send at the right time.
Government departments' unique marketing requirements are covered with Swift Digital, and full compliance with all anti-spam and privacy laws is guaranteed. Swift Digital is also ISO 27001 certified.
Swift Digital is Australia's leader in marketing automation software and event management working with organisations like the NSW Government, ATO, and companies like Westpac Bank and Qantas.
Find out why we're the Australian government department's number one choice for their professional communications and events.
To find out how your business can get the best out of Swift Digital's platform, contact our team today.
Don't forget to share this post!