What is an Online Survey?
An online survey is a survey that includes a range of questions on a particular topic that is undertaken online by your target audience, usually via the internet or through email.
What is The Purpose of an Online Survey Form?
So, if you're looking to collect feedback from a group of people, you create a survey, of course!
An online survey aims to give responders a chance to provide you with valuable information about your business or service, department or organisation at a time that is best suited to them and in a way that is convenient for them.
This is can be either anonymously or not. Online surveys also create a non-judgemental environment than physical or in-person surveys.
Online survey software provides the tools needed and tips on how to create surveys and how to create effective surveys online.
Let's look at the top 5 benefits of online surveys and how to create a survey.
5 Benefits of Online Surveys
Swift Digital Data & Security
How Swift Digital protects your data

Our Disaster Preparation and Recovery Plan

Data Breach and Notifications Planning

Swift Digital's Security Infrastructure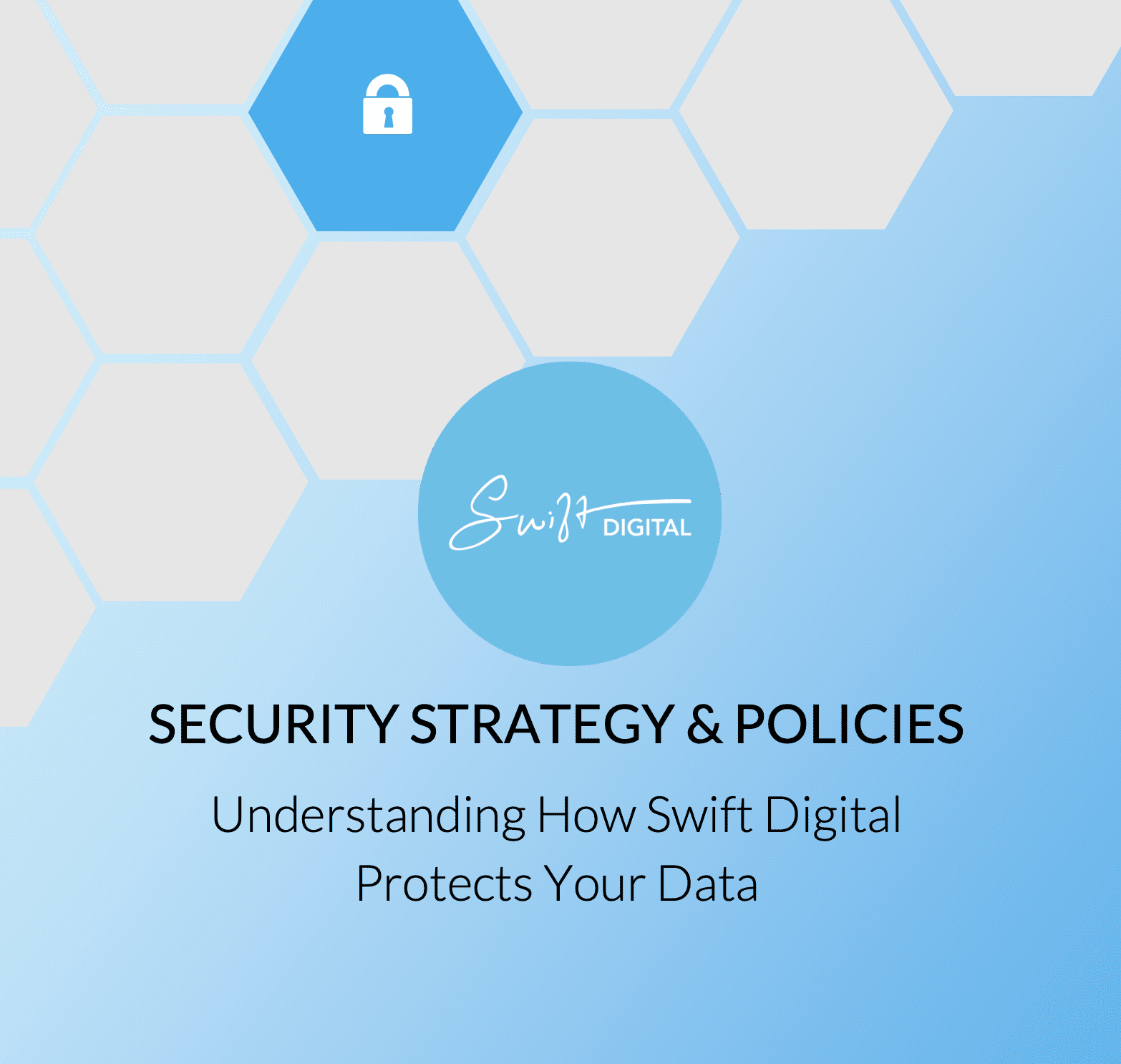 Download Info
1. Faster, Cheaper and Less Resource
Creating your surveys online eliminates the boundaries of traditional paper surveys that would prevent you from scaling your research. 
You can cross countries and continents and access thousands or even millions of responses.
The fact that online surveys are more accessible, quicker, and easier to fill out means that you can expect much higher participation rates, particularly if you offer some kind of incentive for submission.
There's a very low set-up cost for online surveys, but you can obtain incredible reach. As online survey software handles every step of the process for you, there's no need to spend excessive time or resources or outsource to an expensive market research company.
2. Increased Response Rate (More honest)
The average response rate for an online survey is 33%. Unlike telephone or face-to-face surveys, you can make your online surveys anonymous, so users are more inclined to answer honestly.
Surveys are a great tool to help you tailor your products and services based on real responses and genuine feedback.
A carefully written survey can help you get lapsed customers back and retain existing ones as you can be sure that you're meeting their needs by reacting to their honest feedback.
3. More Flexible
Online surveys are more flexible and can get tailored to each respondent. You can use conditional questions in your online surveys for more accurate data allowing respondents to skip or move to a particular question depending on what they answered before.
The flexibility of an online survey means you can receive your responses and data in real-time as and when they are filled in. Having the survey online also allows your respondent the flexibility of responding to the survey at a time that most suits them. Having this option will see your response rate increase.
4. Less Judgemental/No interviewer
Research suggests that people prefer to fill out an online survey rather than a physical one. The reasons given were that they felt it was less judgemental and reduced pressure. Not having an interviewer present asking them questions allowed them to feel freer about being honest and answering truthfully.
Removing the physical elements means you will likely receive more truthful responses and more accurate data.
5. Quicker Results
Collecting results and conducting analysis are also much quicker. You can, in fact, start to analyse the results of your surveys automatically in real-time as they come in, rather than waiting to collate all the information at the end.
How To Create a Survey and Keep The Data in Australia
Creating a survey is easy when you have the right tools. There are several tools out there that can assist in creating an online survey,  but not all of them host their data within the shores of Australia.
You have to ask yourself, how important is it that your data and survey response data remains in Australia, in servers geo-locked to Australian data privacy laws?
If you are a Government organisation or department, this would likely be one of the most important factors when choosing an online survey tool to create your surveys. Some insurance and financial organisations also require their data and survey responses to remain secure within Australian hosted servers. 
Health departments and organisations are becoming increasingly data security-sensitive and often require their data to remain confidential within Australian-hosted data centres. 
When choosing a suitable survey platform for your organisation, be sure to get answers to these 4 questions;
Do you require the survey data to be held within Australia?

Is your survey data held within Australia in servers located in Australia?

Does your survey offer integration options?

Do you have archive options for survey data?
Creating Surveys in Swift Digital
Swift Digital's all-encompassing marketing automation platform also brings a powerful online survey tool. 
Whether it be a simple event feedback survey, inquiry form as part of a nurture campaign, or an internal survey sent out to the department or organisation, our easy to use Survey module has become an invaluable tool for gathering insight and data that will assist with our client's overall marketing strategy. 
Using the Swift Digital online survey tool you can easily design and brand your custom templates, include conditional questions and add multi logic questions within the same platform you send out your emails and communications.
Do You Need To Keep Your Survey Data In Australia?
Is your business currently or looking to use surveys as part of your broader communications strategy? Is it a requirement of your survey to keep the data in Australia? 
We at Swift Digital can help you with your survey creation and publishing and guarantee that your data and survey responses will remain in Australia. 
Swift Digital works with several public and private sector companies – including Government organisations, Educational institutes, Financial, Healthcare and Utility companies who use us to create and send internal and external surveys and trust us with their data.
The Preferred Email, Events and SMS Automation Software For All Australian Government Departments
Swift Digital's templates help you effortlessly create stunning emails and events communications using our drag-and-drop email and event builder.
You can raise engagement with embedded images, videos, polls, article feedback, and emojis and schedule messages to send at the right time.
Government departments' unique marketing requirements are covered with Swift Digital, and full compliance with all anti-spam and privacy laws is guaranteed. Swift Digital is also ISO 27001 certified.
Swift Digital is Australia's leader in marketing automation software and event management working with organisations like the NSW Government, ATO, and companies like Westpac Bank and Qantas.
Find out why we're the Australian government department's number one choice for their professional communications and events.
To find out how your business can get the best out of Swift Digital's platform, contact our team today.
Don't forget to share this post!