What is Internal Communication?
Internal communications facilitate transparent, open communication between leadership, teams and individual staff members. This helps to build trust, and also inclusiveness. Think of internal communications as a way to "market internally". Sharing achievements, and updates both top-down and bottom-up ensure that everyone has their eye on the big picture, and feels a part of a larger whole. Need inspiration? Keep reading for great internal communication examples!
The events of 2020 have accelerated the virtualisation of our lives. Many of us in the private and public sectors are now working remotely, and in doing so we rely more than ever on virtual tools for communication and organisation.
Internal communication, in particular, is integral for remote teams. Internal communication facilitates the spread of information across staff members, ensuring that everyone is on the same page. Working from home can be incredibly isolating, but with the right internal communication tools, you can ensure that individual team members aren't left hanging.
What are the types of internal communication?
Top-down communications – where organisation leaders update everybody

Urgent updates or Information Digests – where important updates and changes are shared with everyone in the company
Bottom-up communications – where staff members or teams update others on their projects and wins.
Culture communications – these communications build on company culture, and improve morale. Often they encourage participation and interactivity.
Internal Comms Strategy Template
When it comes to executing your internal communications campaign, an Internal Communications Strategy brief is a must-have.
Download Template
What does internal communication include?
Here are some forms your internal communications might take:
Frequent company e-newsletters

One off update email campaigns

Invites to internal events/games (e.g. "the Marketing Team is holding a Zoom trivia party!")

Urgent SMS updates

Team digest EDMs (focused on the culture/work of just one team, or a small group of collaborating teams)

Central landing-page (e.g. microsite) that acts as a central communication hub

Internal Communication Examples
At Swift Digital, we have the pleasure of working with a bunch of Australian organisations in both the private and public sectors. Many of them understand the importance of internal communications and use our marketing automation platform not just for external marketing purposes, but also for creating better connections and communications between teams internally.
Here are some stand outstanding internal communication examples from our clients.
E-Newsletter with Multi-Tab Navigation
This internal e-newsletter acts like a microsite. It uses microsite features such as tab navigation, to help visitors sort through a large volume of information. This makes the content easy to digest for staff who are likely interested in topics that most affect them and their team.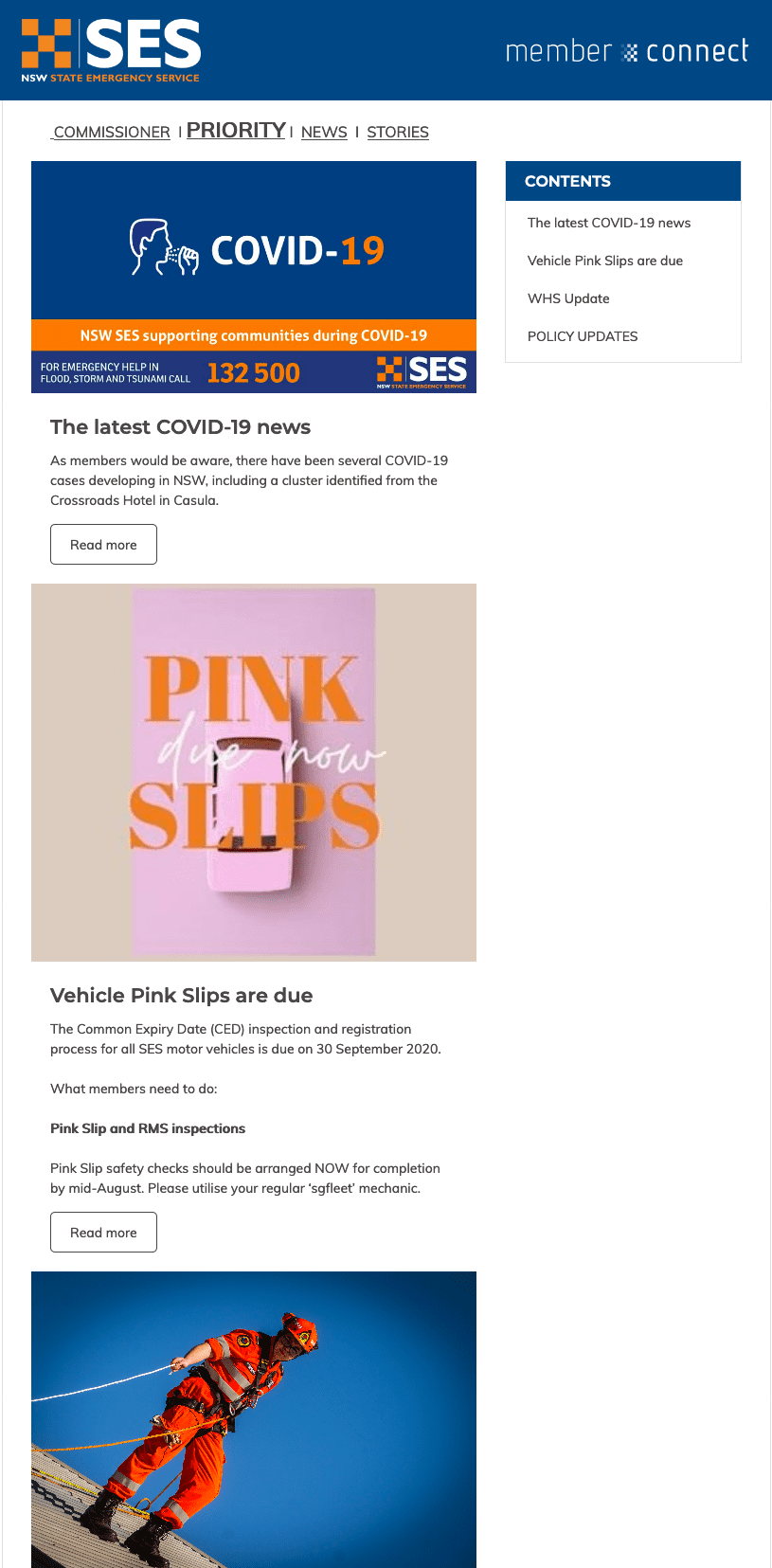 Minimal newsletter with 'Read More' feature
Another great way to update your colleagues with lots of information, without overwhelming them, is to use simple newsletter designs such as this one, which 'hide' much of the story content until a reader decides to click 'Read More' to expand. This again helps with organising a high volume of information in one email.

Another minimal newsletter with Sidebar Navigation
This e-newsletter features multiple stories of interest. Readers can jump to the title of their choice by using the top side bar navigation. Social media sharing buttons are in the top right hand corner, which encourages readers to share the newsletter beyond the target audience.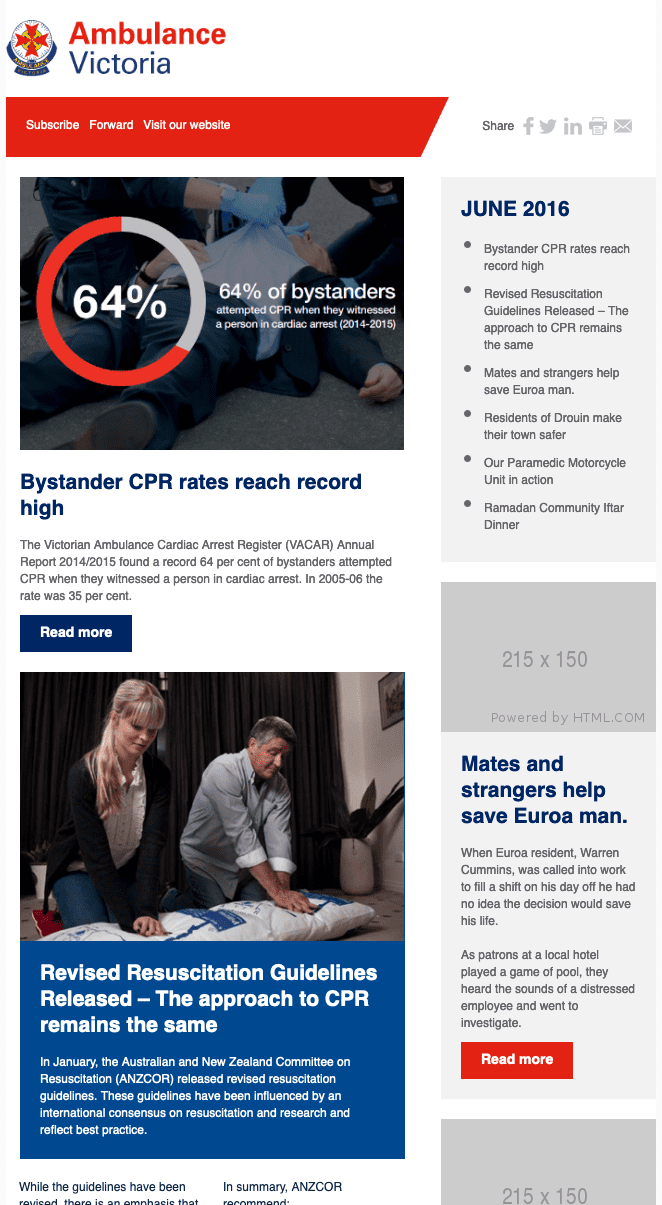 Using design elements to guide skim readers
This internal update is designed to draw your attention to the main updates at the time, including mini call outs near the bottom of the email which make sure the most important tid-bits aren't lost in a sea of text. Using design to guide skimming eyes is one way to make sure that internal communications get the most important information across most of the time.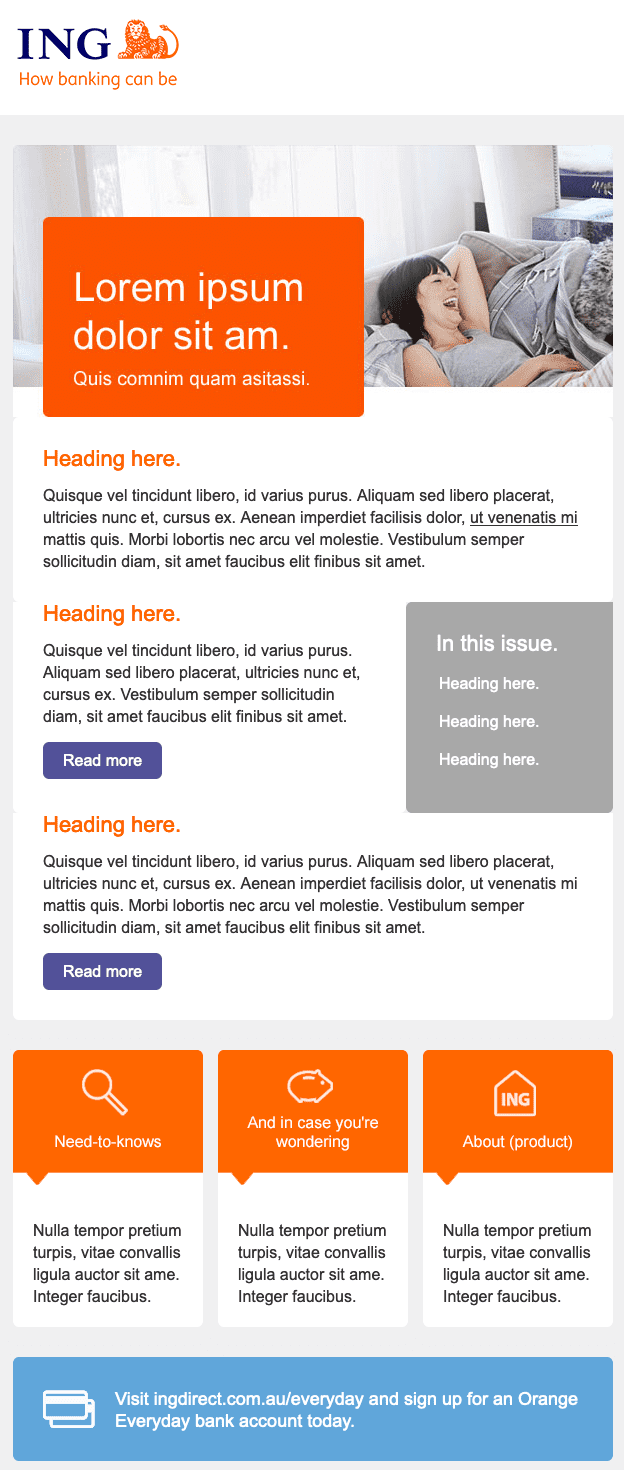 Minimalist digest that doesn't distract from urgent info
Sometimes you have important information that can't be missed. Simple campaign designs like this one ensure that urgent updates can't be ignored – by drawing your attention to the top three issues.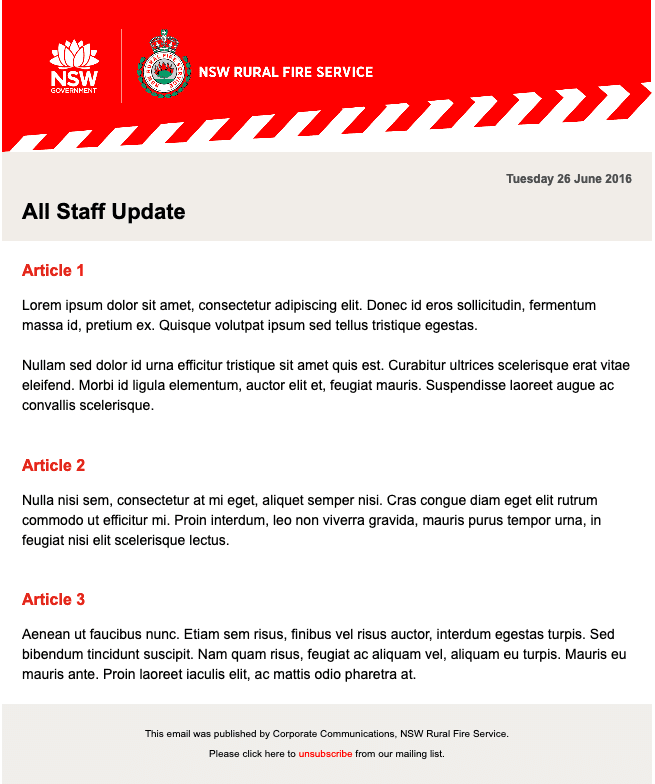 Exciting internal Newsletter design to engage internal readers
Using exciting brand elements in your communications doesn't have to be exclusive to leads and customers. Use fun design elements to also engage the readers of your internal communications. More and more brands are realising the importance of "marketing internally". The more excited your teams are about your own brand, the easier it is for them to represent the brand themselves.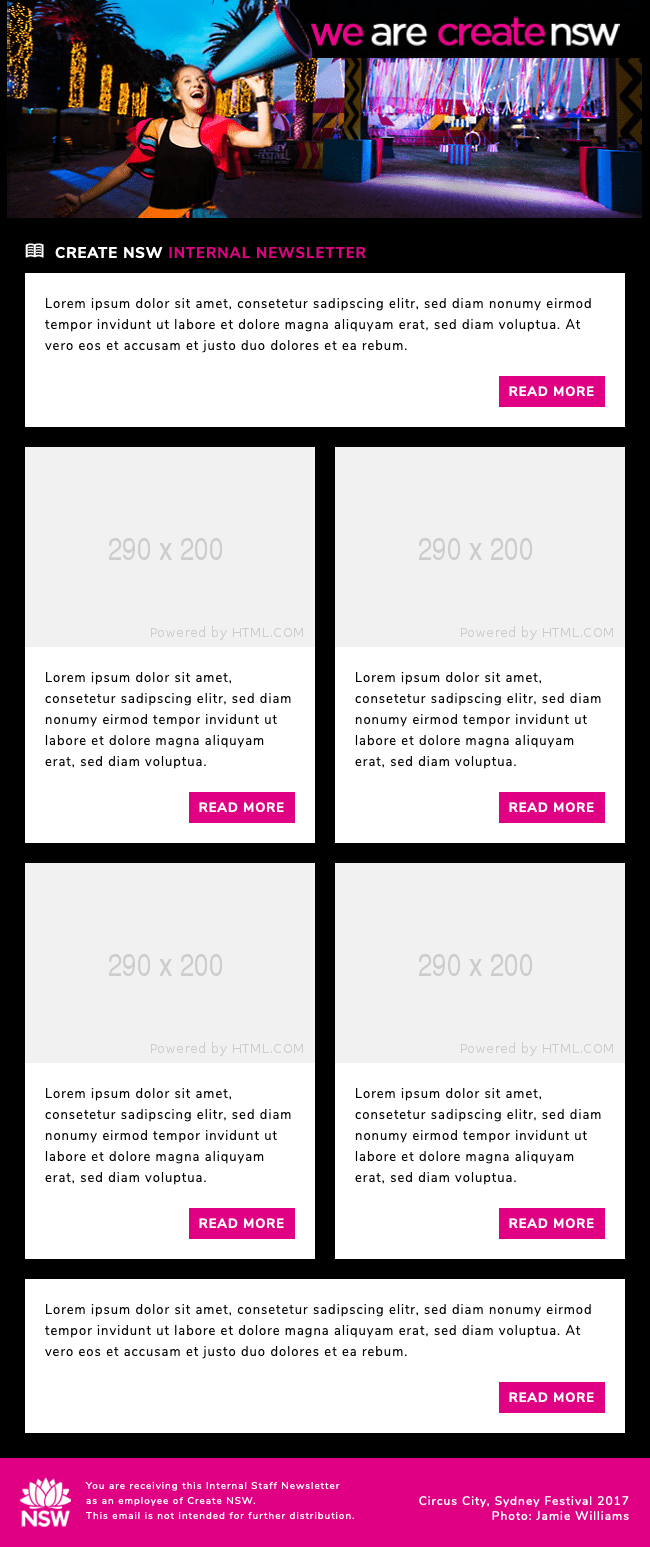 Brands not only have to tell a story to their customers, but it should also tell a story internally. Most of us are now seeking purpose and meaning in our lines of work, which makes it important to morale and productivity that our internal communications are of high value to our colleagues.
Your organisation is on a journey, and for the best results, your staff need to be working as a team on said journey. Make sure everyone is excited about your destination, and clear on where you are, by delivering helpful internal communications. That will make your brand journey all the more successful.
We hope our internal communication examples have given you the ideas and inspiration you need to start improving upon internal morale, support and team work.
Use Powerful Marketing Automation Software For Your Internal Communications
The Preferred Email, Events and SMS Automation Software For All Australian Government Departments
Swift Digital's templates help you effortlessly create stunning emails and events communications using our drag-and-drop email and event builder.
You can raise engagement with embedded images, videos, polls, article feedback, and emojis and schedule messages to send at the right time.
Government departments' unique marketing requirements are covered with Swift Digital, and full compliance with all anti-spam and privacy laws is guaranteed. Swift Digital is also ISO 27001 certified.
Swift Digital is Australia's leader in marketing automation software and event management working with organisations like the NSW Government, ATO, and companies like Westpac Bank and Qantas.
Find out why we're the Australian government department's number one choice for their professional communications and events.
To find out how your business can get the best out of Swift Digital's platform, contact our team today.
Don't forget to share this post!