What are Internal Communications Tactics?
Internal communications tactics are used to improve engagement and the overall results of an organisation's internal communications. These tactics can be utilised to design and build strategy, individual campaigns and foster culture-building in general.
Being tactical with your internal communications helps you reach internal goals faster, and provide more value and clarity to everyone you work with.
What's the secret to a healthy relationship? You've probably heard this one before. The most common answer is: communication.
It's no different when it comes to working. Internal communications are the communications you send back and forth between leaders, teams and stakeholders.
These communications help to make projects, goals and wins/losses more transparent for all involved. Internal communications are important to get right for all businesses as they foster greater collaboration, productivity and brand-aligned culture building.
How Do You Improve Internal Engagement?
Some of us may be heading back to the office sooner than we think whilst others may continue WFH.
Whether this fills you with dread or joy, either way, we will always continue to have workplace engagement and there are always better ways to communicate internally with work colleagues as we move into more agile ways of working
Internal Comms Strategy Template
Identify the SMART objectives and an end goal of the comms

Plan out your internal comms for better engagement

Align your internal comms goals and objectives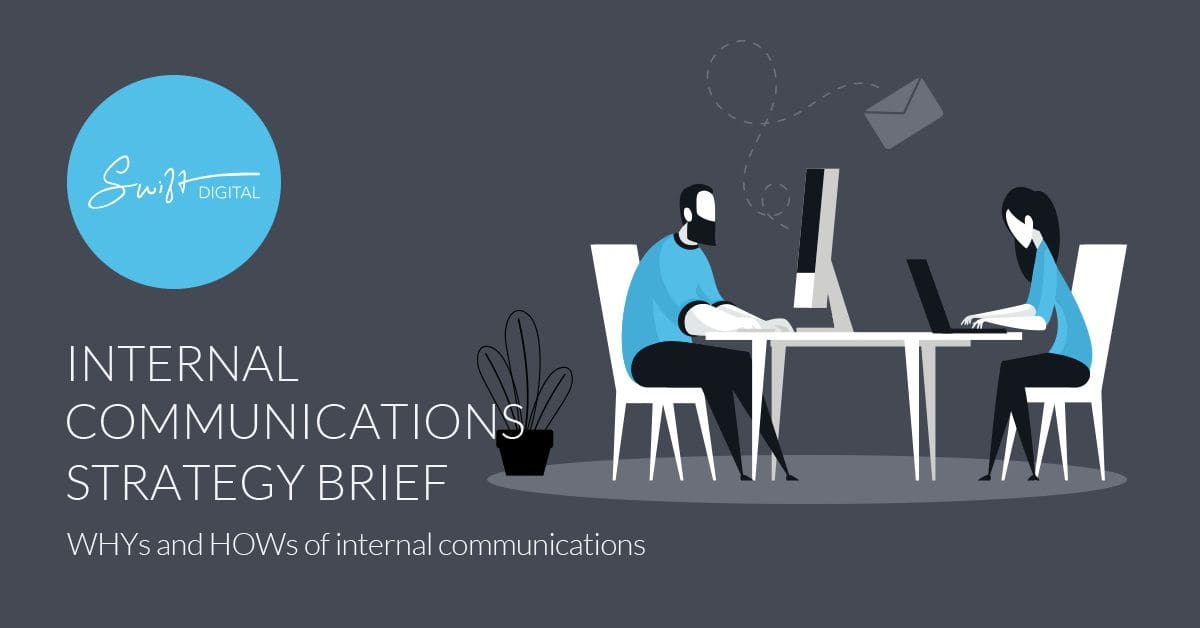 Download Template
But how do you get your internal communications right and improve internal engagement? With better internal communications tactics, of course.
What internal communications tactics are proven as best practices? We look at 17 in this article.
17 Internal Communications Tactics
1. Don't overwhelm and overload
The average office worker's inbox is an overwhelming place. Not to mention their social media platforms, and chat platforms are also busy with noise. Your internal communications are incredibly important, but you could risk losing overall engagement if you communicate too much information, too often.
There's a balance to strike with keeping communication open and transparent whilst not overloading your staff.
This is why having a clear and concise internal communications strategy and content plan is helpful. At a glance, you can see if you're communicating too little, or too much with certain internal target audiences.
2. Invite others to be responsible for Internal Communications
Internal communication can be top-down, but it can also be down-top, between a group of specific colleagues/teams, or between a handful of key stakeholders. There are plenty of internal communication types that can be facilitated within your organisation. To foster this sort of decentralised communication flow you need to share the role of internal communications strategist.
This means opening up your internal communications plan beyond just yourself, and asking internally what other teams or stakeholders want to take responsibility for in their own internal communications. The beauty of sharing the role of internal communications strategist is that staff are attuned to what kind of internal communications tactics would work best to solve a specific communication problem only they're aware of.
Remember to avoid communication overload, though. As opening up internal communications roles beyond yourself and your team can lead to a "too many cooks in the kitchen" fiasco.
Again, collaborating on an internal communications plan can help to avoid this problem despite the decentralised nature of your strategy.
3. Develop your Internal Communications strategy and plan
We keep mentioning an internal communications plan – why is it so important?
If you're going to follow the above recommendations for internal communications tactics (not overloading your audience, whilst sharing the role of internal communications strategist) then you need a central plan that outlines what's going out, to who, what goal it's trying to achieve and how frequently the campaign might recur.
We've taken the guesswork out of strategising and building out an internal communications plan with our template, here.
4. Be fun and entertaining
Your internal communications only facilitate information transparency if your teammates actually engage with the content.
This means your content not only needs to provide value to your target audience, it should also be entertaining.
There are some liberties you can take with brand voice and guidelines when "marketing internally" with your internal communications. For example, your internal campaigns can utilise a more humorous and friendly voice. This means you can increase engagement across your internal communications by making them fun and valuable to engage with.
5. Use visuals to improve engagement
Using visual content is one such way to make your internal communications more entertaining.
A study from Brain Rules revealed that people who hear information retain only 10% of that information days later, but if the info is paired with a visual – like an image – people retained 65% of the information after a similar time period.
6. Be inclusive: make your communications accessible
Not everyone at your organisation has equal access to your communication channels.
Those who are visually impaired, for example, will need extra forethought and tools/features to access your internal communications in a meaningful way.
For example, your company e-newsletter could implement a Font Size customiser, giving each recipient the option to increase font size and contrast for better readability.
There are plenty of other ways you can make your communications accessible – regardless of the medium and channel used. Check out this handy article for more ideas.
7. Provide opportunities to participate, interact and provide feedback
If communication is important for every relationship, is the direction of that communication important? Yes.
In the 21st Century people are used to receiving 1-direction communication, and being treated as passive consumers of information.
To really kick your internal communications goals, aim to make your communications as interactive and 2-way as possible.
There are plenty of ways to encourage participation and interaction for your internal communications.
You could include voting polls, surveys and forms in your e-newsletters and email campaigns.
You could run email and SMS campaigns that incentivise replies (for prizes, or other goodies).
You could use real-time chat platforms to facilitate live, participatory internal communications.
You could run virtual internal events so that everyone has a chance to be seen and heard.
8. Market internally - Get people excited about your brand
Your marketing team is a treasure trove of knowledge when it comes to generating excitement over your brand. There is no reason that the same skill set and info can't be used to market your brand, internally.
Why "market internally"? Having your teammates on board with your brand and overall vision improves upon morale, collaboration and thus productivity. The more excited people are about your brand internally, the more proactive they are in improving that brand and pushing that excitement out externally, as well.
How do you generate excitement over your brand?
Here are some ideas:
Share your brand mission in a relatable story format,
Invite staff members to share what they personally like – or think can be improved – about your brand,
And regularly celebrate big brand wins and positive social impacts.
9. Encourage inter-team communication and collaboration
What are internal communications tactics for if they don't improve collaboration between the teams that are driving results?
One of the biggest upsides to a creative internal comms strategy is that it encourages and facilitates cross-team and cross-departmental collaboration.
Collaboration across teams/departments that are otherwise alienated from each other means more innovative solutions to problems than your organisation would have otherwise had difficulty coming up with.
10. Inspire as well as inform
We've touched on the term "marketing internally" and how building a brand, and garnering excitement over a brand is just as important internally as it is externally.
Whilst many organisations focus on sharing skills and information via their internal communications, it's also important to share the big picture, and big wins – in order to improve staff morale and inspire action and innovation across the company.
This might look like an internal campaign reiterating the exciting mission of your brand overall. Or it might look like a recurring email that celebrates the big wins of teams and your organisation.
You could take a leaf out of Brene Brown's talks and books by displaying vulnerability as an organisation. You can inspire action by sharing not only wins, but losses and obstacles as well.
11. Be open and transparent
One of the major benefits of internal communications (and something that is valuable to everyone involved) is that they foster transparency across larger companies.
Transparency and openness are fast becoming priority values for plenty of people across the world today. We mentioned that being vulnerable and honest about obstacles your brand faces can actually inspire action in response.
In the same way, being open and transparent with your internal communications may result in positive results which would otherwise be difficult to encourage. When everyone in your business is on the same page due to transparency, you can expect better problem solving and productivity across teams and departments.
12. Share industry news and trends
This internal communications tactic probably comes as no surprise. Your internal communications serve as the perfect vehicle for sharing industry news and trends.
Remember – it's best you strategise on a proper internal communications plan and choose the right campaign and channel for this sort of communication.
Often internal communications are crammed to the brim with news and trends alongside light hearted culture-building content. However, news, trends and insights deserve their own internal communication campaign; so don't try to do too many of these internal communications tactics at once.
13. Acknowledge and celebrate your teammates
We mentioned this internal communications tactic briefly under 'Inspire Action' – but nothing improves morale more than recognising and celebrating the hard work of individual staff members, and teams as a whole.
Don't be afraid to give people a shout out for their successes in your internal communications. It gives more of an incentive to share your wins in the workplace, and inspires people to aspire to achieving results worthy of sharing.
14. Share skills, resources and training opportunities
Sharing is caring. In any organisation skill and resource sharing can benefit the whole employee ecosystem.
By inviting employees and stakeholders to share their skill set via internal communications, you improve the skill set of every one who engages with the content. It's a win-win.
Consider running weekly 'open mic' style skill sharing Zooms, for example. Or create a valuable training resource once a month that you circulate amongst the relevant audience.
15. Encourage real-time communications on social platforms
When it comes to transparency, speed and culture-building – the best internal communication tactic is to utilise social platforms.
Whilst you could use the standard social media applications (or their work-specific counterparts, such as Workspace by Facebook) you can branch out to social platforms built specifically for internal communications.
Slack is a popular social platform designed for teams and organisations. With the ability to create multiple channels for different topics, it also gives your staff autonomy and independence for how they communicate, and what about.
Social platforms are an important channel to utilise as part of your overall internal comms strategy, but should not be the sole channel used. Social platforms complement a robust existing strategy by allowing teams to communicate with each other instantaneously in ways custom to their preference.
16. Build communication communities
Similarly to one of our other suggested internal communications tactics: encouraging inter-team communication, this tactic is all about identifying which individual employees, or teams, departments and stakeholders would benefit from being in their own 'communication community' together.
You could use tools such as email, forums, or social platforms to facilitate closed communication between people who would benefit from being in their own ecosystem.
This might look like a communication community for all related teams, where tools such as Slack, Zoom and Swift Digital are used to carry out internal communication strategies that make sense for the people involved.
By building communication communities you can avoid communication overload, as certain staff, teams and stakeholders communicate in 'bubbles'.
Building community is also integral for culture and morale building; having closely knit communities will foster greater engagement, participation and collaboration. At a large organisation, smaller communication communities can help prevent alienation and isolation for employees and teams who otherwise feel part of a mass rather than a team.
17. Use the right tools (and think ahead about tools of the future)
To get the job done, you need the right tools. We won't bother listing out all the tools available to you for carrying out these internal communications tactics, because we've already written extensively about them, here.
But a new contender in the category of internal communications tools is Virtual Reality (and Augmented Reality).
As Virtual Reality (VR) and Augmented Reality (AR) hardware becomes better and more accessible, companies are looking at ways they can use VR/AR to improve on internal communications, especially for remote workers.
Check out VR work platforms such as Spatial for an idea of VR as an internal communications tool.
And see how Microsoft envisions the future of work, now that they offer an exciting AR and mixed reality product; the Hololens.
Now is the time to start thinking about the internal communications tactics and tools of tomorrow.
The Preferred Email, Events and SMS Automation Software For All Australian Government Departments
Swift Digital's templates help you effortlessly create stunning emails and events communications using our drag-and-drop email and event builder.
You can raise engagement with embedded images, videos, polls, article feedback, and emojis and schedule messages to send at the right time.
Government departments' unique marketing requirements are covered with Swift Digital, and full compliance with all anti-spam and privacy laws is guaranteed. Swift Digital is also ISO 27001 certified.
Swift Digital is Australia's leader in marketing automation software and event management working with organisations like the NSW Government, ATO, and companies like Westpac Bank and Qantas.
Find out why we're the Australian government department's number one choice for their professional communications and events.
To find out how your business can get the best out of Swift Digital's platform, contact our team today.
Don't forget to share this post!