What are Internal Communications Tools?
Internal communication tools are what organisations use to execute their internal communications strategy. These can come in different forms and can include digital tools such as email newsletters, intranets and video. Internal communication tools can also come in non digital form including print, workplace signage, posters etc.
Have you been tasked with improving your organisation and/or department's internal communications? With a good proportion of your colleagues and workforce still working from home, old internal communications tools and tactics may just not cut it. 
First things first, make sure you have your internal communications strategy outlined and in place.
This will help you identify the best internal communication tools for your goal. 
At Swift Digital, we work with many Government departments across Australia and have helped facilitate the execution of a number of successful internal communications strategies. 
In this blog post, we will be sharing our experience in this area by looking at 6 of the best internal communications tools for Government organisations and how they can be implemented.
6 Internal Communications Tools For Government
Internal Comms Strategy Template
Identify the SMART objectives and an end goal of the comms

Plan out your internal comms for better engagement

Align your internal comms goals and objectives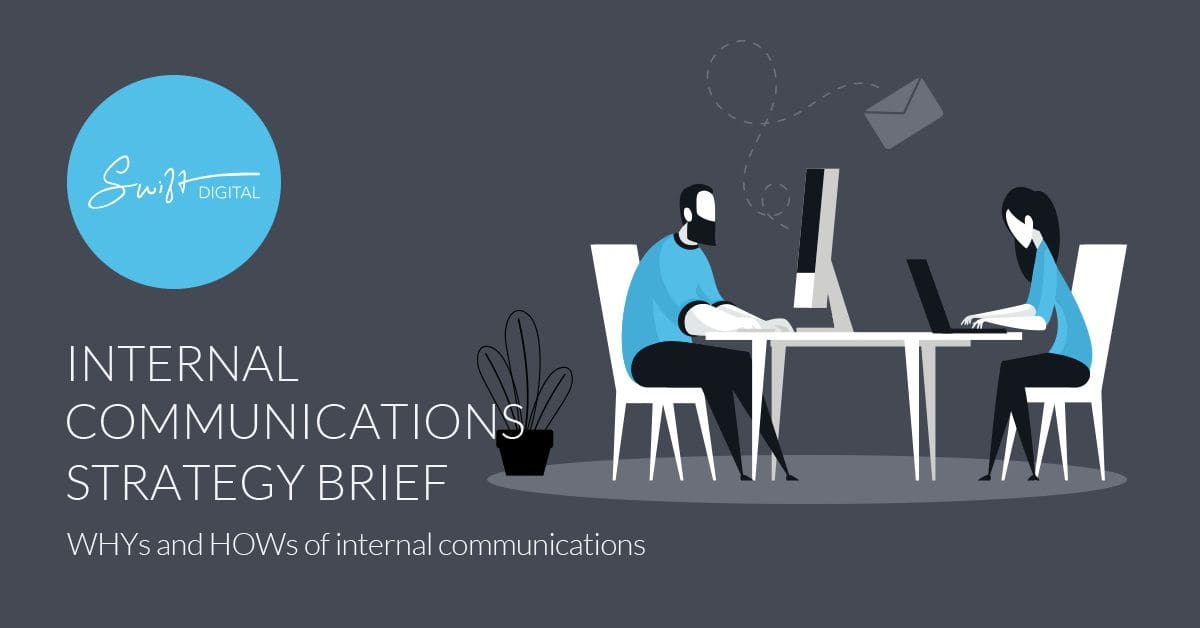 Download Template
1. Use Emails and Newsletters
Company newsletters are nothing new, they have long been used as internal communications tools within Government organisations. Why? Because they work. 
Most Government organisations will already be communicating with their employees and teams by sending out a monthly newsletter.
3 top tips to improve your newsletter open rates
Email newsletters no longer need to be read like a newspaper, they can be beautifully crafted with graphics, images, infographics, videos and polls.
All these features can make your emails and newsletters much more engaging, digestible and will help to improve your open and click-through rates (CTR).
Write content that is digestible. Think bitesize stories, bullet points and lists.

Use a personal tone of voice. Keep it semi-casual and conversational

Use a recognisable sender name. Maybe your CEO or an influential person within your organisation.
2. Engage Marketing Automation Software
Internal communications tools like marketing automation and email platforms make it easy to build a newsletter that is not only informative and engaging but can be viewed across multiple devices anytime, anywhere. 
It's reported that mobile is now the preferred platform for reading emails, so it's not surprising that Government organisations are turning to marketing automation software as one of their main internal communications tools for sending their internal emails and newsletters.
Why use marketing automation for internal communications?
Automating your internal communications sounds almost like a dream. Ok, marketing automation can't write the content for you – (yet), but it can do the rest. 
Using an email marketing platform for your monthly newsletter means you can have your templates designed and ready to go, all you need to do is drop in the content. You don't even need to press send. You can set up campaigns in your email marketing tool that will automate the sending of your monthly newsletter, freeing up your time
3. Add Polls and Build Surveys
Surveys and polls are one of the best internal communications tools to help you understand what your audience wants.
Especially with more people working remotely, it is rare to have face to face communication, and hard to all stay on the same page. 
People can feel more confident providing feedback anonymously. Surveys and polls are the perfect internal communication tools for this.
Tips for using surveys and polls in your internal communications
Add a poll to your monthly newsletter, ask questions that engage your audience, either casual/fun ones like "what's your favourite ice cream?" Or for feedback try "what would you like to see more of in this newsletter?" 

Make sure your survey is short and sweet otherwise users will be put off answering.

Add a survey link to your email newsletter or drop in a poll to help improve engagement rates.
4. Better Utilise Your Organisations Intranet
Most Government organisations have some form of intranet which they use as an internal communication tool to broadcast company messages (or as somewhere to pick up some shared files!). 
An organisation's intranet, if used properly, is a powerful internal communication tool. It can be used to not only showcase upcoming events or company news, but it can also act as a communication hub. Think forums, blogs, chat rooms. 
Intranets can break down barriers to communication within your department and drive collaboration, which in turn means:
Project management becomes faster and easier

Communication becomes more effective and faster

Increase in productivity and improved accountability
5. Video and Video Conferencing
Video marketing has become one of the top 3 mediums organisations are using for both their external and internal communications. Video consumption is up, and increasing. 
It's estimated that in 2022, 82% of the global internet traffic came from video streaming and downloads. Your colleagues and workforce are no exception, they are people, and they love videos too.
Now is the time for Government organisations to leverage video as one of their key internal communications tools. If your department isn't doing so already, using video for your monthly Town Hall m
3 ways you can use video to communicate effectively internally
Use video to update employees with news from the CEO, this way it is more digestible, personal and will more than likely be consumed. 

Add a chat bar to your Town Hall meeting videos. This will encourage engagement and interaction.

Create bitesize interviews of new or existing employees to keep you
6. Embrace Forums and Chats
Forums and Chat rooms tie in nicely with the intranet. Most Government organisations will have an internal intranet but not all are too keen on adding forums and chats. Why? Maybe they don't want to moderate it, or maybe they just haven't seen the benefits.
3 benefits of internal forums
Forums can be "threaded" so that employees can jump between different topics that are relevant, this will make sure you give your audience the opportunity to read what interests them.

They can encourage team rooms where people can discuss ideas, and develop in-depth knowledge bases so that no one has to repeat their questions.

Break down physical and perceived barriers between employees.
Those are our top 6 internal communication tools for Government. Go ahead and select the internal communication tools that suit your goals. Use our internal communication strategy template to assist with your planning. 
Swift Digital Tools for Internal Communications
The Preferred Email, Events and SMS Automation Software For All Australian Government Departments
Swift Digital's templates help you effortlessly create stunning emails and events communications using our drag-and-drop email and event builder.
You can raise engagement with embedded images, videos, polls, article feedback, and emojis and schedule messages to send at the right time.
Government departments' unique marketing requirements are covered with Swift Digital, and full compliance with all anti-spam and privacy laws is guaranteed. Swift Digital is also ISO 27001 certified.
Swift Digital is Australia's leader in marketing automation software and event management working with organisations like the NSW Government, ATO, and companies like Westpac Bank and Qantas.
Find out why we're the Australian government department's number one choice for their professional communications and events.
To find out how your business can get the best out of Swift Digital's platform, contact our team today.
Don't forget to share this post!