Feedback loops in marketing automation refer to the action of using feedback gathered from customers or end-users to make improvements to services or products.
In marketing automation, feedback loops are considered a primary driver as you're getting a reaction from customers with every single action you take.
This article looks at positive feedback loops but there are both positive and negative feedback loops and you can read the companion article to this one (Marketing Automation and Negative Feedback Loops) to find out more about negative feedback loops.
Both feedback loop types are used to identify major issues with services or products so that they can be solved quickly with either long-term or short-term solutions.
Keep reading to learn whether or not you're using feedback in the best possible way in order to increase the chances of customer satisfaction and retention.
What are Positive Feedback Loops?
The definition of positive feedback is the positive comments, reviews and other communications that tell a company what they are doing right or what they are doing that makes their customers happy.
A positive feedback loop is the process of analysing this positive feedback and then using it to improve the development of products or services.
It is distinct from a negative feedback loop in that a company would usually add to or continue to do something that customers have said is a positive thing, rather than stop doing something or remove something that they believe is negative.
This is considered a loop because the feedback causes a company to change things that then goes on to affect the next lot of feedback, creating a loop or cycle.
Marketing Automation Checklist
Looking for a new platform?
Make sure you cover all your needs with our Marketing Automation Checklist.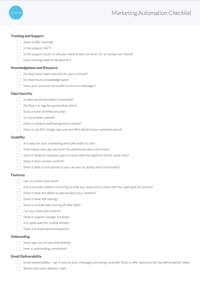 Download Checklist
Receiving positive feedback can be a huge boon to your business, especially if it's public positive feedback on social media or similar.
Good marketers should be empathetic to their customers and somewhat emotionally tied to their work, so if you can grab that good feeling from seeing positive feedback in both hands and use it to improve things, it's infectious, so you'll be able to spread the positivity around!
After you've done that, it's time to ground yourself a little and find that middle ground between being emotionally driven and data-driven.
Analyse the data to determine what has caused the positive feedback, then consider why it was given and how to maintain it or improve on it.
Despite the elation you'll feel from positive feedback, it's very important to view the data with an objective eye.
That's because consumer attitudes are very fluid and subjective, meaning one minute you'll be receiving positive feedback from one happy customer, but the next, you'll be receiving negative feedback from doing the exact same thing!
It's all a matter of perception similar to the old adage "one man's trash is another man's treasure", in that one person's experience may seem wonderful in their opinion, but another person may deem their experience as terrible, even though both experiences were exactly the same.
Because of this difference in perception, it's so important to analyse as much data (both positive and negative) as possible, including data that's gained from actions such as survey results, email open rates, clicks, subscribes or unsubscribes, page views, event attendance and everything else you can measure.
Listen to everything you're being told through this data and respond accordingly. Some of the questions that you should consider includes:
Do I contact my customers too often?

Is my marketing strategy too aggressive?

Are my customers finding my communications interesting?

Are my customers engaged?

Which of my customer segments are most engaged or disengaged?
The best way to gather data for feedback loops as well as in general is to utilise a comprehensive marketing automated platform like Swift Digital's platform.
Using engagement scoring tools to analyse data from things like surveys, automated emails, automated mobile and SMS, automated landing pages and automated event management software, you'll have absolutely everything you need to ensure the largest percentage of your customers are happy, engaged and happy to spread the good word about their experience with your brand!
It's one thing to commit to a piece of software that has all the functionality and features you desire, but it's another thing completely to find a software that stores your data legally and securely.
The Preferred Email, Events and SMS Automation Software For All Australian Government Departments
Swift Digital's templates help you effortlessly create stunning emails and events communications using our drag-and-drop email and event builder.
You can raise engagement with embedded images, videos, polls, article feedback, and emojis and schedule messages to send at the right time.
Government departments' unique marketing requirements are covered with Swift Digital, and full compliance with all anti-spam and privacy laws is guaranteed. Swift Digital is also ISO 27001 certified.
Swift Digital is Australia's leader in marketing automation software and event management working with organisations like the NSW Government, ATO, and companies like Westpac Bank and Qantas.
Find out why we're the Australian government department's number one choice for their professional communications and events.
To find out how your business can get the best out of Swift Digital's platform, contact our team today.
Don't forget to share this post!