Are you thinking of working as a marketing automation specialist? 
It's a good idea; more and more businesses are catching on to the benefits of marketing automation.  
Google Trends shows an ever-rising interest in the topic, and the number of automation tools on the market grows by double-digit percentage points year on year.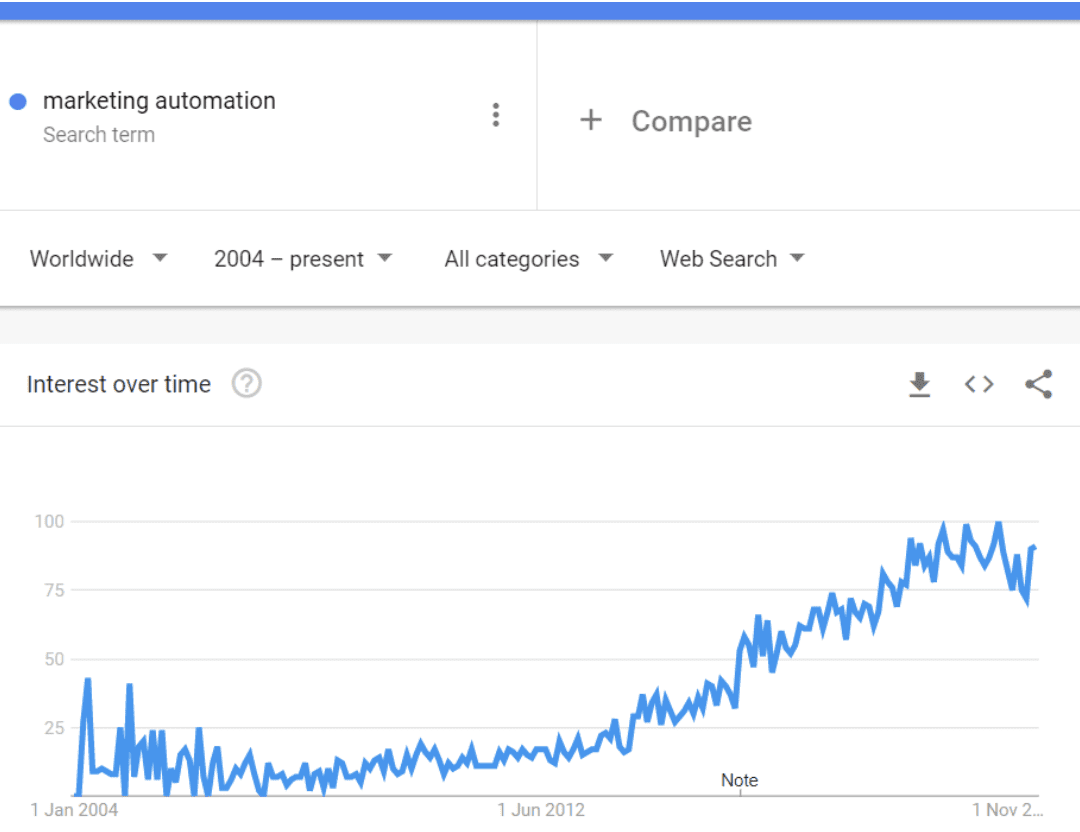 Marketing Automation Checklist
Don't miss a thing when comparing platforms

Break down the sales jargon

An easy way to keep on top of what you need from your provider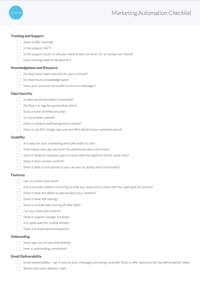 Download Checklist
As a result, companies of all sizes require skilled marketing automation specialists to plan and manage automated marketing campaigns. 
If you're thinking about this exciting career, this post delves deeper into the role of the Marketing Automation Specialist.
What is Marketing Automation?
Marketing automation is the practice of using software to automate mundane, repetitive marketing tasks. Businesses leverage automation to find leads, make sales, and nurture customer relationships. 
Before marketing automation, when a business needed new sales leads, they advertised in the press, TV, and radio. Then, a sales team would make telephone calls, go door-to-door, and post out promotional mail to find new prospects.
Once the sales team identified a prospect, they could begin the process of converting them into a paying customer. 
The internet brings automation
The internet's revolutionised marketing and sales. Now, B2B and B2C companies can find new sales leads online. Businesses use websites, social media, and online advertising to funnel prospects to web pages to capture their email addresses. 
Once a business has permission to send individuals promotional emails, they use marketing automation software to nurture the prospect into a paying customer.
The customer journey
Imagine your business sells a $3000 consulting package. Potential customers won't buy the package on impulse; they need guiding through a sales process. 
The goal of marketing automation is said to be the practice of:
Getting the right content
in front of the right customer
at the right time. 
Imagine your business sells a $3000 consulting package. Potential customers won't buy the package on impulse; they need guiding through a sales process. 
First, they need to gain awareness your product exists. 
Next, they need to understand what benefits it might bring to them. 
Then, they may need some information to help them satisfy any objections they have about the product. 
Finally, they might want to see reviews and testimonials from previous buyers. 
In marketing, this is called the customer journey. And at each stage, a prospect needs different information to move them along.

Marketing automation performs the day-to-day tasks of delivering the right information to move prospects along the customer journey.
After the sale
Once businesses gain a customer, marketing automation doesn't stop there. It continues to nurture the relationship by providing after-sales service. And if the company has other products to sell, it can use marketing automation to encourage repeat business and grow revenue.
What is a Marketing Automation Specialist, and What Do They Do?
Marketing Automation Specialist handles the day-to-day duties of running automated marketing campaigns. 
The role of a marketing automation specialist is a varied one. On any given day, they may find themselves:
Designing and building automated email marketing flows and email campaigns.

Brainstorming with colleagues for fresh marketing ideas.

Writing and scheduling upcoming social media posts.

Interpreting campaign analytics to measure performance and spot weaknesses. 

Creating A/B split tests of marketing assets to improve campaign performance. 

Other associated digital marketing duties.
The demand for skilled marketing automation practitioners is growing. Emailmonday says 51% of businesses use marketing automation tools, and 58% say they plan to use the technology in the future. 
Long-term prospects are healthy for people entering the marketing automation field.
What Are The Marketing Automation Specialist Skills To Master?
Marketing Automation Specialists need to develop a wide range of marketing and technical skills and qualities. The role is ideal for people who are both analytical and creative.
A Marketing Automation Specialist needs left-brain analytical skills to interpret campaign performance data. Marketing automation specialists should be comfortable working with spreadsheets and graphs to review and interpret a campaign's success.  
At the same time, the specialist needs right-brain creativity. They will need to help develop ideas and fresh marketing concepts for campaign creation. 
A marketing automation specialist also needs management and communication skills. They may work alone or as part of a team, and they could be managing multiple projects. They'll need to hit deadlines and goals set by management.
Marketing Automation Specialist Skills
Tech savy

Communication skills

Content creation

Creative writing

Data Analytics

Marketing automation processes 

Project Management and collaboration skills

Data-driven decision making

Setting up workflows

Understanding of the used database
What Marketing Automation Platforms Are Commonly Used?
There are hundreds of marketing automation tools on the market.
Marketing automation platforms combine all the marketing automation tools a business needs into one solution. They are primarily used by enterprise businesses with large marketing teams working across many locations. However, smaller companies use them as well. 
More typically, small businesses combine several tools to manage their marketing automation. The combined toolset is referred to as the marketing stack or Martech stack. 
Tools Commonly Found in a Marketing Stack
Email autoresponder. For sending drip email sequences. 
Social media marketing software. For automating the company's social media presence. 
Keyword research tools. To identify the words potential customers use to search the internet. 
Content management systems. For creating websites and blogs. 
Marketing analytics tools. For understanding campaign effectiveness. 
Customer relationship management software. For storing customer data.
Swift Digital is the leading Australian-owned marketing automation tool. It helps Government departments and businesses automate email marketing, manage stakeholders, build campaigns and deliver online surveys. 
What Does a Marketing Automation Specialist's Job Description Look Like?
We've compiled the following duties from recent job adverts, to show you the typical activities of a marketing automation specialist.
Devise new marketing strategies and campaigns on your own or in a team. 
Monitor campaign activity against agreed standards.
Build automation maps.
Amend email templates.  
Develop nurture programs to move customers along the sales funnel.
Analyse campaign data to produce insights, and adjust campaigns accordingly. 
Ensure the marketing strategy fits the brand's ethos.
Write and schedule social media updates. 
Maintain customer segment databases.
A/B test marketing materials to improve results.
Marketing Automation Specialist Duties
The duties of a Marketing Automation Specialist are wide-ranging. The size of the organisation they work at plays a part too.  
If you worked at a company with a dedicated marketing team, your duties are likely to be more focused. But if you work for a smaller company, you may find yourself with sole responsibility for all digital marketing automation tasks. 
Along with the marketing automation specialist jobs skills, employers also look for people that have the following qualities. 
Work well with or lead a team.
Communicate effectively with senior management and stakeholders.
The ability to manage several ongoing projects. 
Attention to detail with data hygiene.
Flexibility to work with other marketing teams or departments as required. 
Content management and creation.
SEO and SEM optimisation skills
How Do You Become a Marketing Automation Specialist?
There are college courses and university degrees that help prepare you for a job in marketing automation. Many university-level Business and Commerce degrees offer a marketing major.
But if you are already working full-time and want to shift careers, there are online courses to study marketing automation. Here are some examples: 
The University of Sydney — Marketing Automation and Email Marketing Course. 
Open Colleges offers a range of digital marketing courses.
You can also learn about marketing automation on the usual online learning platforms. There are dozens available, covering beginner to advanced levels, on LinkedIn Learning and Udemy.
Ultimately, marketing automation is a results-driven job. If you don't have any marketing qualifications but can demonstrate success and experience, you might enter the field on track record alone.
What is The Salary of a Marketing Automation Specialist?
The online salary site Payscale says the average base salary for a marketing automation specialist in Australia is $77,210.
Workers making this salary have, on average, between one and four years of experience. An entry-level wage is approximately $56,000.
Marketing automation is a business practice that's going through a rapid growth phase.  
Businesses are catching on to the value of marketing automation as an efficient way of increasing revenue. 
The people who work in this field as Marketing Automation Specialists can look forward to a varied, challenging, and rewarding role.
Harness the Power of Marketing Automation
Marketing automation is a powerful tool when used to its full advantage. We hope that you now understand how you can use its marketing automation's powerful potential to level up your marketing in your business.  For more information on using marketing automation, check out our complete guide to marketing automation best practices.
Is your business looking to leverage marketing automation as part of the wider marketing strategy? Or are you simply looking to change your marketing automation platform?
Swift Digital can share more resources and best practices relating to your industry and how they successfully use marketing automation.
The Preferred Email, Events and SMS Automation Software For All Australian Government Departments
Swift Digital's templates help you effortlessly create stunning emails and events communications using our drag-and-drop email and event builder.
You can raise engagement with embedded images, videos, polls, article feedback, and emojis and schedule messages to send at the right time.
Government departments' unique marketing requirements are covered with Swift Digital, and full compliance with all anti-spam and privacy laws is guaranteed. Swift Digital is also ISO 27001 certified.
Swift Digital is Australia's leader in marketing automation software and event management working with organisations like the NSW Government, ATO, and companies like Westpac Bank and Qantas.
Find out why we're the Australian government department's number one choice for their professional communications and events.
To find out how your business can get the best out of Swift Digital's platform, contact our team today.
Don't forget to share this post!