It's general knowledge that the most common type of marketing email is an email newsletter. Most of us receive multiple company newsletters a day, but email newsletters are only one of four pillars of a healthy email marketing strategy.
If you're wondering what we're talking about, chances are you haven't been using email to its full potential. Along with newsletters, there are 3 other forms of marketing emails:
Think of your email marketing strategy as a rectangular dining table; you have 4 legs, each a different type of email but all essential to keeping the table upright, steady, and ultimately effective.
If you begin to fall short in one area, the table gets wobbly and isn't doing its job as efficiently, and if you leave a leg out altogether, your table is basically useless.
That's why it's essential to make sure you're capitalising the marketing potential of all four types of marketing email.  So what are email marketing's 4 pillars really all about.
Email Marketing Cheat Sheet
Get yourself out of an email pickle fast

Tips to avoid email emergencies

Avoid common marketing automation mistakes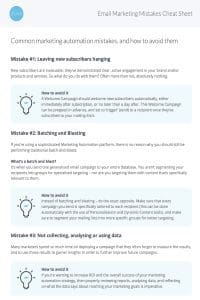 Download Cheat Sheet
Email Newsletter
As mentioned before, this is the most common and popular email marketing campaign. Newsletters examples include helpful knowledge and tools relating to your business, announcements about new services and products, and updates on staff and hiring processes.
Not to get confused with an internal communications newsletter, when using email newsletters as part of your marketing strategy it is essential that it adds value – think how-to's, products and services, or maybe even a fun game to participate in. Make sure you stay away from puff pieces.
Acquisition emails
This is where we start to go to the next level of email marketing. Moving past your company newsletter, acquisition emails can help you grow your business and acquire new customers.
These are sent to people who have signed up to your mailing list but may have not converted to a customer yet. Think of offers such as 10% off your first purchase, or important information such as "we have free shipping!"
These emails are designed to show the reader the value they receive when they become a customer. They are a great way to push leads through your sales funnel and target readers who have already shown an interest in your business.
Retention Emails
There's nothing worse than losing customers, which is why retention emails are so important. These allow you to ask for feedback from a customer and maybe find out why they haven't made a purchase in a while.
Maybe you even want to offer your subscribers something to entice them to come back to your business and make a purchase.
Either way, retention emails are a great strategy to ensure you aren't losing your hard earned customers. People want two way dialogue with a business.
Gone are the days where you could speak at your customers, now it's more important to speak to them. Ask for feedback, be curious, and show them what they are worth to your business, that's what makes a successful retention email.
Promotional Emails
Promotional emails are targeted at your existing customers to entice and encourage them to make a purchase.
Whether you're looking to drive sales or sign ups, promotional emails need to have a hook to them. Maybe you're rewarding your engaged customers with an exclusive offer, offering a first chance purchase on a new product, or advertising a last chance item – your customer should get excited when they open this email.
When it comes to promotional emails, less is more. You don't want to be overcrowding your customers' inbox with weekly promotional emails, that's how they become tired and lose their spark. Keep it minimal, that way they're still sparking excitement for your customers.
Harnessing Email Marketing Automation is the Future
Email marketing can be tricky, especially if you're not 100% sure what you're doing. But one of the most essential parts to a successful strategy is to ensure you are utilising all four types of email marketing.
Think back to that table, a successful strategy means you have a stable, high quality dining table. Make sure you have all four legs and that none are falling shorter than the other.
The Preferred Email, Events and SMS automation Software For All Government Departments
Swift Digital's templates help you effortlessly create stunning emails and events communications using our drag-and-drop email and event builder.
You can raise engagement with embedded images, videos, polls, article feedback, and emojis and schedule messages to send at the right time.
Government departments' unique marketing requirements are covered with Swift Digital, and full compliance with all anti-spam and privacy laws is guaranteed. Swift Digital is also ISO 27001 certified.
Swift Digital is Australia's leader in marketing automation software and event management working with organisations like the NSW Government, ATO, and companies like Westpac Bank and Qantas.
Find out why we're the Australian government department's number one choice for their professional communications and events.
To find out how your business can get the best out of Swift Digital's platform, contact our team today.
Don't forget to share this post!