What is Omnichannel Marketing?
Omnichannel marketing is a strategy that focuses on creating a unified and seamless customer experience across all channels, whether online or offline. The idea is to integrate various marketing channels—such as websites, social media, email, physical stores, and more—so that they work together harmoniously.
Why is Omnichannel Marketing Important?
Omnichannel marketing is crucial in today's digital landscape for several reasons, all of which revolve around delivering a seamless and cohesive experience to the modern consumer. Here are some key reasons why omnichannel marketing is important:
Improved Customer Experience
Create a seamless and consistent experience for your audience and customers across all your medium channels. If the experience does not meet your audience's expectations, this will lead to a negative overall impression of your company or brand.
Increased Sales and Conversions
Using an omnichannel marketing strategy as part of your overall marketing strategy and if used well can improve brand and organisation perception which can lead to more leads, conversion and an overall more positive experience for your audience.
Competitive Advantage
Omnichannel marketing means the marketer can use data analytics and data insights to understand their customer and audience better. This data provides insights on behaviours, preferences, and interactions so that you can make better-informed decisions on your audience.
Better Customer Insights
Omnichannel marketing streamlines communication and coordination between different channels. This not only ensures a consistent message but also improves the efficiency of marketing efforts. Coordinated campaigns, synchronised data, and centralised management contribute to a more effective overall strategy.
Email Newsletter Best Practices Guide
Plan and design the best newsletters

Use fonts and colours that complement each other

Write content that your readers want to read

20 content ideas!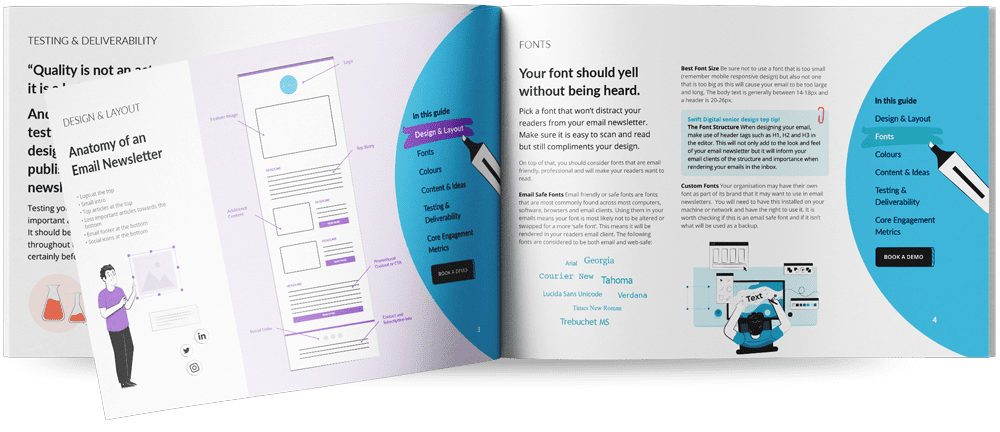 Download Guide
How does Omnichannel Marketing work?
Channel Integration

Data and Analytics

Personalisation

Consistent Messaging

Customer Journey 
What is the Difference Between Multi-Channel and Omnichannel Marketing?
Multichannel Marketing
Multichannel marketing is a strategy that involves engaging with customers and promoting products or services through multiple channels, both online and offline. The goal of multichannel marketing is to reach customers on their preferred platforms and touchpoints, providing a more diverse and widespread presence.
Omnichannel Marketing
Omnichannel marketing is more customer-centric and abit like having a superpower in the marketing world. It's all about making things incredibly easy and smooth for customers, no matter where they are or how they prefer to shop.
Imagine you discover a useful event you want to attend. With omnichannel marketing, you can seamlessly go from scrolling session times to getting more information on the events landing page to exploring the event website, to then entering your details to register for the event but not going through with the registration.
Later, when you check your emails, the company knows about your interest in the event and online activity, providing a helpful and consistent experience. It's like magic!
In summary, the difference between multi-channel and omnichannel marketing is that omnichannel marketing is a comprehensive, integrated approach that provides a unified and seamless experience for customers across multiple channels and devices.
Unlike multichannel marketing, which involves using various channels independently, omnichannel marketing ensures a consistent and cohesive experience as customers move between channels.
How Do you Implement Omnichannel Marketing?
Implementing an omnichannel marketing strategy involves creating a seamless and integrated experience for your customers across various channels, both online and offline.  Swift Digital offers a number of marketing and communications channels, all within one digital marketing platform. 
For example, Swift Digital can trigger emails and communications based on your user's actions, such as filling in a CTA form on your website or downloading something from your landing page or microsite. Track your user's behaviours, interactions and more with our in-depth data analytics and reporting features.
Swift Digital can fulfil your omnichannel marketing strategy requirements by offering email marketing, SMS marketing and the ability to build a microsite all-in-one marketing automation platform. 
Get a competitive advantage and valuable customer insight with our engagement scoring metrics and comprehensive data and reporting metrics.
What Does Swift Digital Offer?
Marketing Automation
Our Marketing Automation platform provides one-to-one marketing via a robust and proven platform.
Email Marketing
Have the power of email marketing software in Australia and at your fingertips. As a leading provider of email marketing in Australia, the Swift Digital platform helps you achieve your marketing and communication goals.
Event Management Software
The Swift Digital's online event management software provides numerous automation features to assist in running your events.
Internal Communications
Swift Digital has provided government-accredited internal and employee communication software to government organisations and businesses for over 15 years.
Landing Page Design & Builder
Swift Digital's landing page software is an easy-to-use built-in landing page tool and is the best landing page marketing tool on the market right now! It allows you to simply customise your landing pages to design websites, event calendars and CTA forms and publish them online right away. No development or coding team is needed!
Survey Software
Our online survey platform comes integrated with our email and digital marketing platform. You no longer need two different providers to create surveys and send emails.
SMS Marketing Software
Use SMS software automation tools in our Campaign Builder to trigger events based on SMS activity. For example, set up a trigger in your SMS marketing campaign software that sends an email with a document download to those who replied to your SMS campaign with their interest.
The Preferred Email, Events and SMS Automation Software For All Australian Government Departments
Swift Digital's templates help you effortlessly create stunning emails and events communications using our drag-and-drop email and event builder.
You can raise engagement with embedded images, videos, polls, article feedback, and emojis and schedule messages to send at the right time.
Government departments' unique marketing requirements are covered with Swift Digital, and full compliance with all anti-spam and privacy laws is guaranteed. Swift Digital is also ISO 27001 certified.
Swift Digital is Australia's leader in marketing automation software and event management working with organisations like the NSW Government, ATO, and companies like Westpac Bank and Qantas.
Find out why we're the Australian government department's number one choice for their professional communications and events.
To find out how your business can get the best out of Swift Digital's platform, contact our team today.
Don't forget to share this post!