Whilst most people would think to deploy an online event management system for 'real' events, it can also do wonders for virtual ones.
This is just as well, as running your event virtually may now be the only option available to your business (in a world rocked by a global pandemic).

The good news is: remote meetings and events are a beautiful thing.
They're accessible regardless of place; making them far more attractive to a wider range of attendees, and they dramatically save on the overhead costs needed to run real-life occasions.
What is an Online Event Management System?
Online event management system describes software and applications which enable people to manage all aspects of an event online.
From sending out invites and collecting registrations to marking attendance and sending post-event communications – online event management software makes event planning easy by digitising and automating the process.

What is a Virtual Event?
A virtual event is any event which takes place online, and which registrants attend remotely. Virtual events require some sort of webinar or online meeting software to carry out.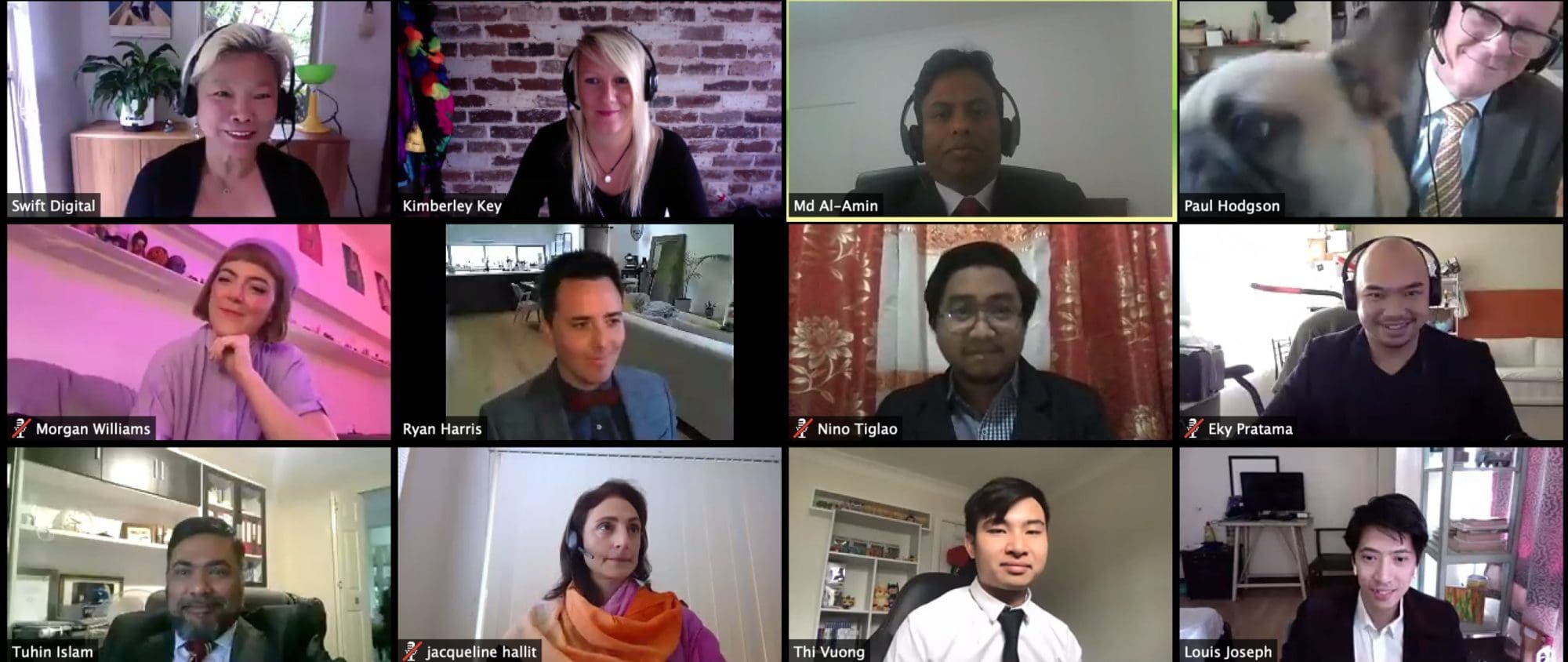 5 Tips on How To Run Virtual Events
1. Collect registrations for your virtual event online
Managing registrants is tough enough as it is. With virtual events, registrant management can be even more confusing.
Luckily, with a high quality online event management system, collecting registrations for your virtual event will be a piece of cake.
For example, you might send out a branded email invite, which links to a branded event registration form that collects the info you need. Then that captured registrant info will be available to you on your online event management system.
This enables you to easily see who has registered, or cancelled. It also enables you to send targeted communications to specific registrants, should the need arise.
2. Automate a pre-event reminder to maximise virtual event attendance
Virtual events – whether held on Zoom, Go To Meeting, Whereby or another software – require a URL address to join them.
When it comes to virtual events, people expect that the link to attend will be sent to them before the event starts.
You might want to consider placing your meeting link in an automated confirmation email – sent to a contact after confirming registration (another great feature of online event management systems), and better still, send the link again as part of an event reminder.

It's important to send an event reminder, and even more important is the timing.
Send it too long before the event and people will lose your virtual event link in their chaotic inboxes. Send it too soon before the event and people will forget to attend completely.
The key is to set up your reminder to attend emails so that they pull through the event link (to attend), and pre-schedule them to automatically go out just the right amount of time before your event starts (let's say an hour before) – saving you on the time and stress of last minute manual publication.
3. Turn long links into buttons to increase engagement across all devices
Granted, most virtual event links are long strings of scrambled up characters, and not exactly friendly looking.

If you're wanting to hide the long string URL, and tidy up the appearance of your invites and reminders, then consider simply copying the URL and applying it to text as a hyperlink, or to a button. Most online event management systems give you access to content editing tools, enabling you to edit your event communications, and making it easy to create buttons instead of just copying and pasting long form URL addresses.

Enticing, colourful buttons also do wonders for maximising click through rate – especially among mobile device users who otherwise would find small text links too finicky to deal with.

If you're using Swift Digital's Go To Webinar integration, you could even request that webinar links are always added to a button in your email templates, saving you a couple clicks.
4. Mark attendees, and auto thank them to encourage continued engagement
When using an online event management system, your webinar invites will collect registrants seamlessly for you and give you access to registrant tools that take the pain out of management. 
For example, in the lead up to your virtual event it pays to pre-schedule "thank you for coming" emails which will automatically send after your virtual event ends, and only to those who attended.
How to send an automatic 'thank you for attending' email to event attendees using an Online Event Management System:
Set up a 'thank you for attending' email ahead of your virtual event.
Schedule it to send automatically after the virtual event ends, and ONLY to event attendees.
After your virtual event ends, compare the list of actual event attendees to your event registrant list.
On your online event management system, mark all your event attendees as having attended.
Voila! Your automated 'thank you' email will send out to everyone who attended!
This automated thank you email might include a recording of your webinar, or a link to a feedback form.
Make the most out of your thank you email, as it's a great way to keep the conversation – and relationship – between you and your attendees going.
5. Record and share your virtual events
Although virtual events are far more accessible than offline events, there are still going to be possible-attendees who simply can't – or won't – make it.
That's why recording your virtual meeting, and linking to it on a dedicated landing page, is a great idea.
This increases the reach of your event beyond your actual attendees, and makes your content more readily available despite time or place. 
For those eager registrants who simply are in the wrong time zone to attend a live webinar? Link them to past recordings. For those registrants who forgot to attend? Link them to what they missed. 
There's even the possibility of automatically posting recorded webinars to a landing page. As long as you build it in a capable online event management system – just about anything is possible.
Harness the power of an Event Management Platform
In tandem with online event management systems and automation tools, events are becoming incredibly easy to deploy, manage and market. One positive of all these social distancing measures is businesses now have the opportunity to hone the craft of online event management.
We guarantee you'll love running virtual events and using an online event management system.
Are you planning an event? Before you go any further check out our Event Management Handbook where you can learn helpful tips on how to plan a successful event as well as download a very useful event checklist.
Virtual Event Checklist
Plan your virtual event successfully and make sure you don't miss a thing.
Get our Virtual Event Planning Checklist now!
Download Checklist
The Preferred Email, Events and SMS Automation Software For All Australian Government Departments
Swift Digital's templates help you effortlessly create stunning emails and events communications using our drag-and-drop email and event builder.
You can raise engagement with embedded images, videos, polls, article feedback, and emojis and schedule messages to send at the right time.
Government departments' unique marketing requirements are covered with Swift Digital, and full compliance with all anti-spam and privacy laws is guaranteed. Swift Digital is also ISO 27001 certified.
Swift Digital is Australia's leader in marketing automation software and event management working with organisations like the NSW Government, ATO, and companies like Westpac Bank and Qantas.
Find out why we're the Australian government department's number one choice for their professional communications and events.
To find out how your business can get the best out of Swift Digital's platform, contact our team today.
Don't forget to share this post!