What is an SSL Certificate?
SSL stands for Secure Sockets Layer. An SSL certificate is a method for creating an encrypted connection and established trust between a server and a browser. The secure connection ensures that any information passed between the two is private and encrypted.
SSL (Secure Sockets Layer) is the standard method for creating an encrypted connection between a server and a browser. The secure connection ensures that any information passed between the two is private and encrypted. Implementing SSL will give you that nice, secure HTTPS.
In this blog, we look at why SSL certificates are important, how to check if your SSL certificate is still valid and how to get an SSL certificate for your account and/or website.
Email Deliverability E- Book
The ultimate guide to help you avoid the spam filter. Download yours today!
Download E- Book
4 Reasons why an SSL Certificate important
Trust – Your SSL certificate will provide you with that HTTPS in front of your URL and the green address bar/lock icon will indicate to your visitors that you have taken their security into consideration, which will create trust. Trust is a contributing factor to your overall brand power. You can reassure your customers just the reason why they chose your brand in the first place.
Authenticity – An SSL certificate means your visitors can be assured that you really are who you say you are. This is particularly important if you're conducting transactions or collecting sensitive information.
Data Security – SSL encryption ensures that any data passed between the browser and the server is secure. This would prevent any third parties from intercepting the data in form submissions. This is of particular importance if you're collecting identifying or financial information from your clients.
SEO Ranking – Google indicated that they use secure HTTPS connections as a 'lightweight signal' in their search ranking algorithms. It might only be a small boost to your rankings, but it's a boost all the same.
How to check if you have a valid SSL Certificate is installed
1. Open your email template or website online in your browser.
2. Check to see if you have a padlock next to your URL and check to see if the URL says 'https://' not just 'http://'.

3. Click the padlock and check the certificate is valid and in date.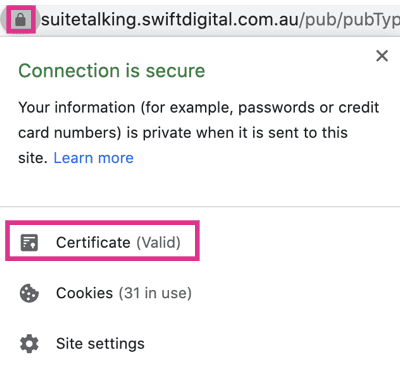 If you don't see the padlock...
If you don't see the padlock you are more likely to see a warning sign which says "Not Secure". This means you currently don't have a SSL Certificate installed.

How do you get a SSL certificate for your ESP account?
Follow these 3 easy steps to get a certificate for your ESP (Email Service Provider)
Securing your subdomain with SSL/HTTPS is just like locking a solid front door – it gives everyone peace of mind. Do you need help with the creation, automation, or increasing engagement?
Here at Swift Digital, we can help you with your email and SMS marketing and can provide tips on email best practices to make your SMS and email campaign a success!
The Preferred Email, Events and SMS Automation Software For All Australian Government Departments
Swift Digital's templates help you effortlessly create stunning emails and events communications using our drag-and-drop email and event builder.
You can raise engagement with embedded images, videos, polls, article feedback, and emojis and schedule messages to send at the right time.
Government departments' unique marketing requirements are covered with Swift Digital, and full compliance with all anti-spam and privacy laws is guaranteed. Swift Digital is also ISO 27001 certified.
Swift Digital is Australia's leader in marketing automation software and event management working with organisations like the NSW Government, ATO, and companies like Westpac Bank and Qantas.
Find out why we're the Australian government department's number one choice for their professional communications and events.
To find out how your business can get the best out of Swift Digital's platform, contact our team today.
Don't forget to share this post!