A poorly executed staff newsletter is a waste of company resources. You started your staff newsletter with a goal in mind, and that goal will only be achieved by a newsletter that is properly planned and maintained.
In this article, we will provide several best practices for staff newsletters These tips are designed to maximize your newsletter's ROI by getting more employees to read, engage with, and derive value from your newsletter.
Staff Newsletter Best Practices
Email Newsletter Best Practices Guide
1. Plan and design the best newsletters
2. Use fonts and colours that complement each other
3. Write content that your readers want to read
4. 20 content ideas!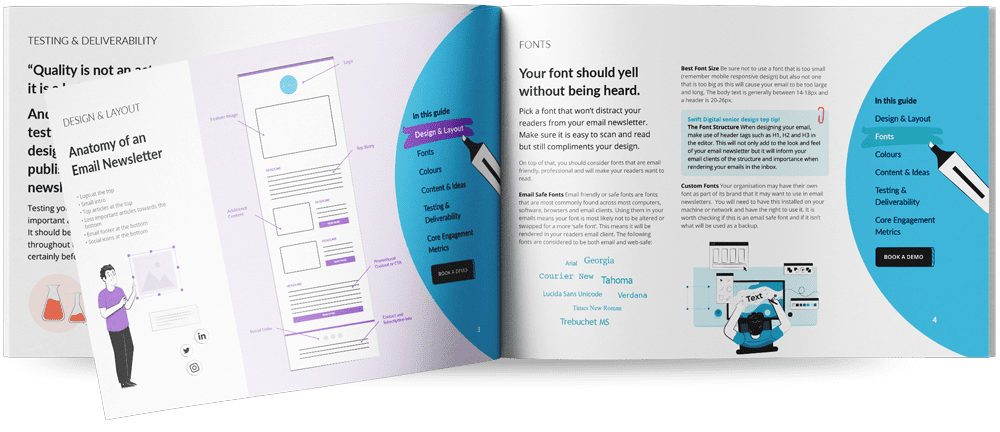 Download Guide
1. Assign a Primary Writer
Teamwork is necessary for a staff newsletter, but there has to be a single person in charge. That point person can change over time, and you can even institute a leadership rotation to avoid burnout. Just make sure that it's always clear who is currently in charge.
Without a designated leader, you create several unnecessary problems:
Fewer content submissions if employees don't know who to send ideas to.

Conflicting messaging because no one person is ensuring cohesion.

Missed deadlines when team members all assume the others have it covered.
Any company policies regarding the redundancy of subject matter expertise, hand-off procedures, etc. should apply to the staff newsletter the same as they would to any project.
Often, this means keeping the old primary writer in an advisory role for part of the new primary writer's tenure.
2. Focus on the Audience
Newsletters, just like businesses, fail when you forget about the customer. It's easy for those compiling and writing the newsletter to get caught up in their own priorities, but you need to remember that your best practice staff newsletter lives to serve each and every employee of the company.
3. Make Your Subject Lines Engaging
A company newsletter that nobody opens is a waste of valuable resources. The email subject line is typically your only chance to catch the employee's attention. Those few words have to stand out amongst the torrent of emails that are already filling your workers' inboxes.
Best practice email subject lines are concise and compelling. It should immediately tell your employee what the e-mail contains and convince them of its value. You should avoid anything generic or clickbaity.
Use all of your standard best practices for email marketing headlines, but remember that you have one significant advantage here: You know the audience and they already know you.
4. Provide New, Valuable Content
Once your readers have opened the e-mail, give them a reason to stay. Your newsletter should provide the reader with information that is important to their career, their workplace, and their community.
For example, you might include:
Major company updates like project launches or new client acquisitions.

Internal job listings for staff seeking a new role.

Reminders about upcoming company events.
5. Create Engaging Content
Most people get excited when their favourite YouTuber or blogger drops new content. Value alone does not drive that reaction—the content needs to be engaging. 
Not only does engaging content keep your readers coming back, but it also keeps them focused while they're reading. An employee who wants to read the newsletter is far less likely to miss important information.
Some of the best ways to engage your staff newsletter audience are:
Surveys and other interactive content.

Humour and narrative content.

Gamification (giveaways, competitions, etc.)
6. Make It Visually Appealing
Professional content doesn't have to be bland. Styling your staff newsletter content and adding images can draw the user in and often convey information better than words alone.
For example, survey results can be conveyed using an infographic rather than simply placing numbers on the page.
Video content is especially engaging, and it's a great way to add a personal touch and aid in creating a narrative.
Let's say you intend to interview the company's CMO for the newsletter. Why not turn it into a video interview? It conveys the message that the interview was important to the CMO, and employees are far more likely to pay attention to a video than text.
Why not turn it into a video interview? It conveys the message that the interview was important to the CMO, and employees are far more likely to pay attention to a video than text.
7. Encourage Employee Feedback
You don't want to waste resources on a newsletter that isn't properly serving your staff. The above ideas will help. The last staff newsletter best practice is to improve through reader feedback. 
It's up to you to ensure that your staff knows how to submit their suggestions and concerns. You should provide an email inbox for feedback. A regular survey is also helpful since many employees may not feel comfortable submitting information individually or non-anonymously. 
If you already conduct an internal communications survey, you can incorporate staff newsletter questions there. That way you won't overload your employees with largely redundant surveys.
The best way to encourage more feedback is to act on the feedback that you have already received. No one likes to feel ignored, so you should highlight any changes that you make based on reader feedback.
Use Email Marketing To Create Your Next Company Newsletter
Is your company looking to up their newsletter game and create a newsletter people actually want to read? 
Whether it is an internal or external company newsletter, Swift Digital has all the tools you need to make sure your company newsletter doesn't end up in the junk, deleted or thrown to the side. 
Swift Digital's newsletter email builder has interactive tools including polls, emojis, videos, surveys automation and means you can create better company newsletters that you know will get read!
Swift Digital can share more resources and best practices relating to your industry and how they successfully send internal and external company newsletters.
To find out how your business can get the best out of Swift Digital's platform, contact our team.
The Preferred Email, Events and SMS Automation Software For All Australian Government Departments
Swift Digital's templates help you effortlessly create stunning emails and events communications using our drag-and-drop email and event builder.
You can raise engagement with embedded images, videos, polls, article feedback, and emojis and schedule messages to send at the right time.
Government departments' unique marketing requirements are covered with Swift Digital, and full compliance with all anti-spam and privacy laws is guaranteed. Swift Digital is also ISO 27001 certified.
Swift Digital is Australia's leader in marketing automation software and event management working with organisations like the NSW Government, ATO, and companies like Westpac Bank and Qantas.
Find out why we're the Australian government department's number one choice for their professional communications and events.
To find out how your business can get the best out of Swift Digital's platform, contact our team today.
Don't forget to share this post!