What Is a Staff Newsletter?
A staff newsletter is a way of informing employees about company, industry, or local information that could be important to them. Most modern staff newsletters are sent electronically, but they can also be printed for distribution.
When thinking about your staff newsletter, it is crucial to remember that the audience is your entire workforce. This makes staff newsletters different in tone and content from both external newsletters and narrower internal communications.
Starting an Engaging Staff Newsletter
Creating a staff newsletter can feel like a daunting task. An average email is read by no more than a handful of people, whereas a staff newsletter is a key communication pathway for the entire company. 
If handled properly, though, a staff newsletter can keep employees informed and is a huge boon for company morale and engagement.
In this article, we'll cover how to start a staff newsletter, what type of content to include, and common pitfalls to watch out for.
Contents
Email Newsletter Best Practices Guide
Plan and design the best newsletters

Use fonts and colours that complement each other

Write content that your readers want to read

20 content ideas!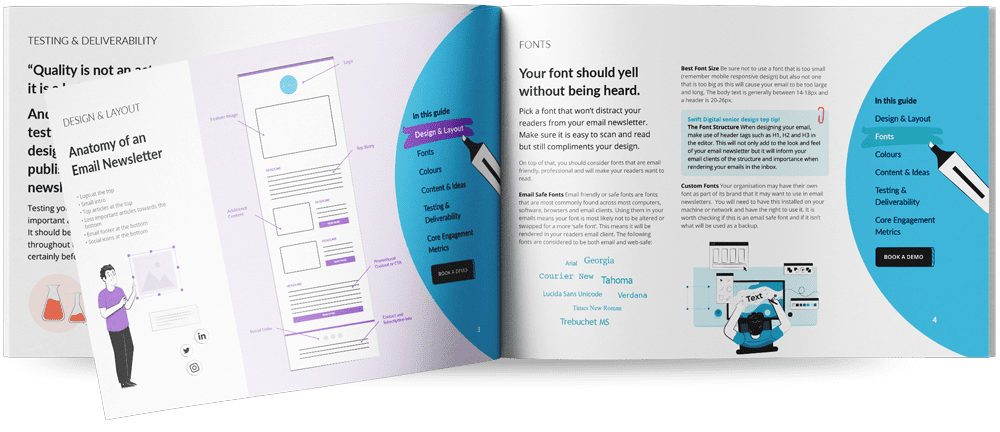 Download Guide
Why Have a Staff Newsletter?
Staff newsletters serve two primary purposes: informing and engaging employees. 
By providing your staff with a regular source of curated information, you are ensuring they are aware of any important changes that could impact their work.
They should also become increasingly familiar with industry happenings, company goals, and the executives' thoughts.
Both informative and fun content can help with staff engagement and morale. Receiving updates helps employees feel valued, and non-work-related content can build a sense of community among the employees.
That last point is especially important for companies that are transitioning to a more remote-friendly work environment.
What to Include in a Staff Newsletter
Staff newsletters can include various information in text, image, or even video form.
Generally, you'll want to provide a mix of industry, company, employee, and local content, but the specifics can vary depending on your company's goals.
Much of the content will likely come from the team in charge of the newsletter, especially at first. However, there are good reasons to allow for user-submitted content.
Letting the entire workforce participate further enhances engagement and eases the burden on the core newsletter team.
You can use a mixture of one-off content and recurring columns in your newsletter.
The latter often makes planning easier and gives employees something they know they can look forward to. Just ensure that the columns are not so narrowly focused that they are difficult to find new content for.
Some popular ideas for staff newsletter content include:
Internal job postings

Team spotlights

Employee profiles

Employee birthdays

Upcoming company events

Important company milestones

Industry headlines

Surveys

Contests

Inspirational quotes

User-submitted content (pictures, book recommendations, etc.)
How to Start a Staff Newsletter
Define a Goal

Decide on a Send Time and Frequency

Assign a Sender
1. Define Your Goal
Every newsletter should have a primary goal to help in selecting and ordering content. The goal will often change from newsletter to newsletter, especially if it is based on one-time or seasonal events.
Example goals could include community-building, raising awareness of an upcoming event, or highlighting a recent achievement.
2. Decide on a Send Time and Frequency
Newsletters should be sent with a specified cadence and always at the same time and day. This creates a routine that both the readers and the creators will appreciate.
Weekly newsletters or monthly newsletters are most common. Weekly newsletters are better for engagement, but monthly newsletters can provide more space for deeper dives into specific topics. Friday afternoon newsletters typically perform best, but that can vary by industry.
3. Assign a Sender
A staff newsletter needs a point person in charge of the project. Preparing the newsletter can and should be a team effort, but a single point of contact increases accountability and reduces confusion.
The task of preparing and sending the newsletter should follow all of the company's standard practices for subject matter expert redundancy, knowledge transfer, etc.
How to Send a Staff Newsletter
You could just send your staff newsletter via your email service provider (e.g. Outlook), but this is an ideal use case for an email marketing platform. After all, your staff newsletter is just like any email marketing campaign except that the audience is your employees.
An email marketing platform will help you track key newsletter performance metrics, avoid technical issues like Outlook formatting problems, and take advantage of templates and other time-saving measures. Using an email marketing platform also makes it easier to transfer newsletter creation to a new point person.
Typical Staff Newsletter Open Rates
Open rates are the easiest metric to use in determining how many employees are engaging with your newsletter. This rate is defined by the percentage of staff newsletter recipients that open the staff newsletter email. 
An open rate of about 65–70% is typical for most companies. However, this can vary depending on factors like the industry and company size. Industries like construction can see average rates closer to the mid-50s whereas pharmaceuticals and sports can be around 80%.
Use Email Marketing To Create Your Next Company Newsletter
Is your company looking to up their newsletter game and create a newsletter people actually want to read? 
Whether it is an internal or external company newsletter, Swift Digital has all the tools you need to make sure your company newsletter doesn't end up in the junk, deleted or thrown to the side. 
Swift Digital's newsletter email builder has interactive tools including polls, emojis, videos, surveys automation and means you can create better company newsletters that you know will get read!
Swift Digital can share more resources and best practices relating to your industry and how they successfully send internal and external company newsletters.
The Preferred Email, Events and SMS Automation Software For All Australian Government Departments
Swift Digital's templates help you effortlessly create stunning emails and events communications using our drag-and-drop email and event builder.
You can raise engagement with embedded images, videos, polls, article feedback, and emojis and schedule messages to send at the right time.
Government departments' unique marketing requirements are covered with Swift Digital, and full compliance with all anti-spam and privacy laws is guaranteed. Swift Digital is also ISO 27001 certified.
Swift Digital is Australia's leader in marketing automation software and event management working with organisations like the NSW Government, ATO, and companies like Westpac Bank and Qantas.
Find out why we're the Australian government department's number one choice for their professional communications and events.
To find out how your business can get the best out of Swift Digital's platform, contact our team today.
Don't forget to share this post!