Why is Stakeholder Communication Important?
Stakeholder communication is important because it helps build mutual trust and allows you to work together to tackle the unexpected challenges of a project. Listening to your stakeholders and building on their feedback and communication will help your project and organisation run more smoothly and effectively.
When it comes to stakeholder communication requirements – transparency, accuracy and communication are key.
There are other stakeholder communication requirements that should be noted, however, we have identified the top 3 that will make sure your stakeholder management and communication work alongside your organisation and project.
Top 3 stakeholder communication requirements
Stakeholder Comms Plan Template
Improve communication on projects

Reduce resources 

Make decision-making easier!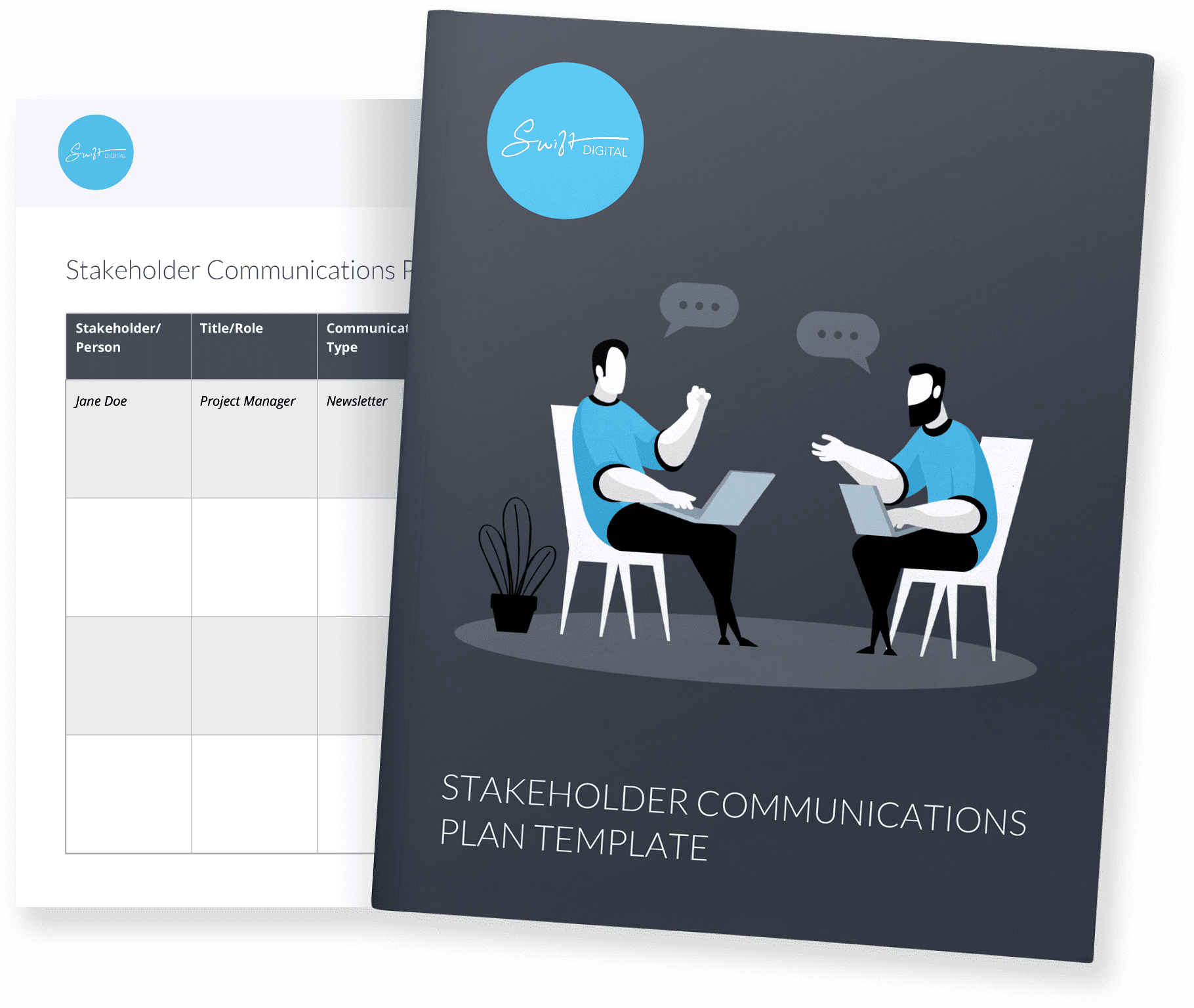 Download Template
1. Stakeholder Identification
What is a stakeholder identification?
A requirement that stakeholders expect is that you have already completed and identified the key stakeholders for your project.
Identifying your stakeholder at an early stage can help to keep your project on track.
One of the most common reasons a project goes off course is because a stakeholder has not been identified and comes in mid-project with extra requirements and requests. 
Your stakeholder communication requirements usually request that the stakeholder identification is done before the project starts.
It's important that you include the primary and secondary stakeholders.
What is a secondary stakeholder?
A secondary stakeholder is a stakeholder who may disrupt or affect the relationships with the primary stakeholders.
For example; a union group may influence the customers of a bank by saying that the money they have saved with them is being used unethically.
4 Types of Project Stakeholders
Downwards –

These are the people who actually do the work and work on the project. 

Upwards –

These are usually the financiers and investors. They can sometimes be project sponsors and want the project to succeed.

Sideways –

Sideways stakeholders are in competition for the resources. These stakeholders can include other project managers.

Outwards –

These are usually external people to the project. They will have different requests and needs from the project depending on who they are.
2. Clear and Concise Reporting
Second, in the list of stakeholder communication requirements, is project reporting. This is not just any old reporting, stakeholders want accurate, clear and concise reports on a regular basis. 
When it comes to reporting there are some key questions that you want to ask your stakeholders to help you compile your reports:
What information do they require in the report?
How frequently do they want to receive the report?
In what format do they want the report?
When do they want to receive the report?
Regular reports and updates of the project are important to a stakeholder, and they trust that you will provide these with accuracy and in a manner in which they can easily interpret what state the project is in, e.g. what progress has been made and where it is at now.
Each stakeholder may require a different type of report so it is important that this is established from the offset in your stakeholder communications plan/matrix.
For example, some stakeholders may require a top-level report of the progress, some may require a report on the budget and financials and others may require a report on the risks and mitigations.
3 ways to communicate your project report to stakeholders
Email/Newsletter –

Use email to communicate directly to your stakeholders. Create an email and include a link to your project report or summarise the project to stakeholders in your newsletter.  Email is a great way to communicate as you can track engagement and open rates and create follow up emails for anybody who hasn't opened.

Create a PowerPoint/slide presentation –

Use a presentation to highlight top-level details of the project. Make sure the presentation isn't too long and doesn't include too much, with

most people tuning out of a presentation in 10 minutes

it is vital you communicate the information your stakeholder wants to hear within this time.

Schedule a regular meeting –

These are the most common ways to communicate and manage your stakeholder requirements, however, can sometimes be the least effective. Run an

effective project meeting

with your stakeholders by planning the meeting and making the best use of time. This means having a meeting agenda, going through actions and statuses from previous meetings, key takeaways and circling the minutes.
How to create a report your stakeholder wants to read
Be clear in your reports what you want to achieve.

Make your reports easy to read and digest.

Make sure your reports are aesthetically pleasing, think clear fonts and less is more.

Chase your format slightly each time to keep readers interested.

Provide only the information each stakeholder needs to know.
3. Stakeholder Communications Plan
What is a stakeholder communications plan?
Last in the series of important stakeholder communication requirements is the creation of a stakeholder communications plan.
A stakeholder communications plan is documentation that defines when you will communicate with each stakeholder, how you will communicate with them and in what format.
It is not a go-to-market plan, project plan nor marketing plan. 
Same as the stakeholder identification, this should be treated separately for each stakeholder and each stakeholder should have their own communications plan, this will ensure you fulfil and manage each of the stakeholder communication requirements.
What to include in your stakeholder communications plan?
Some things you should consider including in your stakeholder communications plan are:
Communication Type

Channel

Frequency of communication

Stakeholder Goal

Stakeholder Ratings (Project Interest)

Contact Details
Now you have your stakeholders identified, you can start to create a plan for each on how you will be communicating with them over the course of the project. 
Before you get started, to help you create this plan, you should ask these 3 key questions:
What frequency would you like updates?
What is your preferred format for communication?
Do you have any privacy/security concerns or requests re. your communication updates?
It's a good idea to ask your stakeholders if they have any requirements for the stakeholder communication plan or if there is something they would particularly like to see in their report.
Once you have asked key questions and built rapport and relationships with your stakeholders you will start to get an idea of what type of communications plan they would most benefit from.
The benefits of stakeholder communications plan
Now we have established how to create a communications plan as part of the stakeholder communication requirements, it is important that you also understand the 'why' of creating a plan. 
Making sure your communication lines are strong, clear, consistent and informed is key to the trust that your stakeholders place in you.
Other benefits of having a stakeholder communications plan include:
You can answer stakeholder questions before they arise and be prepared for them.

You can build on the plan when requirements from your stakeholder arise and be ready.

Build better relationships with your stakeholders.
Improve your Stakeholder Communication with Automation Software
The Preferred Email, Events and SMS Automation Software For All Australian Government Departments
Swift Digital's templates help you effortlessly create stunning emails and events communications using our drag-and-drop email and event builder.
You can raise engagement with embedded images, videos, polls, article feedback, and emojis and schedule messages to send at the right time.
Government departments' unique marketing requirements are covered with Swift Digital, and full compliance with all anti-spam and privacy laws is guaranteed. Swift Digital is also ISO 27001 certified.
Swift Digital is Australia's leader in marketing automation software and event management working with organisations like the NSW Government, ATO, and companies like Westpac Bank and Qantas.
Find out why we're the Australian government department's number one choice for their professional communications and events.
To find out how your business can get the best out of Swift Digital's platform, contact our team today.
Don't forget to share this post!