What is an Stakeholder Communication Plan Template?
A Stakeholder Communication Plan Template helps you to identify the important specifics and expectations of each stakeholder and the communication points that will take place during project processes and milestones. A stakeholder communication plan template will assist in making sure everybody involved in your project is updated in ways that suit all parties.
Download Your Free Stakeholder Communications Plan Example
A Stakeholder Communication Plan sometimes referred to as a matrix is a must-have for all project coordinators to help ensure all stakeholder requirements have been addressed and are fulfilled.
A stakeholder communications plan can assist in outlining expectations for the communication points that will take place during project processes and milestones.
To save you time, we have put together a stakeholder communications plan example for you to download and use.
The stakeholder communication plan example includes nine key headers in a table format.
The table format is useful for clearly listing stakeholders and their preferences and can be easily viewed at a glance.
Stakeholder Comms Plan Template
Improve communication on projects

Reduce resources

Make decision-making easier!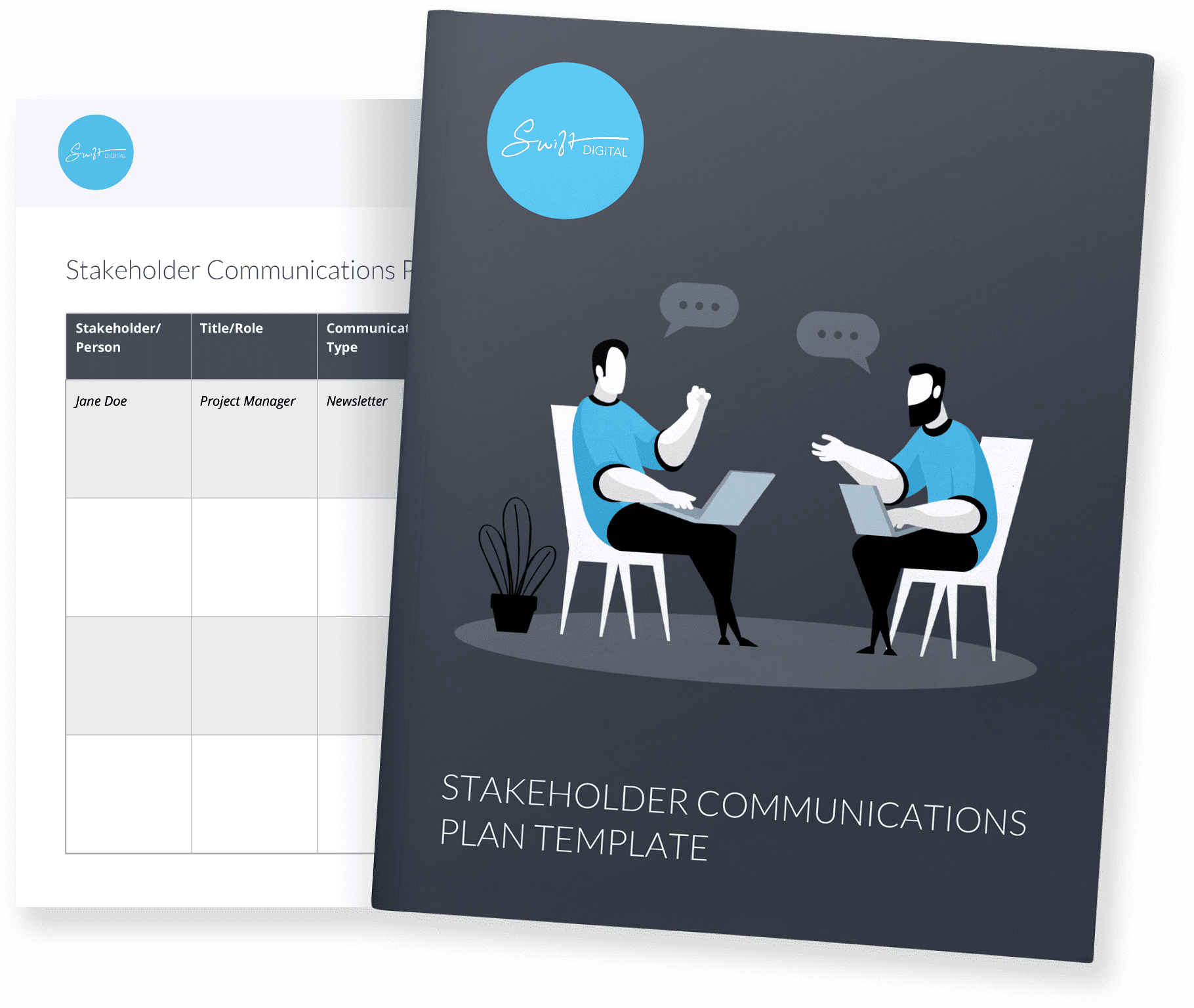 Download Template
How to use your Stakeholder Communications Plan Example in 3 Easy Steps
1. Why You Need a Stakeholder Communications Plan Template
Before you go ahead and start filling in your stakeholder communications plan example, it is important that you also understand the 'why' of creating a plan.
Making sure your communication lines are strong, clear, consistent and informed is key to the trust that your stakeholders place in you. Other benefits of having a stakeholder communications plan include:
You can answer stakeholder questions before they arise and be prepared for them.
You can build on the plan when requirements from your stakeholder arise and be ready.
Build better relationships with your stakeholders.
2. The Stakeholder Plan Headers
The stakeholder communications plan example has nine headers these include:
Stakeholder/Person
Title/Role
Communication Type
Channel
Frequency of communication
Stakeholder Goal
Stakeholder Ratings (Project Interest)
Contact Details
Notes
Having the headers filled in for each stakeholder will ensure you fulfil and manage each of the stakeholder communication requirements on an individual basis.
Identifying information for each of these headers for each stakeholder will help you accurately communicate your project goals and will work towards keeping all necessary stakeholders in the loop. At the very least, you should fill in the following headers; Communication Type, The Channel, Frequency and the Stakeholder Goal.
3. How To Fill in the Table
Download your stakeholder communications plan example and start to fill in the table boxes. You can either do this directly into the PDF, on paper or we have also supplied the stakeholder communications template as an Excel/Google Sheets document.
See below for examples of the kind of information you would fill out under each header on the stakeholder communications template plan.
Stakeholder/Person – Identify the stakeholder of the project and add their name.
Title/Role – Include the title and role of the stakeholder in the organisation so you are clear on who the stakeholder is and to help establish their interest.
Communication Type – This will be the communication your stakeholder chooses to receive regarding the project. i.e. Email, weekly meeting, minutes.
Channel – This will be the way in which your stakeholder chooses to be communicated with. i.e. Phone call, letter, email, presentation.
Frequency of communication – Note the frequency of how often you should update each stakeholder, this could be hourly, daily, weekly etc.
Stakeholder Goal – What does the stakeholder want to achieve from the project? Keep this in mind when communicating with your stakeholder and note this in your plan.
Stakeholder Ratings (Project Interest) – Use a rating system to quickly establish the priority stakeholders and who has the most invested interest.
Contact Details – Add these so they are in a central place for emergencies.
Notes – Any additional comments from project lead or stakeholder.
Improve your Stakeholder Communication with Automation Software
Building bridges and understanding how to communicate with stakeholders is an invaluable skill and is important to the overall project success. If you would like more information on how to improve your communication with stakeholders then feel free to get in touch with Swift Digital.
Swift Digital works with a number of public and private sector companies – including Government organisations, Universities and Utility companies– to improve their communications and stakeholder management.
Do you need help communicating with stakeholders? Or want to improve your stakeholder management process.  Here at Swift Digital, we provide email automation services that can help facilitate your stakeholder communications and help to improve your stakeholder relationships.
The Preferred Email, Events and SMS Automation Software For All Australian Government Departments
Swift Digital's templates help you effortlessly create stunning emails and events communications using our drag-and-drop email and event builder.
You can raise engagement with embedded images, videos, polls, article feedback, and emojis and schedule messages to send at the right time.
Government departments' unique marketing requirements are covered with Swift Digital, and full compliance with all anti-spam and privacy laws is guaranteed. Swift Digital is also ISO 27001 certified.
Swift Digital is Australia's leader in marketing automation software and event management working with organisations like the NSW Government, ATO, and companies like Westpac Bank and Qantas.
Find out why we're the Australian government department's number one choice for their professional communications and events.
To find out how your business can get the best out of Swift Digital's platform, contact our team today.
Don't forget to share this post!