What is a Stakeholder Engagement Plan?
A stakeholder engagement plan is a formal document which outlines the plan to communicate with stakeholders who hold interest or potential interest in a project. A stakeholder engagement plan identifies potential stakeholders, their interest levels, power and influence and is continuingly updated to meet stakeholder needs.
Before you go ahead and create your stakeholder engagement plan, you should first understand the five levels of stakeholder engagement that will help you to identify at what stage your stakeholder is engaged.
Once each stakeholder has been identified and assigned a level this will help shape your stakeholder engagement plan on how to best communicate with stakeholders. 
Use these levels in your stakeholder identification process.
5 Levels of Stakeholder Engagement
Stakeholder Comms Plan Template
Improve communication on projects

Reduce resources 

Make decision-making easier!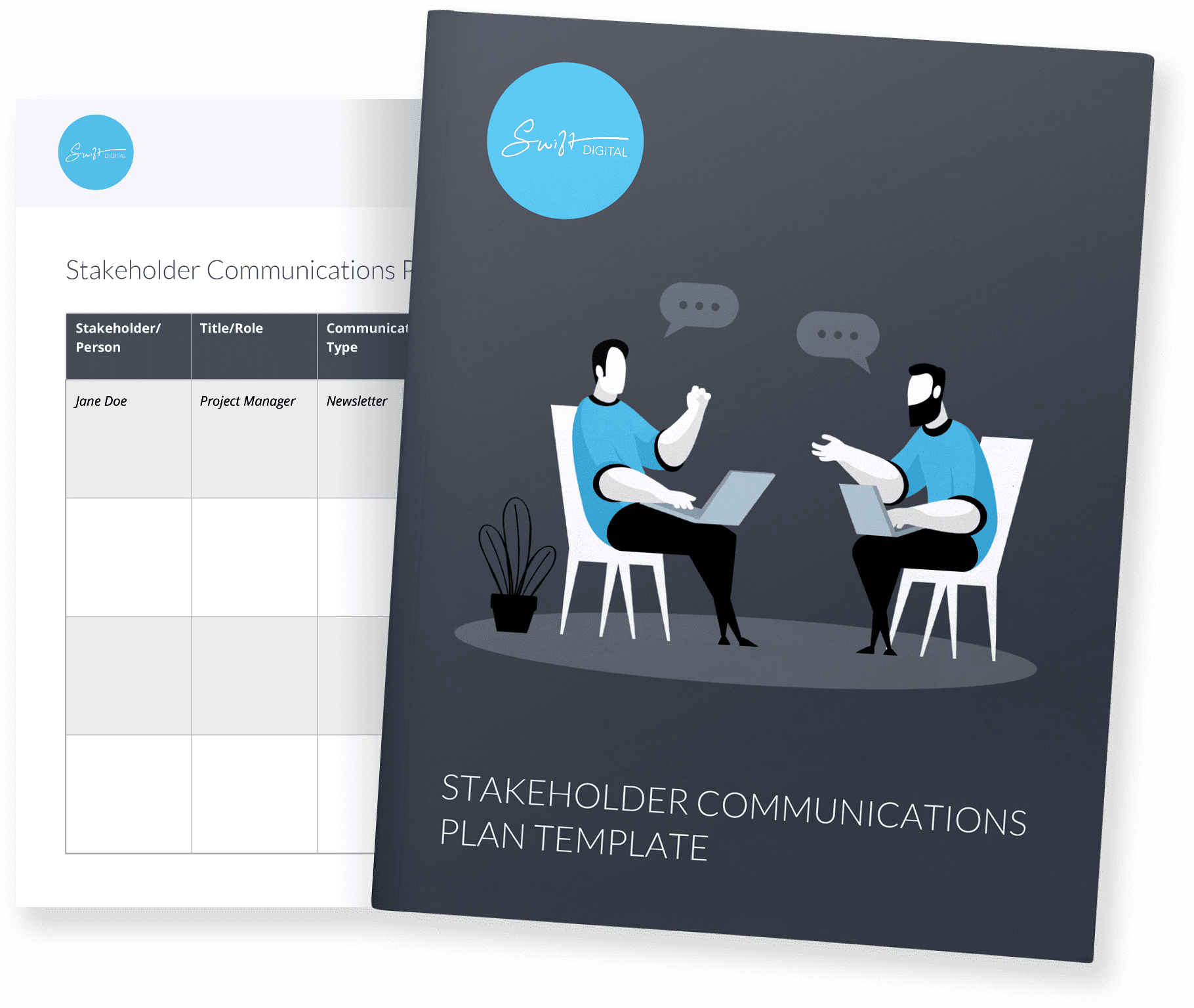 Download Template
Unaware – Not aware of the project and the impacts of the project
Resistant – Aware of the project and resistant to change
Neutral – Aware of the project and neither supports or resists
Supportive – Aware of the project and supportive of change
Leading – Aware of the project and impact and actively engaged in ensuring the project is a success
Two Stakeholder Templates Every Project Manager Should Use
A requirement that stakeholders expect is that you have already completed and identified the key stakeholders for your project.
In order to succeed in stakeholder management it is important that you have two documents prepared prior to starting your project, these are:
Stakeholder Communications Template Plan

–

A Stakeholder Communication Plan sometimes referred to as a

matrix

is a must-have for all project coordinators to help ensure all stakeholder requirements have been addressed and are fulfilled. A stakeholder communications plan can assist in outlining expectations for the communication points that will take place during project processes and milestones.

Stakeholder Engagement Plan –

 A Stakeholder Engagement Plan will help identify the communication mediums, tools and technology you will use to keep engaged with your stakeholders. You will need to use different communication methods depending on your stakeholder's interests, influences and power.
What Makes a Good Stakeholder Engagement Plan?
A good stakeholder engagement plan should we well researched and well-structured. It should include stakeholder identification, their interest levels, their power and influence on the organisation and/or project. For example; is your stakeholder a decision-maker, or impartial?
Are they influential or persuasive of others in the decision-making process? 
A good stakeholder plan should define the scope of the project, include matrixes such as an importance/influence matrix and a stakeholder engagement matrix which is useful for a quick overview of stakeholders, it should include accurate timelines and have a post stakeholder engagement plan in place prior to the start of the project.
5 Key Inclusions that Make a Good Stakeholder Engagement Plan
Outline Project Scope

Defining your project scope and outlining the key objectives is crucial to the overall success of the project. It's important to scope out key questions, who will make decisions and when and who will be affected. Define the stakeholder's roles and how influential they will be in your decision making.

Define Boundaries

Identify your boundaries for your project and what limitations there will be. This might be topics out of scope or off the table or conversations around the budget which are only reserved for particular stakeholders. If your stakeholders include members of the public or you will be liaising with the media at all, prepare answers to some of these questions as they may ask.

Decide on Metrics

At this stage, you should decide on the metrics that you will use the quantify your project. These should be measurable, achievable and easily tracked.

Create Timelines

A timeline with a milestone should be part of any good stakeholder engagement plan. Plan dates and milestones and project phases on your

project timeline

. Try using project planning tools like

Asana

and

monday.com

to help you plan important milestones.

Post Engagement Plan

Lastly, creating a post-engagement plan during your planning phase is easier than trying to think about it at the end of the project.
Stakeholder Engagement Plan in 5 Easy Steps
1. Stakeholder Identification
The first step in putting together your stakeholder engagement plan is to identify your stakeholders. Be sure to list all stakeholders involved in the project and do not underestimate any stakeholder, the smallest of stakeholder with the least amount of interest can often be the most influential. See these 5 questions that help identify key stakeholders.
2. Identify Interest
Identify the level of interest your stakeholder has in your project. Are they well invested?
Less invested but still interested?
The best way to identify this from a visual perspective is to use a stakeholder grid or number their interest 1-10 etc. You can combine your stakeholder grid with your stakeholder's power and or influence.
3. Identify Power and Influence
Before you start to rate your stakeholder's power in your stakeholder engagement plan you need to define what is power. 
Is it the ability to influence other stakeholders or is it the power behind the finances of the project, i.e. if they withdraw from the project you will effectively lose your funding?
This can be done verbally initially but it must be detailed in your stakeholder engagement plan.
Once the definition of power is established, you can then use this as one of the axes in your stakeholder grid.
4. Create a Stakeholder Engagement Strategy Matrix
On top of your stakeholder grid, your stakeholder engagement plan should establish a stakeholder engagement matrix or a stakeholder communication plan template.
This will help you plan out your communication strategy with your stakeholders. The frequency you will contact them, the medium used and all other details for that stakeholder.
We have already put together a stakeholder communication template, all you need to do is fill it in and add it into your stakeholder engagement plan!
5. Choose Tools and Software For Execution
Your tools and software are used for your communication and engagement of stakeholders.
They should feature within your stakeholder engagement plan and detail how you are going to use them to keep your stakeholders engaged.  Marketing Automation software can help you stay in contact with your stakeholders.
With email automation, you can customize your emails with dynamic content and only send certain stakeholders specific information, as well as use visually appealing templates which make the information much easier to digest.
Improve your Stakeholder Communication with Automation Software
Building bridges and understanding how to communicate with stakeholders is an invaluable skill and is important to the overall project success.
If you would like more information on how to improve your communication with stakeholders then feel free to get in touch with Swift Digital. Swift Digital works with a number of public and private sector companies – including Government organisations, Universities and Utility companies– to improve their communications and stakeholder management.
Do you need help communicating with stakeholders? Or want to improve your stakeholder management process.
Here at Swift Digital, we provide email automation services that can help facilitate your stakeholder communications and help to improve your stakeholder relationships.
To find out how your business can get the best out of Swift Digital's platform, contact our team today.
Don't forget to share this post!
Stakeholder Engagement Plan FAQ
How do you write a stakeholder engagement plan?
Use a stakeholder engagement matrix to outline your project scope, define boundaries, decide on metrics, create timelines, create a post engagement plan.

What does a stakeholder engagement plan look like?
A stakeholder engagement plan includes stakeholder identification, includes stakeholders interests, highlights their power and influence and outlines the tools to be used to execute stakeholder engagement.

What are the five levels of stakeholder engagement?
1. Unaware
2. Resistant
3. Neutral
4. Supportive
5. Leading