Every decision made or project undertaken by an organisation impacts parties — often both external and internal. These parties, known as stakeholders, can be affected either positively or negatively, and they often have an interest in either being aware of the project or influencing the process and outcome of the project.
An excellent planning and management tool for interactions with stakeholders is a stakeholder engagement strategy matrix. According to their amount of influence and interest in the organisation's actions, stakeholders are often categorised.
Not all stakeholders require the same frequency of contact or level of involvement, and a project manager needs tools to organise those needs.
A stakeholder engagement strategy separates stakeholders into groups that require different modes and frequencies of communication, providing a framework for managing all stakeholder communication.
In this post, we'll examine that framework, called a Stakeholder Engagement Strategy Matrix, and how to build it for your project.
Why use a Stakeholder Engagement Matrix?
Most stakeholder engagement strategies focus on the high-level. 
The stakeholder engagement strategy matrix is intended to be more actionable, offering a guide to stakeholder analysis and engagement processes for employees and a roadmap to inform stakeholders of their role in the bigger picture.
Stakeholder Analysis Beyond a Single Project
A stakeholder engagement matrix offers powerful project management insights for a single project, but it is even better when used across your organisation and over time.
This allows the identification of trends for stakeholder engagement in upcoming projects, allowing better planning of stakeholder management.
How to Create a Stakeholder Engagement Strategy Matrix
1. Identify and Evaluate Key Stakeholders
Start by collating a list of all your internal and external project stakeholders. 
This should include employees, customers, or any other individuals or groups that have an interest in the project or its result. You can use these 5 questions to help identify key stakeholders.
If you have developed a power-interest matrix for this project, it should be referenced during this process, as the power and interest of the stakeholder will both be relevant in evaluating your engagement plan. 
High-power and high-interest stakeholders will require more engagement during the project than low-power and low-interest stakeholders.
Along the way, you should gather:
The contact person's name if it is a group of individuals or the stakeholder name if the stakeholder is an individual.

The contact person's title or role

The stakeholder's contact details (email, phone, etc.)

The stakeholder's interest level (scale of 1-10)
2. Determine Available Communication Tools
Before approaching stakeholders, you need to identify the communication tools that you are able and willing to use for stakeholder communication. 
For each communication channel, you should note the following:
Internal preference

— Your organisation likely has some methods that are preferred, whether due to ease of use, widespread availability, or simply tradition.

Geographic limitations

—Note whether certain channels are only practical within a certain geographic radius or region or whether they may be prohibited in some regions.

Frequency limitations

— Some communication methods make more sense for monthly updates than daily.

Internal cost

— Is there any cost to your organisation for using this method with a new stakeholder?

Stakeholder cost

— Is there any cost to the stakeholder for using this method with you?

Additional notes

— Any limitations or advantages that don't fit the above fields.
3. Interview Stakeholders
You want as much information as possible about your stakeholders, particularly key stakeholders. 
Where possible, get this information from personal meetings, but some information can be garnered through indirect means if necessary. 
Your purpose here is to determine
The goal of each stakeholder

Their preferred communication frequency

Any additional concerns they have

Preferred or available communication channels
4. Assign Communication Channels
Each stakeholder should be assigned one or more communication channels based on the communication frequency, their availability, and preferences as well as your preferences, limitations, and costs as outlined in step 2.
Be sure to verify the final version of these assignments with the stakeholder, especially if multiple options were discussed during the interview.
5. Build the Matrix
You now have all the information you need to complete the stakeholder engagement strategy matrix. 
Your document should have columns for each of:
Stakeholder/person
Title/role
Communication type
Communication channel
Frequency of communication
Stakeholder goal
Stakeholder project interest rating (1-10)
Contact details
Notes
All of which you've gathered during the previous steps.
Stakeholder Engagement Assessment Matrix
Evaluating stakeholder engagement can be taken a step further with a stakeholder engagement assessment matrix, which allows you to determine gaps in stakeholder engagement.
Each row of the stakeholder engagement assessment matrix represents a single stakeholder or a homogeneous group of stakeholders, as applicable.
Each of the columns in the stakeholder engagement assessment matrix represents a level of stakeholder awareness and support.
The authoritative Project Management Body of Knowledge (PMBOK) guide suggests using the following levels.
Unaware

— Not aware of the project or its impact

Resistant

— Aware of the project but resistant to change

Neutral

— Aware of the project, but neither supportive nor resistant

Supportive

— Aware and supportive of the project

Leading

— Aware of and actively engaged in ensuring the success of the project
For each stakeholder, you should designate both their current level (marked with a "C") and desired level (marked with a "D"). In most cases, a "D" will not appear in the first two columns (Unaware, Resistant), and a "C" will rarely be in a column to the right of its respective "C". 
Of course, in general you are trying to increase rather than decrease stakeholder engagement.
Determining the desired engagement level for each stakeholder is the most involved part of this process. The Project Management Institute (PMI) suggests basing this decision on the needs, expectations, interest, and potential impact of each stakeholder or group of stakeholders.
Improve your Stakeholder Communication with Automation Software
Building bridges and understanding how to communicate with stakeholders is an invaluable skill and is important to the overall project success. If you would like more information on how to improve your communication with stakeholders then feel free to get in touch with Swift Digital.
Swift Digital works with a number of public and private sector companies – including Government organisations, Universities and Utility companies– to improve their communications and stakeholder management.
Do you need help communicating with stakeholders? Or want to improve your stakeholder management process.  Here at Swift Digital, we provide email automation services that can help facilitate your stakeholder communications and help to improve your stakeholder relationships.
To find out how your business can get the best out of Swift Digital's platform, contact our team today.
Internal Comms Strategy Template
When it comes to executing your internal comms campaign, an Internal Communications Strategy brief is a must-have.
Download your free template today!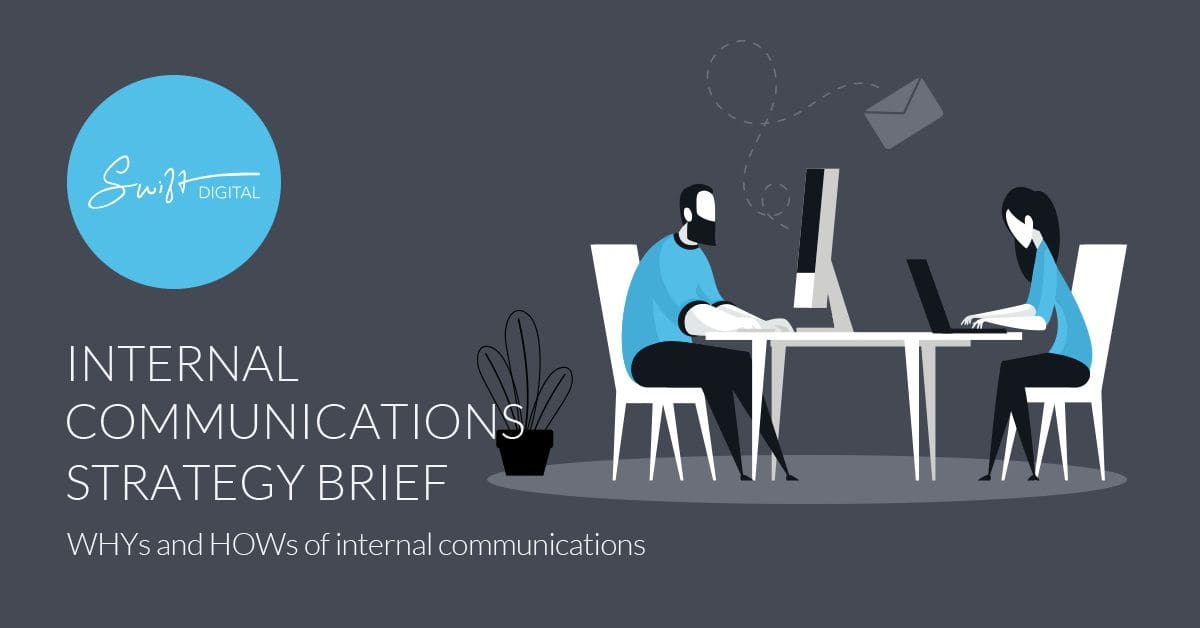 Download Template