What is a Wake The Dead campaign?
A wake the dead campaign is an eDM initiative to contact long-inactive and unengaged subscribers in your database. Usually, a wake the dead campaign will prompt readers to engage with the content as a way to confirm their subscription. Any recipients who fail to open the campaign will be confirmed as inactive or 'dead'. The campaign will also give you an opportunity to rebuild broken relationships, increase engagement, and keep your data clean.
Over time, many of the subscribers in your database will become disinterested and disengaged.
This is a natural depreciation, but it's not the end of your relationship with these people.
A targeted 'wake the dead' campaign will allow you to sort the wheat from the chaff.
5 Reasons To Run a Wake The Dead Campaign
1. Keep Your Database Clean
 The campaign will identify any 'unrevivable' subscribers.
After identifying them, you will be able to unsubscribe (or suppress) them, saving you email credits for future mailouts. It also keeps your database cleaner, enabling more accurate reporting and segmentation in the future.
Keeping your data up to date has the added benefit of improving your brand's sender reputation and deliverability.
Old, long abandoned email addresses may be recycled as spam traps, leaving your brand vulnerable to being flagged as spam if you send them.
2. Prompt Inactive Subscribers to Re-engage
Some of your inactive subscribers might just need a little nudge to re-engage.
Often these inactive subscribers are full of untapped potential. Aim for a personal tone to encourage inactive subscribers to re-engage.
Generate Excitement and Renewed Interest: Over time, people's attention spans can wane, and their enthusiasm for a particular offering or cause may dwindle.
Email Marketing Cheat Sheet
Get yourself out of an email pickle fast

Tips to avoid email emergencies

Avoid common marketing automation mistakes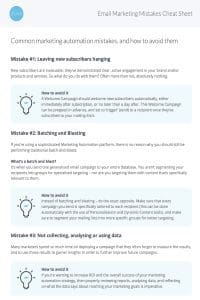 Download Cheat Sheet
You can inject fresh excitement and curiosity into your audience by running a Wake the Dead campaign.
The campaign's mysterious and intriguing nature can pique their interest and encourage them to reevaluate the product, service, or cause.
It offers an opportunity to create a buzz, spark conversations, and reignite the passion that may have faded over time.
3. Capture New (and up-to-date) Information on Your Subscribers
Use the campaign to simultaneously drive your audience to update their details. Include a link to an 'Update Your Details' form (or survey) in order to collect any new or updated information.
Not only will you collect their current contact details, but you can also prompt your subscribers to divulge the kind of content they're most interested in. Putting in the effort to really get to know these subscribers will nurture your relationship with them, improving the chances of reviving contacts which were previously inactive.
Make sure you're able to follow through – implement segmentation and dynamic content in reaction to the newly acquired details.
4. Drive User Participation and Involvement
A Wake the Dead campaign can be designed to involve and engage the audience actively.
You can encourage people to participate and interact with your brand or cause by incorporating interactive elements such as polls, feedback, emojis or contests.
This engagement increases their investment and interest and creates a sense of ownership and community.
Participants can share their experiences, collaborate with others, and spread the word, generating organic promotion and extending the reach of the campaign.
5. Tap into Nostalgia and Emotional Connections
A Wake the Dead campaign can tap into nostalgia and emotional connections if the product, service, or cause has a history or legacy.
It can remind people of their positive experiences or memories associated with the offering and evoke a sense of longing or curiosity.
This emotional connection can motivate people to reengage and revisit what they once loved or valued.
By evoking emotions and nostalgia, you can create a strong appeal that compels individuals to reconnect and rediscover the essence of what they once enjoyed.
The Preferred Email, Events and SMS automation Software For All Australian Government Departments
Swift Digital's templates help you effortlessly create stunning newsletters using our drag-and-drop email builder. You can raise engagement with emojis, polls, article feedback tools, videos and more.
All of the unique marketing requirements of government departments are covered, and full compliance with all anti-spam and privacy laws is guaranteed. Swift Digital is also ISO 27001 certified.
Swift Digital is Australia's leader in marketing automation software, working with organisations like the NSW Government, ATO, and companies like Westpac Bank and Qantas.
Find out why we're the Australian government department's number one choice for their professional communications, emails and events.
To find out how your business can get the best out of Swift Digital's platform, contact our team today.
Don't forget to share this post!