Marketing automation for Banks & Financial Organisations
Your central marketing hub to help new & existing customers build the financial futures they dream of…
Swift Digital is your all-in-one marketing automation platform.
Create user journeys and assign actions to occur based on milestones, dates, and behaviours.
See it in action.
Schedule a demo of our marketing automation platform…
Download Brochure
Connect
Connect easily with all those who matter most to your business
Reports
Monitor campaigns & generate insightful reports
Personalise
Promote events to customers, partners & other stakeholders
Branding
Use eye-catching custom-branded templates for greater impact
Perform
Manage everything from event registration to surveys
Tracking
Track customer journeys more completely to improve user experience
Australian banks & financial organisations of all sizes have selected Swift Digital as their engagement platform.


"Marketers say the biggest benefits of automation are saving time (74%), increased customer engagement (68%), more timely communications (58%), and increased opportunities, including up-selling (58%).

Adestra's Marketer vs. Machine report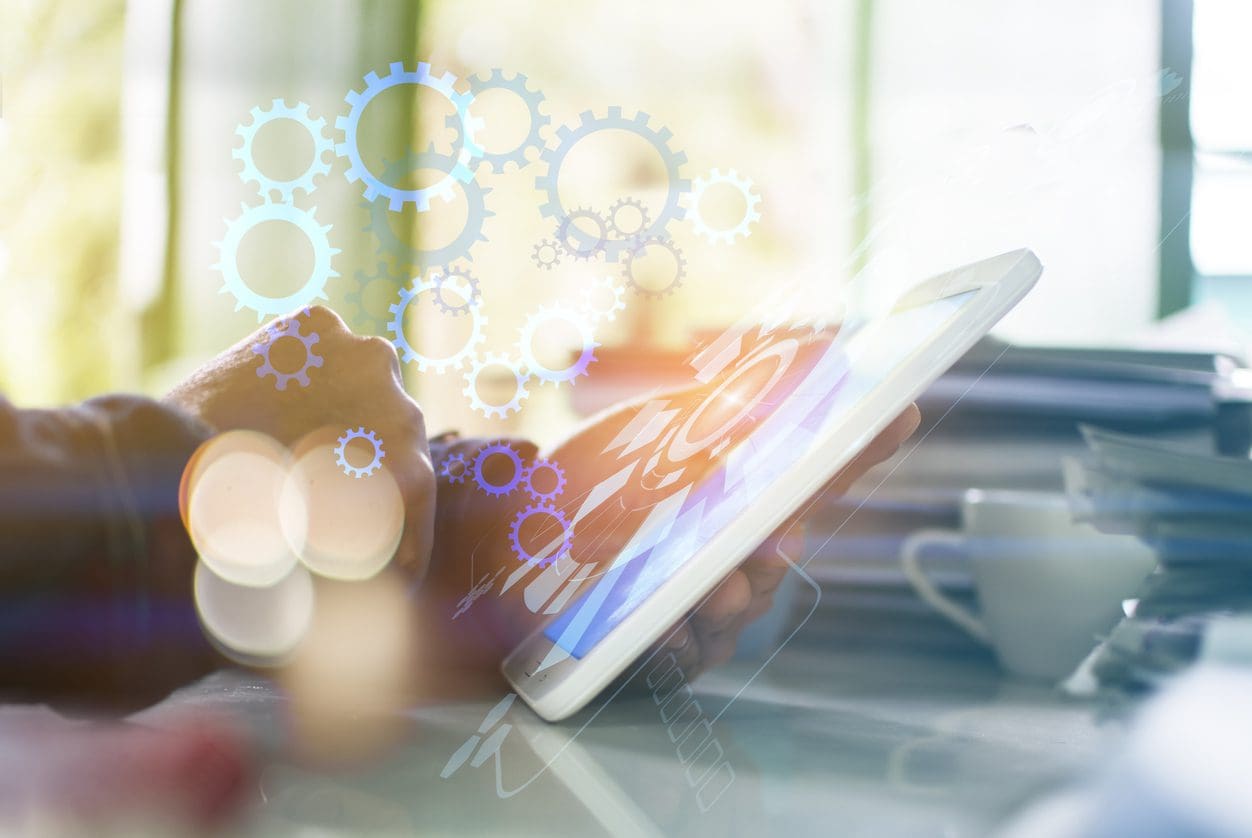 Why Swift Digital?
Financial organisations know that their futures will be partly decided by how they use the available technology.
This technology evolves quickly and it can be hard to keep up to date.
We've been helping organisations evolve with their marketing ever since we started our online platform in 2001 – when most marketing companies hadn't even arrived online.
Providing marketing automation for some of Australia's largest organisations, we specifically look after companies in the fields of banking and finance, superannuation and investment, accounting and law, as well as government departments and educational establishments.
We understand the challenges you face – and are focused on helping you automate while building closer relationships with all stakeholders, using event management, email marketing, online surveys, landing pages, mobile marketing, engagement scoring, and other tools.
And we do this from data servers located here in Australia, so you have the peace of mind of knowing your data is secure and compliant with anti-spam and privacy laws.
Your data is safe with us!
All our data servers are located in Australia and we are fully compliant with Australian anti-spam and privacy laws.
"Just wanted to say a big thank you for all your team's help to date! The Employee & Family Month site is looking and working amazingly and we have received so much great feedback to date--especially on the customer experience! Your can-do attitude has helped make the site the way it is. You guys are wonderful to work with!

Westpac
Some impressive statistics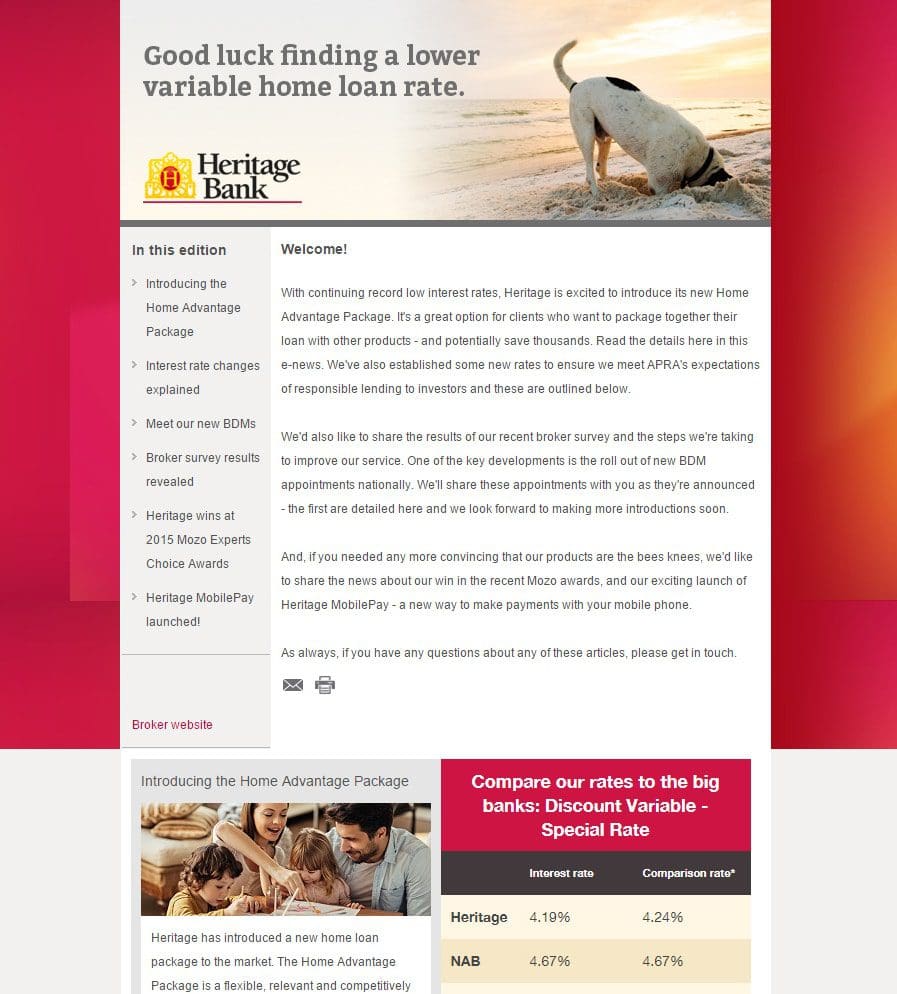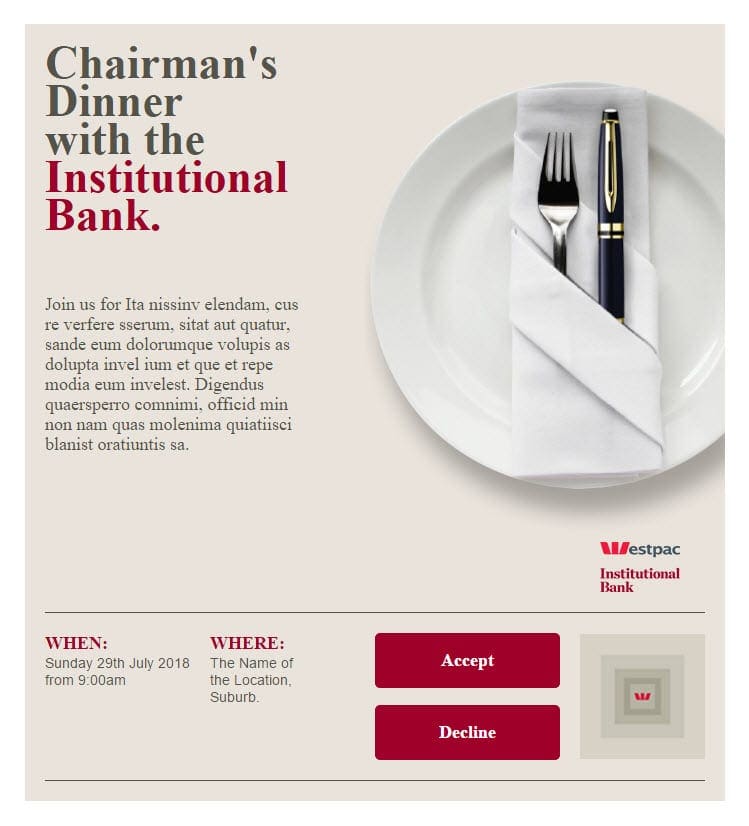 Who's it for?
At a time when some organisations are increasingly out of touch with the fast pace of technology – and how their customers want to be connected through it – banks and financial businesses have the opportunity to stand out from the crowd.
Whether it's through email marketing, arranging online or offline events, running online surveys, engagement scoring or mobile marketing, it's an opportunity to boost retention and attract new customers – not to mention engaging partners, employees, and other stakeholders.
Our marketing automation platform for banks and financial organisations connects you with the people who matter – while reducing the time, energy, and organisational skills required to make these communications a success.
If you want to connect more regularly, more conveniently, and with more impact and success, let our smart marketing automation technology help you.
Automate, simplify & and scale up your marketing
Our automation software for banks and financial companies helps you:
Manage customer journeys more effectively from beginning to end

Engage more regularly with other stakeholders

Easily segment databases to personalise communications

Make email communications quicker & easier with a drag & drop editor
Create impactful promotions, event invites, newsletters, surveys etc.

Send emails automatically based upon 'triggers' (date/behaviour)

Build customised event registration forms

Use SMS for reminders & notifications
Manage customer journeys without annoying admin errors

Track campaigns & generate reports to demonstrate ROI, etc.

A/B test what's working and what's not

Send out forms to collect feedback to improve service offerings
Get closer to your customers & other stakeholders your business closer to your clients
A comprehensive marketing strategy for banks and financial companies usually includes emails, events, landing pages, newsletters, surveys, social media, mobile marketing, social media, and more.
When these marketing tools work together as part of a comprehensive strategy, they are very powerful – bringing you closer to your existing customers and your target audience.
If it's automated and managed from a central platform, you start to improve results without it eating too much time. Otherwise it tends to become too much of a burden – and the ball may get dropped.
Simplicity and automation is key.
Automate promotional email campaigns
Email 1: sent to educate audience on new tax policy
Email 2: offer whitepaper download for further info after email 1 is opened
Email 3: two weeks after email 1 was sent (if unopened)
Email 4: "thank you for downloading" email to those who downloaded
SMS sent to email non-opens notifying them of tax change
SMS sent one day before new tax policy will take effect
Automate event promotion and management
Customised event invitation emails
Email and SMS reminders and "thank you for attending" emails
Create, organise and modify events on the fly
Manage registrations – search and modify registrations as required
Build complex registration forms
Create custom event calendars
Build event websites & event microsites
Build user journeys with unlimited paths, actions, and milestones
Build unlimited paths with various triggers to send email and SMS campaigns.
Set triggers to occur at any variable, from immediately to hundreds of days later.
Assign data conditions to triggers that must be met for campaigns to be sent.
Run, pause, edit, and clone campaign journeys at any time.
Your secure banking & financial marketing hub
Integrating with your existing CRM software, the Swift Digital platform becomes your centralised banking and financial marketing hub.
With data servers located here, we avoid concerns with international data protection laws and are compliant with all Australian anti-spam and privacy laws.
Get your demo and discover the power of the platform.
Learn more: Marketing Automation
What's next?
1. Click 'Get Started'
2. Fill out the form to submit a request
3. We'll be in touch to help
Get Started
Recent Marketing Automation Related Articles
For More Tips, Tricks and Information About Marketing Automation - Subscribe To The Swift Digital Blog
Key Benefits of Using Event Management Software To Run Events [Free Checklist]
5 | Minute Read  An Event Management system is a solution to facilitate the planning of an event. An event management system can create and manage event invitations, tickets and confirmations, event payments and overall event marketing and management, including attendee check-in, attendee engagement and the creation of event landing…
Read More