The best internal and employee communications software in Australia
Swift Digital has been providing government accredited internal and employee communication software to government organisations and businesses for over 15 years.
Service NSW

Australian Tax Office

Australian Department of Education
Swift's internal communications platform is state-of-the-art, allowing you to maximise internal efficiency, engagement and results with unparalleled automation and personalisation features.
We have a proven track record of delivering results to our customers, having executed over 358 million email marketing campaigns at a 99.9% delivery rate and 98% sender score.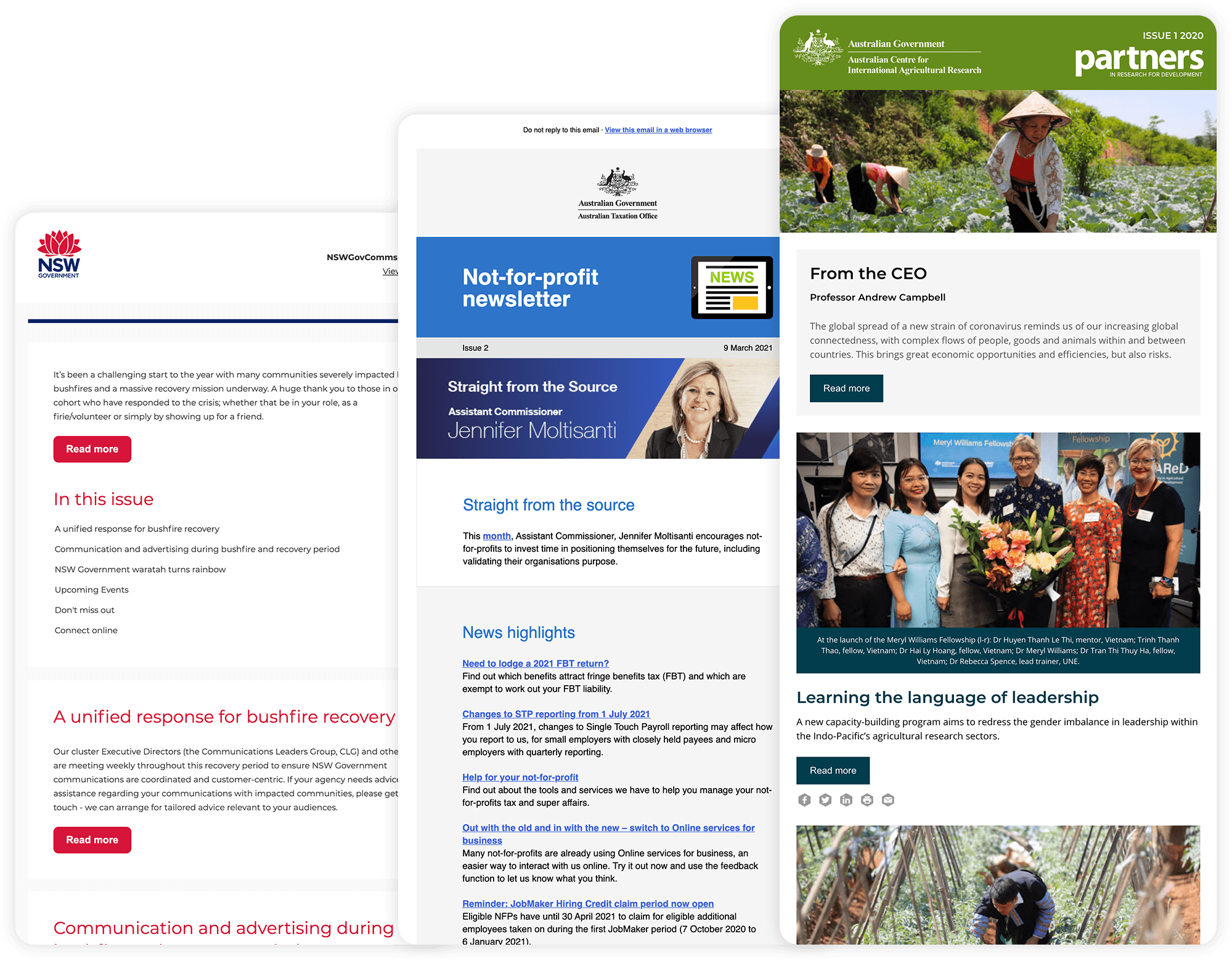 Custom Branded Templates
No cookie-cutters here, we customise all templates to comply with your brand guidelines.
Mobile Responsive
All emails automatically become mobile responsive without any extra effort.
Flexible Layouts
Layout and feature possibilities are endless with our drag-and-drop editor.
Increase email engagement with emojis, ratings, and emoticons!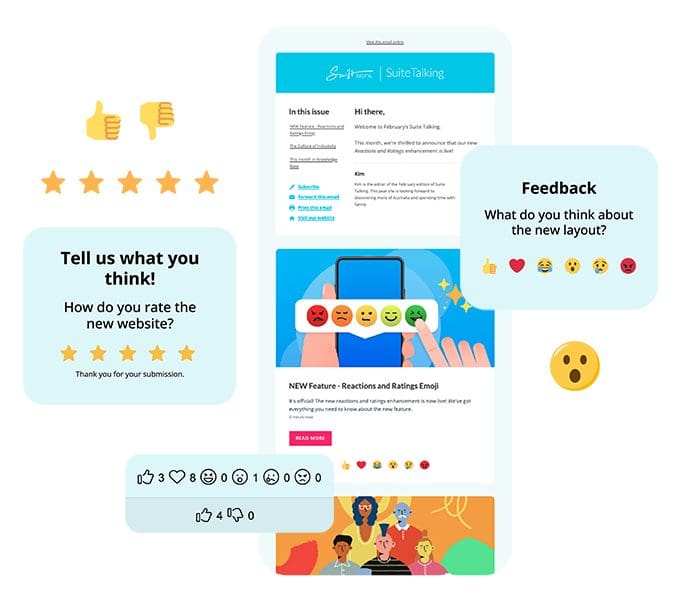 Improve email engagement
Capture your audience's attention and increase engagement!
Find out more about your audience's sentiment
Insight like never before! Select emoticons to suit your comms and find out what your readers think of your articles and content.
Gain in-depth feedback 
Invite your subscribers to rate a subject or topic. Give your subscribers a choice of rating by stars, rating cards and emotions.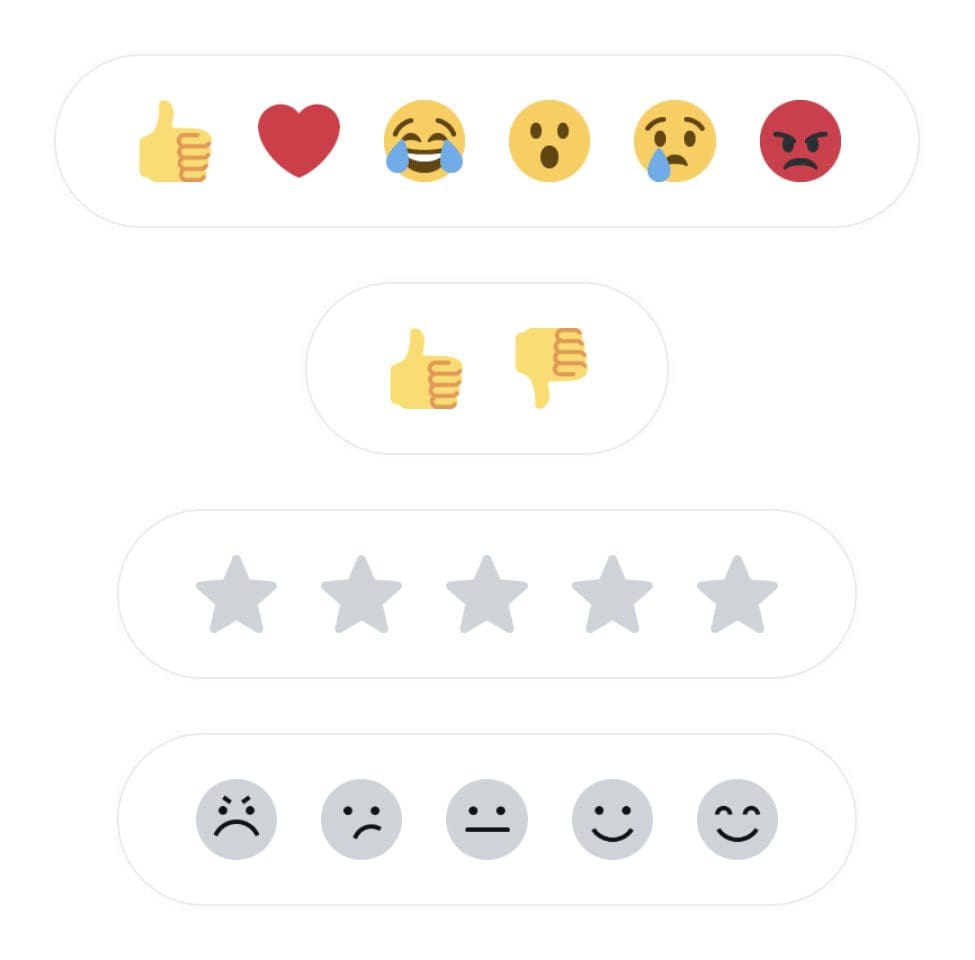 Packed to the rafters with internal communications features
At Swift Digital, we understand that the best workplace communication strategies require minimal manual work and are tailored to the individual needs, behaviours and characteristics of your employees to ensure that organisational efficiency and engagement are maximised. 
With our content customisation,  automation and rating features, we'll do the heavy lifting for all of your internal communications, providing an end-to-end strategy including detailed segmentation, automatic responses to recipients, insightful reporting and analytics, endless design options and more.
Personalised content and design
Employee emails, internal newsletters and other internal communications are best communicated when they are visually appealing and have the personality of the organisation. Employees are better informed when the information before them is engaging. The key functions and visual features we provide that ensure your email campaigns don't fall on 'deaf ears include;
Option to embed links to articles within your email campaign, including "Read More" links to keep communication with stakeholders concise and to the point

Sharing functionalities for recipients, such as the ability to forward on to other email addresses or repost individual articles or entire emails to social media networks

Ability to include visual aids for users to simplify communications, such as Youtube videos or Google Maps

Flexible and easy responses for recipients, with the option to add in interactive polls for users to give instant feedback, or subscription forms to capture new contacts in your mailing list

In-depth reporting and analytics for your internal communications campaigns, including custom reports outlining opens, click throughs and where users clicked through to, as well as the option to compare historical reports to see which campaign has performed best and integrate Google Analytics tracking

A myriad of design functionalities to optimise engagement, such as branded templates and the ability to drag and drop content widgets, layout blocks, videos and images
Set it and go!
Beyond design and function, we also provide our customers with an array of automation features that make the execution of your internal communications strategy effortless and seamless – allowing you to spend time on more important tasks and maximise workplace efficiency. These features include; 
Date Triggers
Allowing you to deploy your internal communications at a preset time and date, saving you valuable time.
Personalised User Journeys
The option to build triggers for SMS and email campaigns according to any variable, assign data conditions that will set triggers off, and run, pause, edit or clone a campaign journey at any time.
Behaviour Triggers
Send automated responses to your staff based on their engagement, such as follow-up emails when the initial one was left unopened.
Powerful Australian Internal Communications Software
Trusted by local, state and federal government organisations, Swift Digital provides the best internal communication platforms to make your organisation more engaged and efficient. Professionalism is at the forefront of our product offering and, as such, we pride ourselves on delivering products with state-of-the-art technology and capabilities, that protect your data information, and that can be integrated seamlessly into your organisation and chosen CRM.
Our enterprise security program is government accredited and combines the strength of the world's most credible data centre, the proven efficacy of superior software and a watchful security team – ensuring your clients' vital information is protected at all times. Swift Digital is an approved supplier of data software in NSW, Victoria and Queensland through:
NSW ICT Services Registered Supplier List

Victorian Government Services Register Approved Supplier

Qassure
We have extensive measures in place to ensure we deliver on this promise, including;
Regular third-party penetration tests every six months to ensure that platform vulnerabilities are patched and can stand up to emerging security threats

Login security, whereby several conditions must be met to create a secure password

Two-factor authentications, which requires users to verify their authenticity with a verification SMS code

State-of-the-art web servers provided by Amazon Web Services, which utilise leading security technology to guard server centres

Australian hosted data storage, ensuring your data remains in Australia and is therefore bound by Australian privacy legislation

Thorough staff background checks, as well as police checks

Full control and ownership of your data, which can be found in section 17 of our terms and conditions

SSO implementation, allowing you to control your Swift account's user logins and access controls directly from your SSO environment

No spam policy, whereby we carefully vet clients of their email marketing intentions, and have a server reputation score to prove so
Learn more: Internal Comms and Automation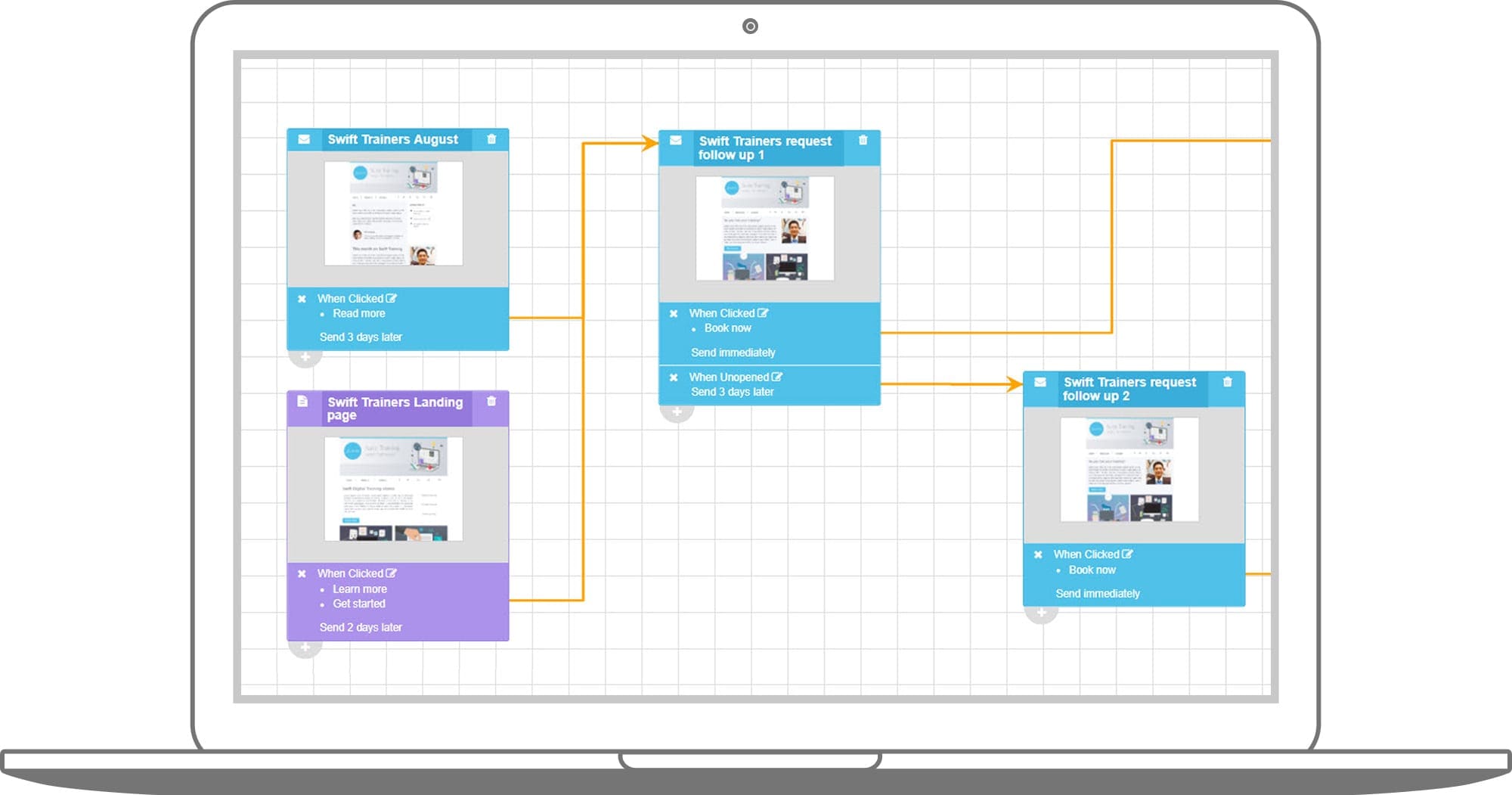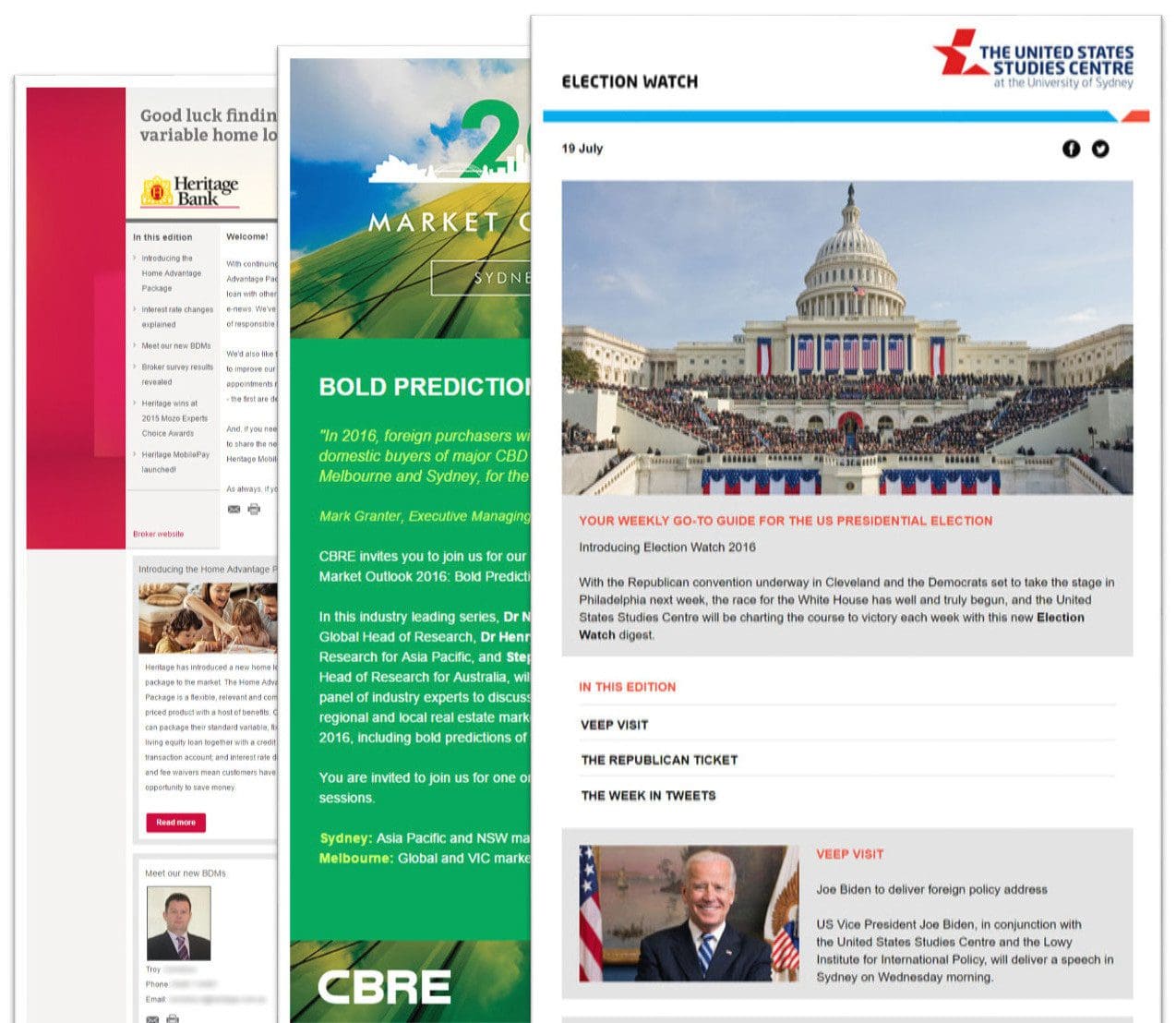 Create and design beautiful internal emails with our Australian internal communications software
Our drag and drop editor is a delight to use and ensures internal communications best practices are adhered to so you remain on-brand. We take care of setting up your templates and styles to match your brand guidelines using providing internal communications examples and ready to use email templates.
The Swift Digital, internal communications platform, has unique features designed to increase engagement and improve intelligence gathering so you can deliver a communications experience like no other.
Personalise and segment like never before
One of the most simple but overlooked internal communications techniques you can implement to improve employee engagement is to personalise communications and target different segments of your audience with content relevant to them.
Take, for instance, the side-by-side comparison of the emails to the right. The communications have been personalised using the recipient's first name, but even more, a dynamic banner has been added to provide relevance based on the contact's geographic location.
Small details such as personalisation can go a long way to help customers become more engaged with your brand and communications. The Swift Digital platform is an internal communications software that makes personalising, data segmentation, and adding content rules a treat to work with.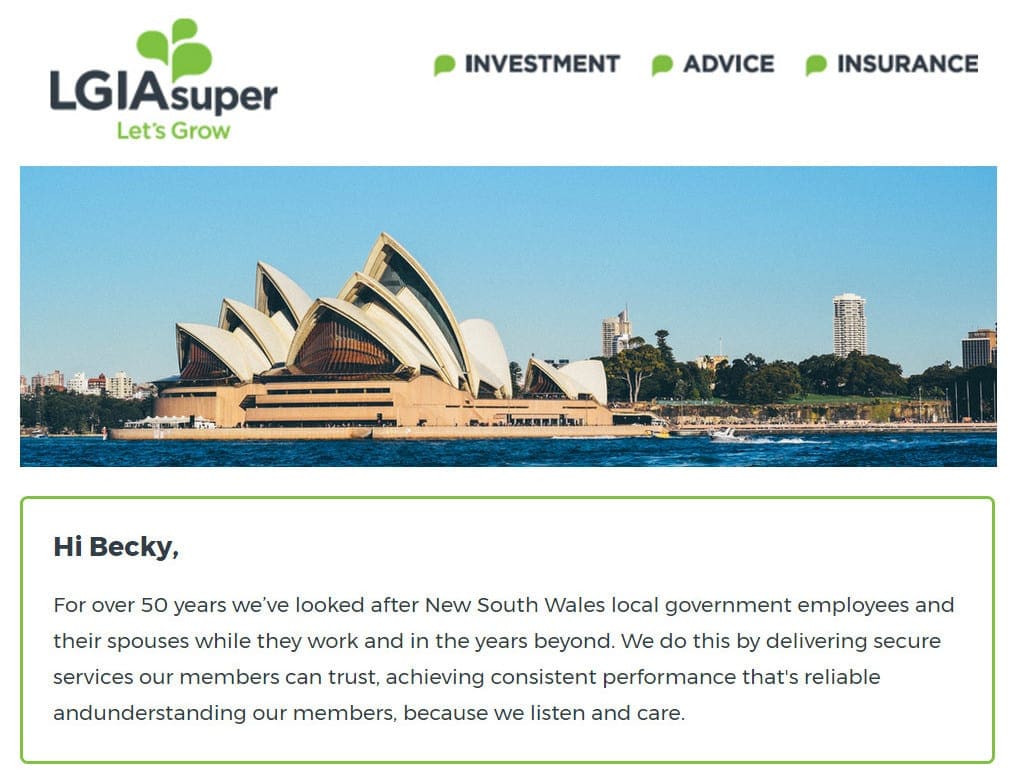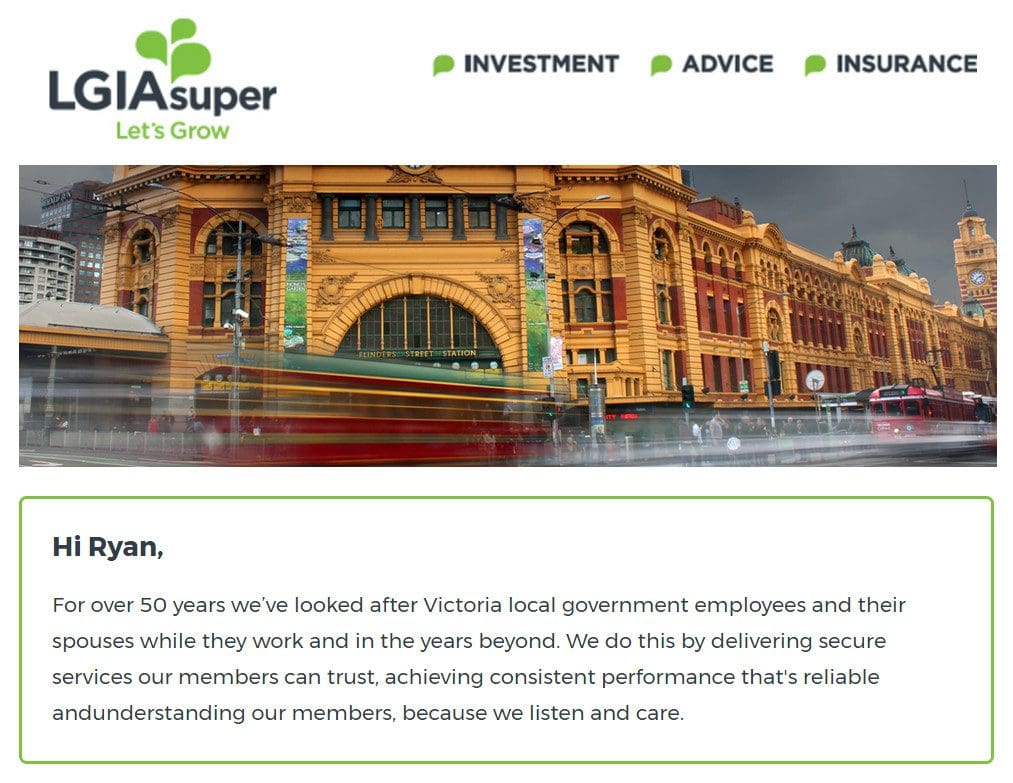 Their Email Servers
Mail Blocked
Low-reputation servers can make it difficult to deliver your email.
Our Email Servers
Mail Delivered
High-reputation servers make email delivery far more likely.
Deliver email on-time, every time.
Did you know your email provider's server reputation is the most important thing to affect email deliverability?
Many other internal communications solutions allow everyone and anyone to sign up and start sending emails (even spammy emails), thus resulting in poor email server reputation scores. Because emails are sent from shared servers, your ability to effectively deliver communications may be compromised due to the low quality or spammy nature of others.
At Swift Digital, we don't just let anyone sign up willy-nilly and start blasting spam. We are one of the only internal communication platforms in Australia whose software includes an exclusive client base, including many of the top companies in Australia, whose email habits are legitimate and genuine–this, in turn, lends to uniquely high server reputation scores.
Join our elite list of clients using us as their chosen internal communications platform, and start sharing in the deliverability rewards of unparalleled server reputation.
Learn more: Email deliverability
Test and analyse email and comms performance like a pro
A necessity in any modern internal communications software is the ability to analyse engagement and campaigns in real-time. From the moment you send a communication, you'll begin to see open rates, click rates, bounce rates and a myriad of other reporting options. You can even drill down to see interaction on a user-level (Eg. who clicked a certain link, or who was interested in a particular article).
You'll find other statistics for things like:
Article, template and external link clicks
Devices and operating systems your readers are using
Top-level domains and geographic locations
Subscribe and unsubscribe data
Time graphs show when readers are opening  your email
Our Click Map feature allows you to see, in one intuitive view, how your internal newsletter performed and identify which articles were most engaging.
Our drag and drop editor makes adding images easy as
Adding images to your emails could not be easier with our drag-and-drop functionality. Simply drag in and drop an image from your computer and we'll take care of the tagging and resizing.
Seamless organisation integration
Swift Digital provides a myriad of integration options, which can be executed with ease with your chosen CRM. Namely, our softwares are compatible with Salesforce, Microsoft Dynamics, Zapier, Swift API, Microsoft Active Directory, Slack and more. Our staff provide unlimited software training and ongoing support to ensure that your internal communications strategy runs as smoothly as possible.
Find out how Swift Digital have helped your industry
Swift Digital's internal communication software is one of the only email marketing companies in Australia which can be used by organisations of all industries and sizes. Here you'll find more in-depth information on internal communications for several industries that have found our internal communications platform to be very successful in implementing their employee and internal comms programs.
Clients love our Australian internal communications software  But don't just take our word for it
Swift Digital's internal communication softwares are tried, tested and trusted by some of Australia's most reputable organisations, including the Australian Government, Qantas, the University of Sydney, QBE and Ausgrid.
Multiple integration options
Here are a few who Swift Digital work with every day.

Frequently Asked Questions About Swift Digital Internal Communications Software
Effortlessly create stunning employee emails, internal newsletters and campaigns using our drag-and-drop email builder.
A few internal communication examples
Recent Internal Communications Articles and Blogs
5 Ways To Create An Internal Federal Government Stakeholder Newsletter
5 | Minute ReadHow to Improve Internal Federal Government Stakeholder Communications Internal communications requirements vary from one government department to another. Ensuring communication compliance across teams can be time-consuming and challenging to implement consistently. That is why Swift Digital's internal communications software has quickly grown in popularity among so many…
Read More