What is an Internal Communication Policy?
An Internal Communication Policy is a document which outlines an organisations policy and approach for its internal communication with its employees. The internal policy highlights and acknowledges what information can be shared and communicated.
An internal communication policy is a document that outlines an organisation's approach to its internal communication with its employees. This Internal Communication Policy outlines the guidelines and best practices for internal communication to ensure that information flows smoothly and consistently across all levels and departments of the organization.
The internal policy highlights and acknowledges what information can be shared and communicated, and how. Internal communications within an organisation are just as important as external communications.
If executed properly, your internal communications can turn your employees into brand advocates.
Unfortunately, many companies are still using old methods to communicate with their employees; adopting practices that are no longer relevant or effective.
These practices are not only ineffective but can cause confusion and frustration amongst your employees which can lead to distrust and disconnection to their job and your organisation.
Internal Comms Strategy Template
Identify the SMART objectives and an end goal of the comms

Plan out your internal comms for better engagement

Align your internal comms goals and objectives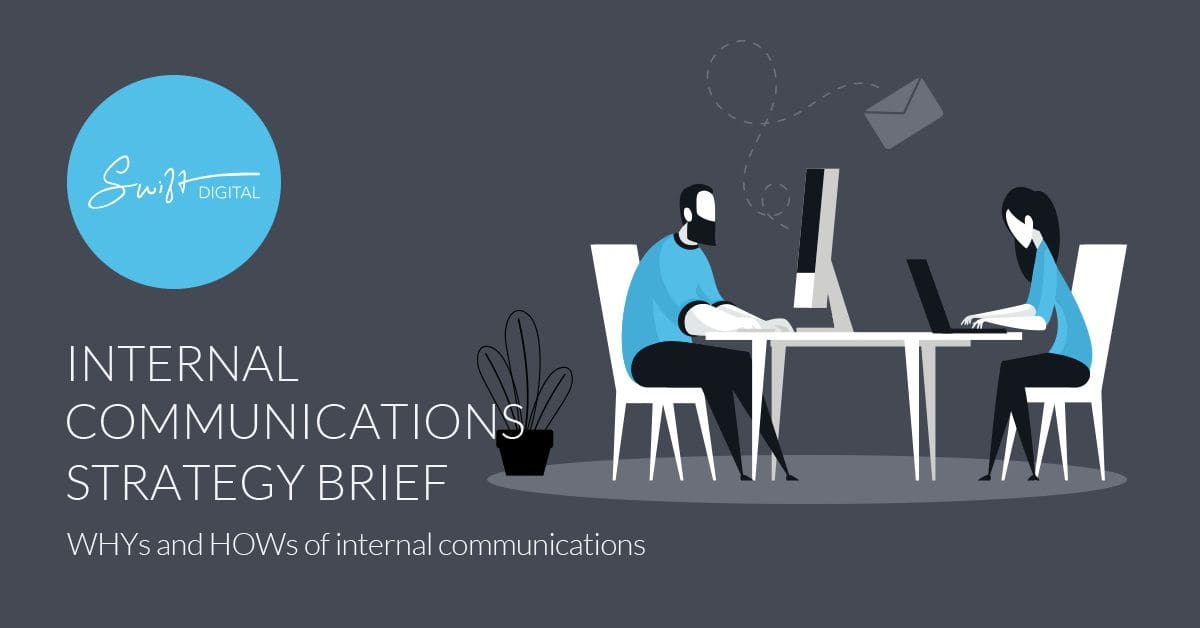 Download Template
The internal communication policy of a company will outline an agreed framework, the way in which they will achieve their internal communications objectives, the mediums they will use and the messages they will communicate.
An internal communication policy also outlines the roles and responsibilities of employees, particularly at the management level.
Internal Communication Policies
The way organisations are operating has changed dramatically, with more people now working remotely, internal communication has never been more important.
As the landscape continues to change and employees learn to adapt to their new normal, so should your internal communications. 
In this blog, we look at why using an internal communication policy and an internal communications strategy is paramount to the success of your internal communications. 
We also look at key components of an internal communication policy and identify what makes your internal communications effective.
Why you need an Internal Communication Policy
Employee productivity increases by 20 to 25% in organisations where employees are connected.

53% of the workforce remains in engagement purgatory.

They may be generally satisfied but are not cognitively and emotionally connected to their work and workplace.

To make sure your internal communications are relevant and appropriate and employees are well informed. 

Confusion at work leads to reduced productivity, frustration and the feeling of unsettlement.

In 2015, only 32% of employees were engaged at work.

The Harvard Business Review discusses how improving employee engagement affects productivity, increasing it by as much as 22%.
Key Components of an Internal Communication Policy
Scope

Objectives

Methods of communication

Mediums and tools used for communication

Messages

Responsibilities
What does Internal Communication Include?
Internal communication includes online and offline communication between an employer and it's employees.
It can be one way or two-way communication.
Examples of these include; internal emails, newsletters, SMS, forums, social media, video and the use of intranet.
Planning and execution is key to successful internal communications, and being transparent and open with your company message can create a happy and proactive work environment.
The processes and the plan of execution are often laid out first in an internal communication policy document or template.
What methods can you use for effective Internal Communications?
Effective internal communication has mutual benefits for both employer and employee. You will often hear that some of the happiest employees are the ones that have an open two-way relationship with their organisation and/or employer, this doesn't happen by chance. 
An organisation works hard on its internal communication policy and strategy first before executing its internal communications. 
It is important that your internal communications are not just a one-way thing coming just from the organisation/employer.
Making sure you offer your employees the chance to communicate and engage with your internal communications is essential.  You will be happy to hear that it's not difficult to turn your one-way internal communications into two-way internal communications.
Below we have some examples of how you can make your communications more participatory.
Effective two-way internal communications methods include:
Email/Newsletters –

You can add a poll to your newsletters to increase engagement or embed a video where your readers are able to leave comments. Add a survey link as well to learn more about your audience.

Forums/Chats –

Set up a forum where your employees can go and ask questions on particular topics and get answers from others on topics.

Social Media Rooms and Groups –

Set social media rooms and groups up so employees have the chance to interact with management, other colleagues and use this as a place to collaborate and share ideas.

Video – Use video to broadcast updates from your company. Enable comments so you can receive feedback from your employees and make sure you respond to help increase engagement.
RSVP Tool – Include an RSVP widget into your email communications to help increase engagement. Whether it's a weekly webinar or the monthly town hall event.
What makes good Internal Communications?
Good internal communications need to entertain but not overwhelm, this includes using visuals such as graphics, infographics and imagery.
Make sure it is appropriate and relevant and doesn't complicate your messaging. Use your internal communication policy to outline the message, tone of voice, writing style and content you require your organisation to follow.  
Good internal communications can also inform as well as inspire readers.
They will make your reader want to read on and look forward to next month's newsletter edition or video upload.
Be open and transparent with your internal communications. Build trust with your audience.
After all, these are your fellow colleagues, it's important that you build and maintain relationships with them.
We have identified 17 internal communications tactics that will assist you in creating good internal communications here.
Swift Digital Tools for Internal Communications
Internal Communication Policy FAQ
Don't forget to share this post!